Weaver's Orchard customers are a special bunch. You care enough about food to pick it yourself in our orchard and to support local farms and family businesses by shopping in our market. You care about the quality and source of your food.
Because of how much thought you put into your food, I am always curious about which of our recipes have caught your eye. Here are your favorite recipes based on number of views from 2019. These are brand new recipes that we published in 2019 and received the most views. (We also have a deep archive of over 250 recipes we've published since 2011, and many of those have become tried-and-true customer favorites too!)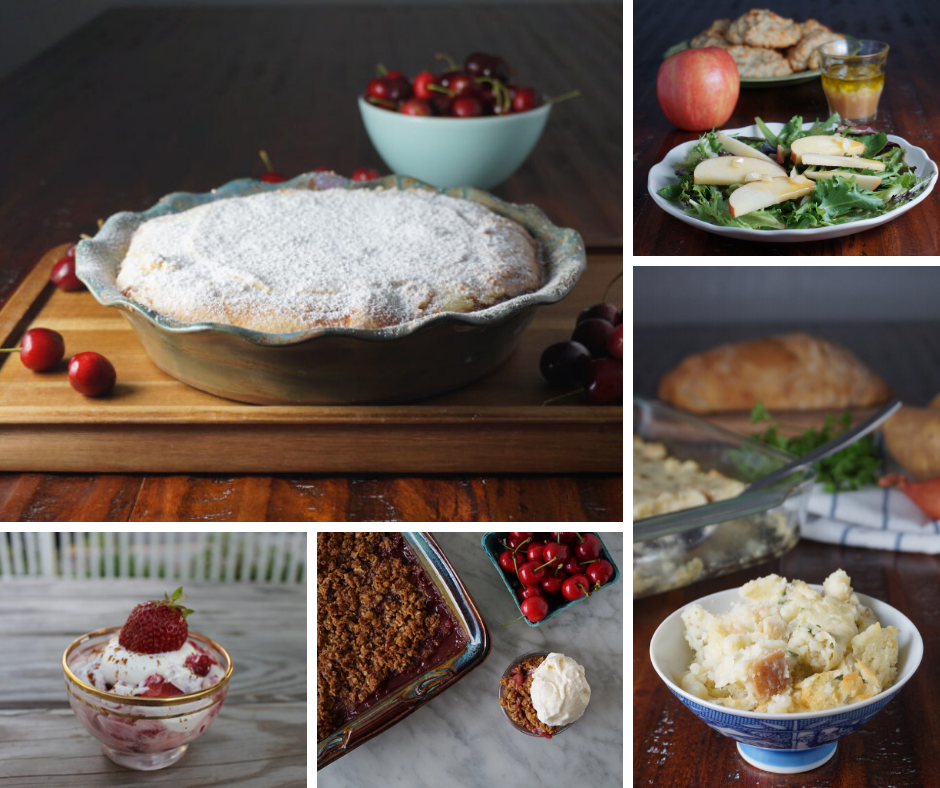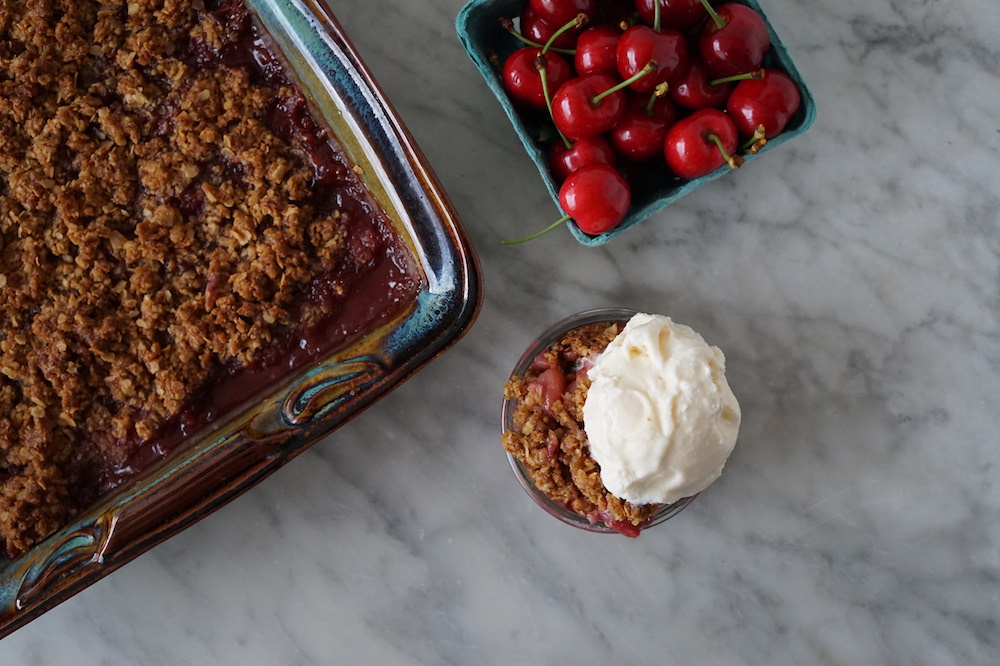 Leftover pie, crisps, and other fruit-filled desserts are always delicious for breakfast.
"I mean, it goes so well with coffee!" says Weaver's Orchard Marketing coordinator Rachel VanDuzer, who crafted this recipe for sweet cherry crisp.
"I wanted to create a recipe that was rich in fiber and protein, but still had enough sweetness to satisfy the sweet tooth in the family. I can always be happy with less sugar, but the rest of my family, not so much. I used 1/2 a cup of brown sugar, but you could make it a refined-sugar free cherry crisp with just maple sugar instead of powdered and brown sugar."
It's no wonder this lightened up, healthier cherry crisp is one of our customers' favorite recipes!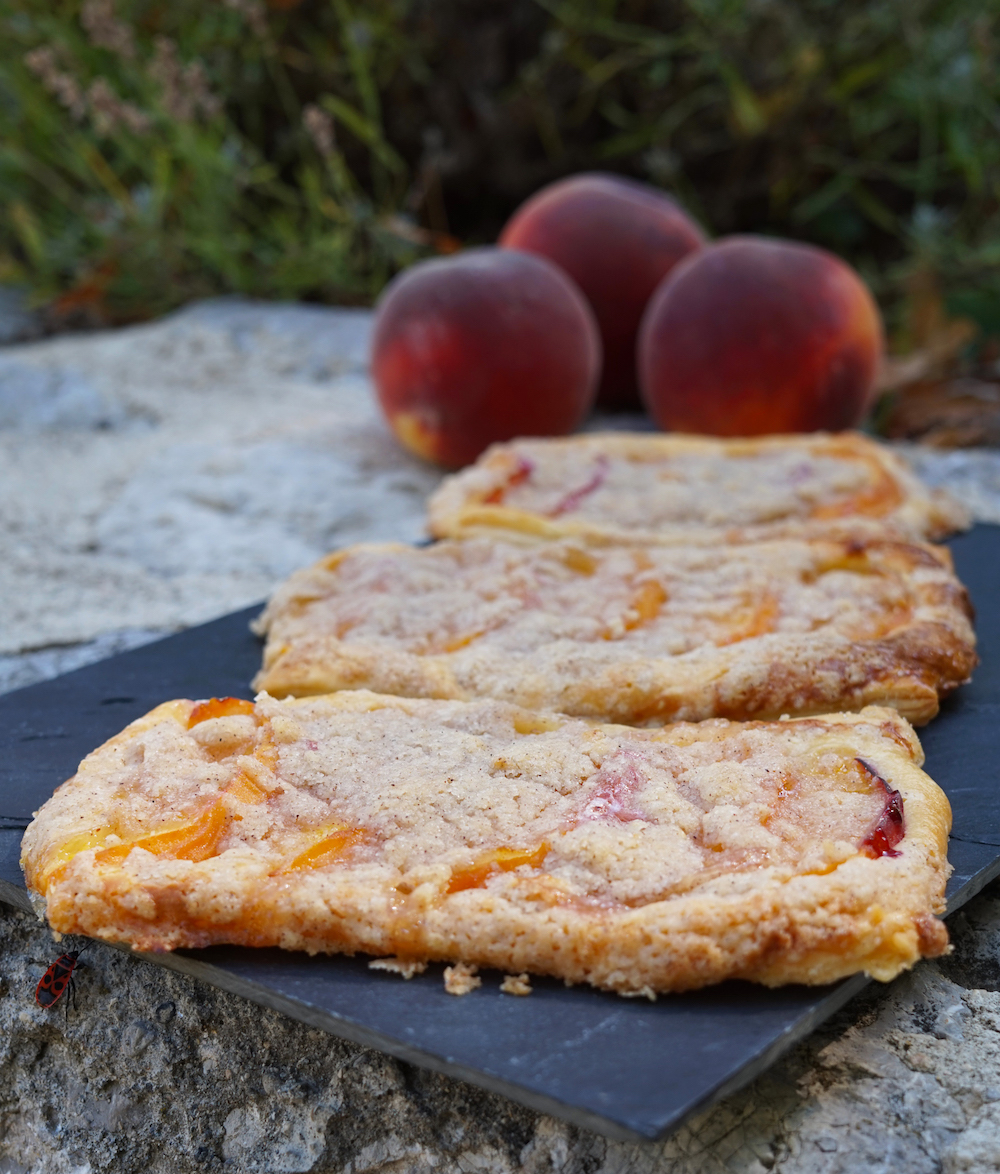 Have you ever had a craving for a delicious food but wondered if it could be "lightened up" and made slightly healthier? That's what happened to Rachel VanDuzer with this peach danish.
"I had a craving for a slightly unhealthy but delicious pastry that was served at our church's coffee break years ago," she says. "It was a cheese danish with either raspberries or peaches topped with a coffee cake-like crumb topping. I was able to come pretty close to this recipe and even made it a little healthier by sweetening it with maple syrup."
And good news for this time of year: Rachel says it works to make this recipe with canned peaches if peaches aren't in season.
(Get Peach Coffee Cake Danish Recipe!)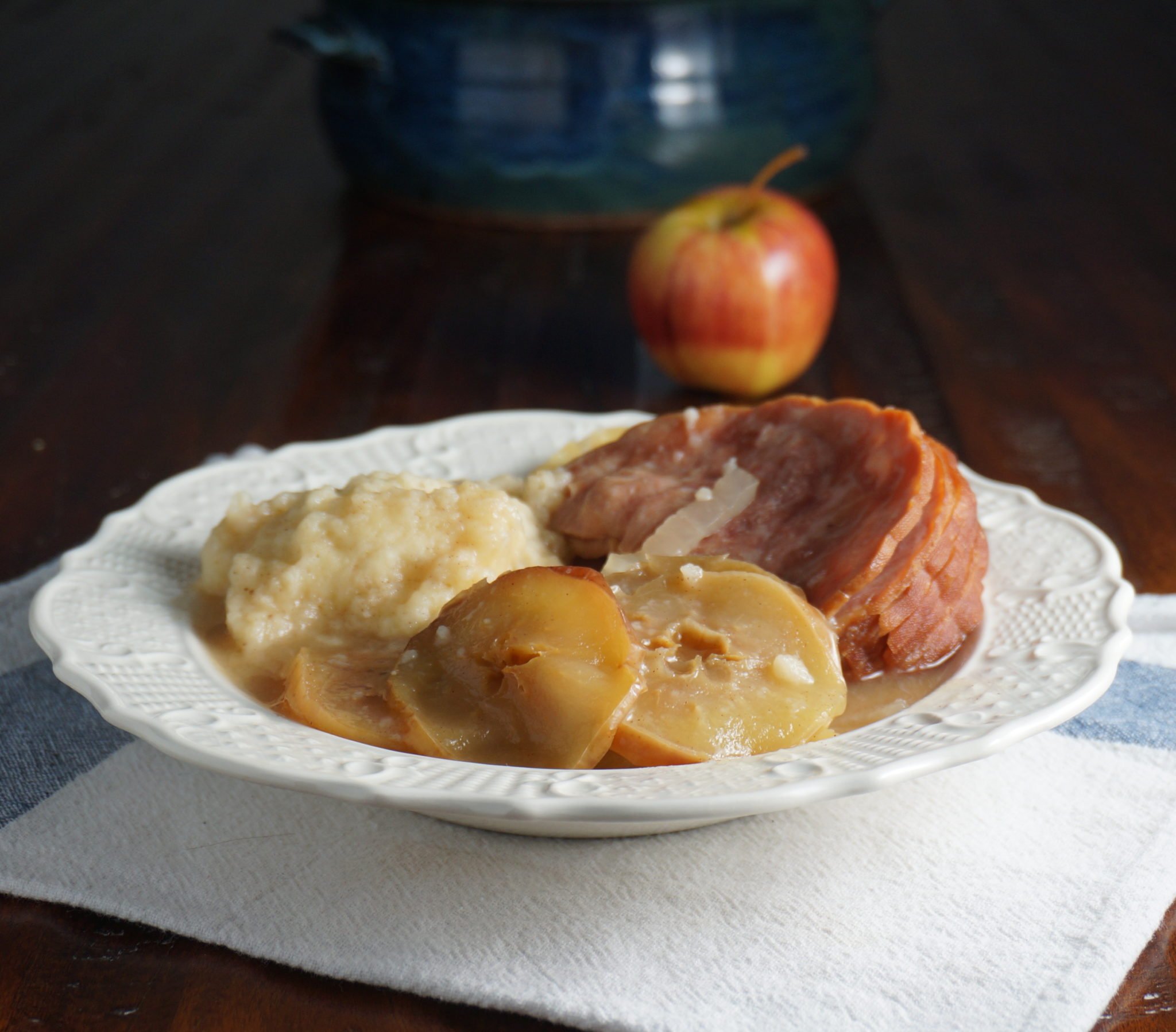 Here's a Pennsylvania Dutch classic! It uses dried apples (schnitz) and dumplings (gnepp or knepp), and ham.
For this recipe, I dried the apples at home, in my oven, but you can also pick up a bag of sweet dried apples in the farm market at Weaver's Orchard.
(Get Schnitz-Un-Gnepp Recipe!)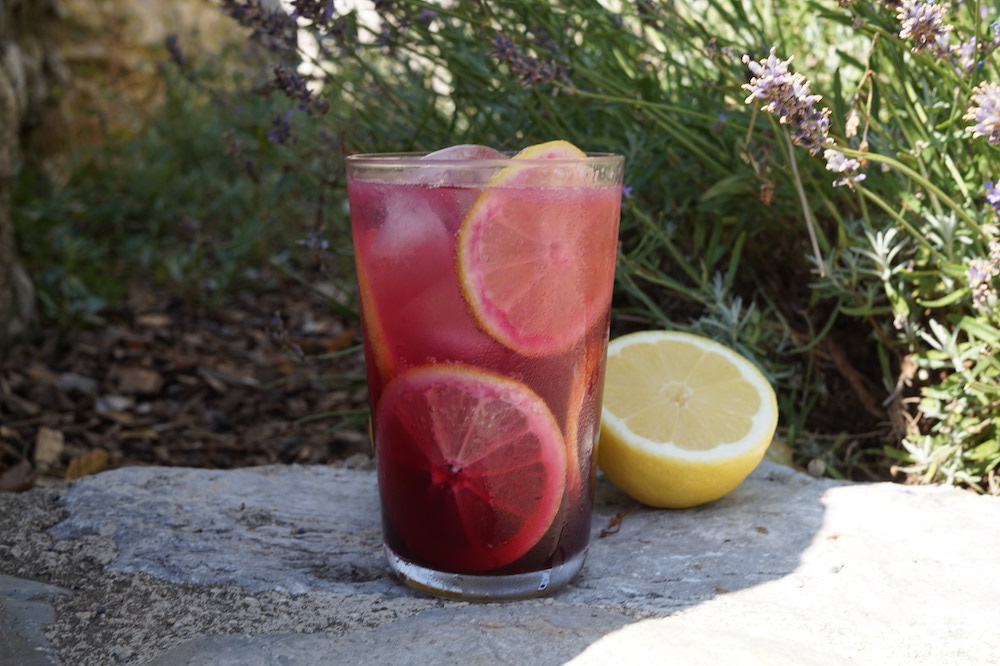 No doubt this is one to bookmark for warmer days! But on the first hot day in March or April, be sure to pull out the blueberries you froze during this year's pick-your-own season and use them in this recipe!
(Get Lavender & Blueberry Lemonade Recipe!)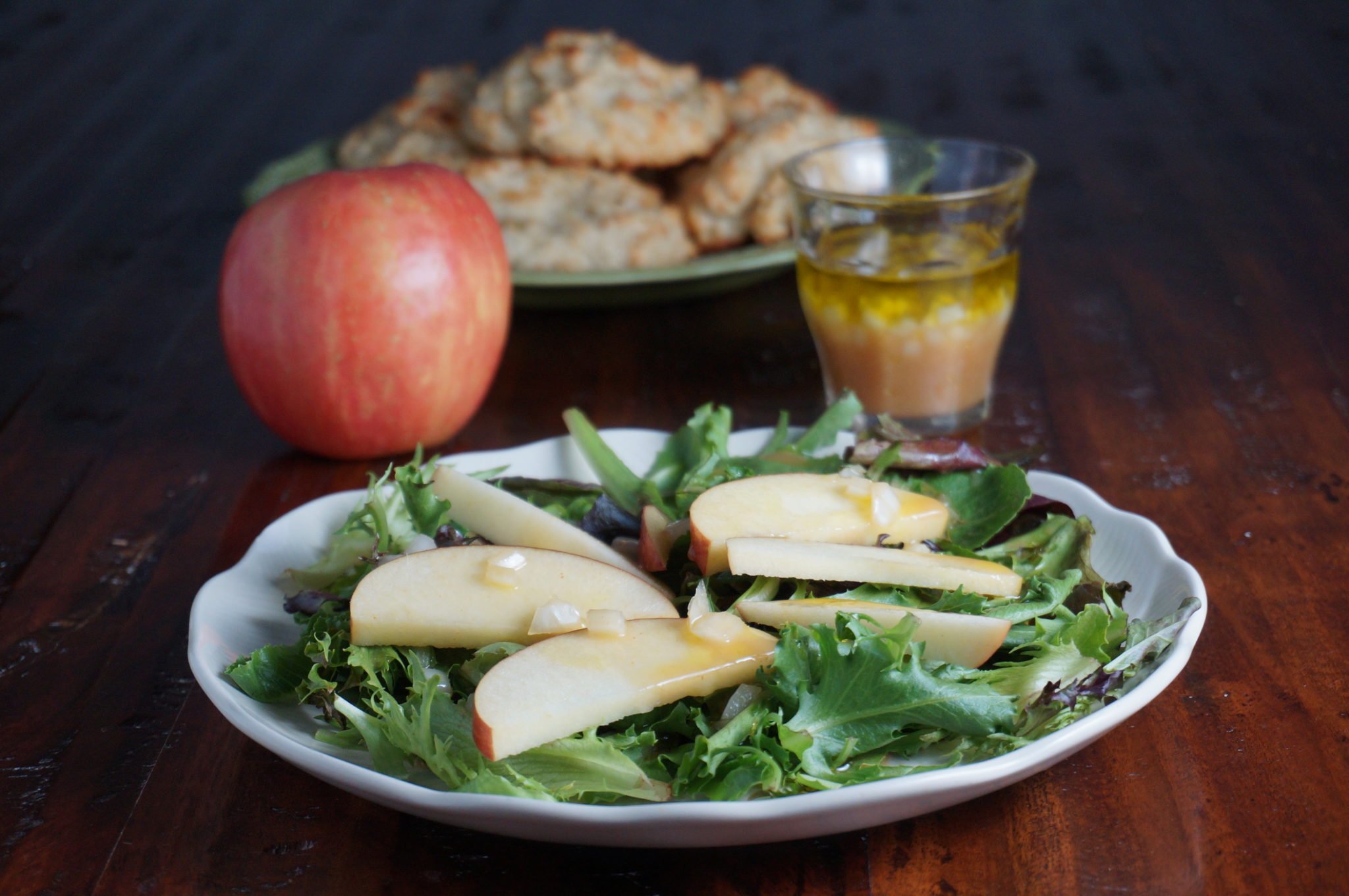 One thing that makes this dressing especially delicious is that, while most apple cider vinaigrettes use only apple cider vinegar, this recipe uses an apple cider reduction and apple cider vinegar. That adds extra apple flavor, which sweetens the yellow onions, while the mustard and vinegar balance the sweetness.
Since the dressing is rich, you can get away with a really simple salad. I served it over a spring mix with sliced apples.
(Get Honeycrisp Apple Cider Salad Dressing Recipe!)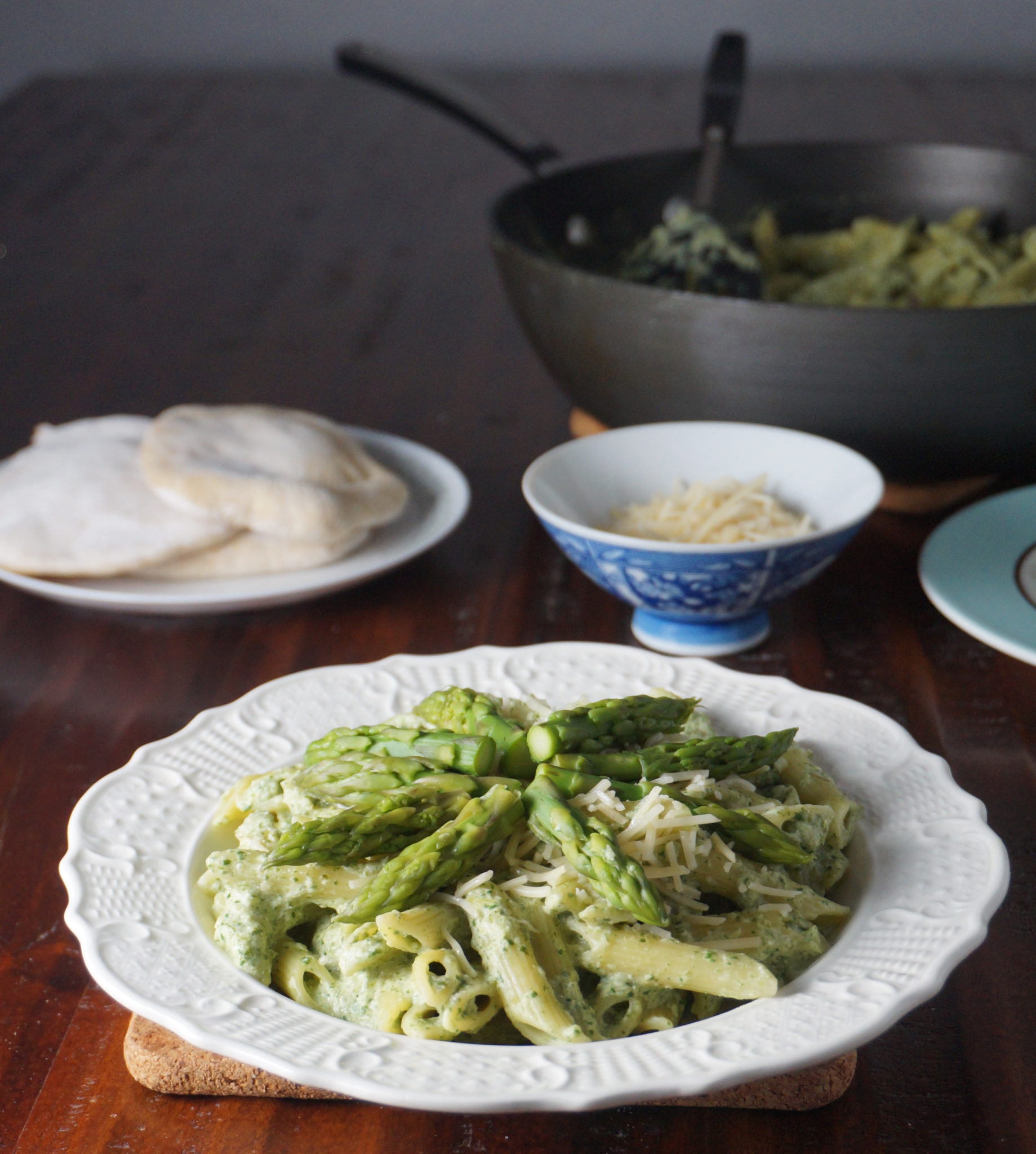 Now that the local growing season is over (except for the magnificent greens and such grown in greenhouses this time of year), we are all anxiously awaiting the crop that heralds the start of spring: asparagus. We grow our own asparagus here at Weaver's and make it available to customers in our market. Once asparagus appears in April we know the pick-your-own season is on its way soon, starting with strawberries in late May or early June.
This Italian recipe for asparagus cream sauce was inspired by food blogger Jacqui Debono's recipe for an Italian asparagus pasta recipe from Northern Italy.
(Get Penne Pasta with Asparagus Cream Sauce Recipe!)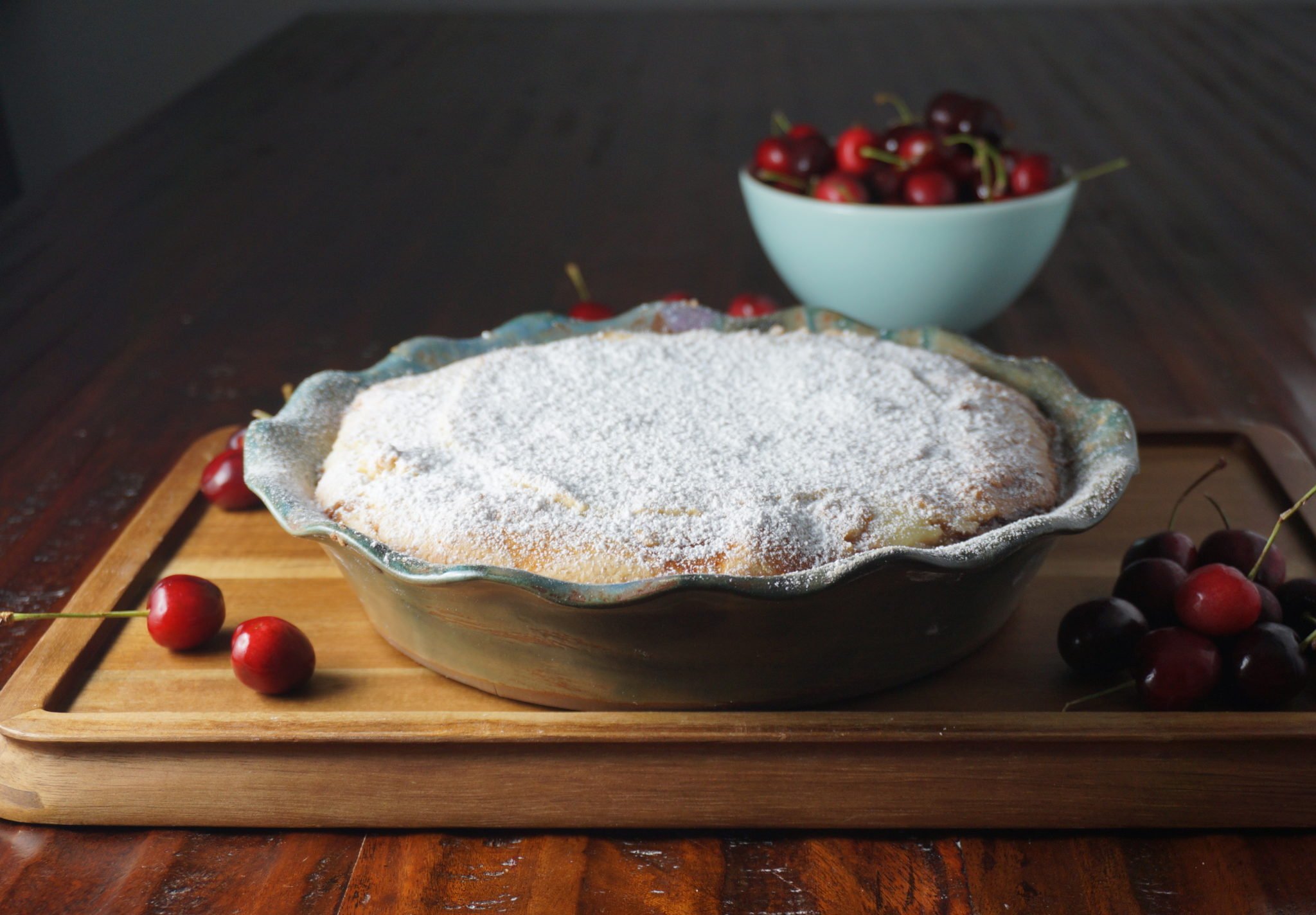 Even though this recipe is deliciously sweet, it will always be bittersweet for me. When I went looking for a cherry dessert recipe from Rome, near where some of my ancestors are from, I began to learn a sad history.
I found a recipe for crostata ricotta e visciole, which the site I found described as a kind of cherry cheesecake served in the "Roman ghetto." Jews were forced into this ghetto starting in 1555, and had to pay for the construction of the wall around the four blocks that became the only place in Rome where they were allowed to live. For permission to live even in this cramped, flood-prone part of the city, they had to pay a special tax and abide by strict curfews. Roman Jews did not receive full citizenship until 1870.
Perhaps in serving this delicious cherry cheesecake recipe from the Roman Jewish tradition, the past and the present can come together, as a moment to teach others about the history behind this dish and a chance to talk about how you and your family will stand up for those facing discrimination today.
It is certainly a delicious dessert, with all the flavors of a cannoli mingling with the tangy flavors of tart cherries.
(Get Crostata Ricotta e Visciole Recipe!)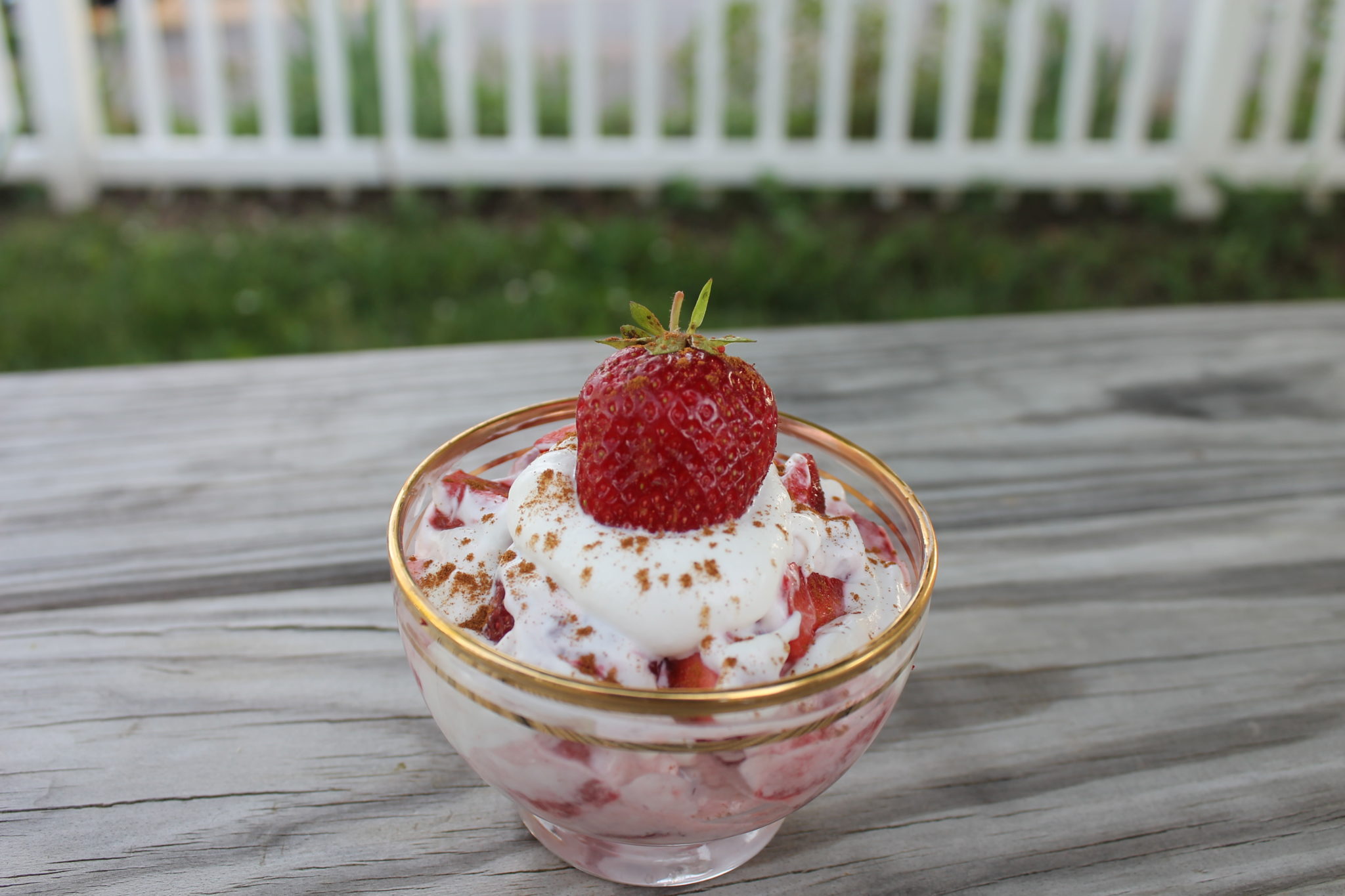 Janell Weaver Gutierrez and her family recently moved from their home in Zacatelco, Mexico, near Puebla. While living in central Mexico, she was able to get the freshest strawberries in January and February. "I always took the opportunity to buy a big box or two from the 'central de abastos' (distribution market) in Puebla," says Janell, "and make jam, freeze some for smoothies, or even make a fresh strawberry pie. One of my husband's favorite recipes from growing up in Mexico is fresas con crema – strawberries with cream."
(Get Fresas Con Crema Recipe!)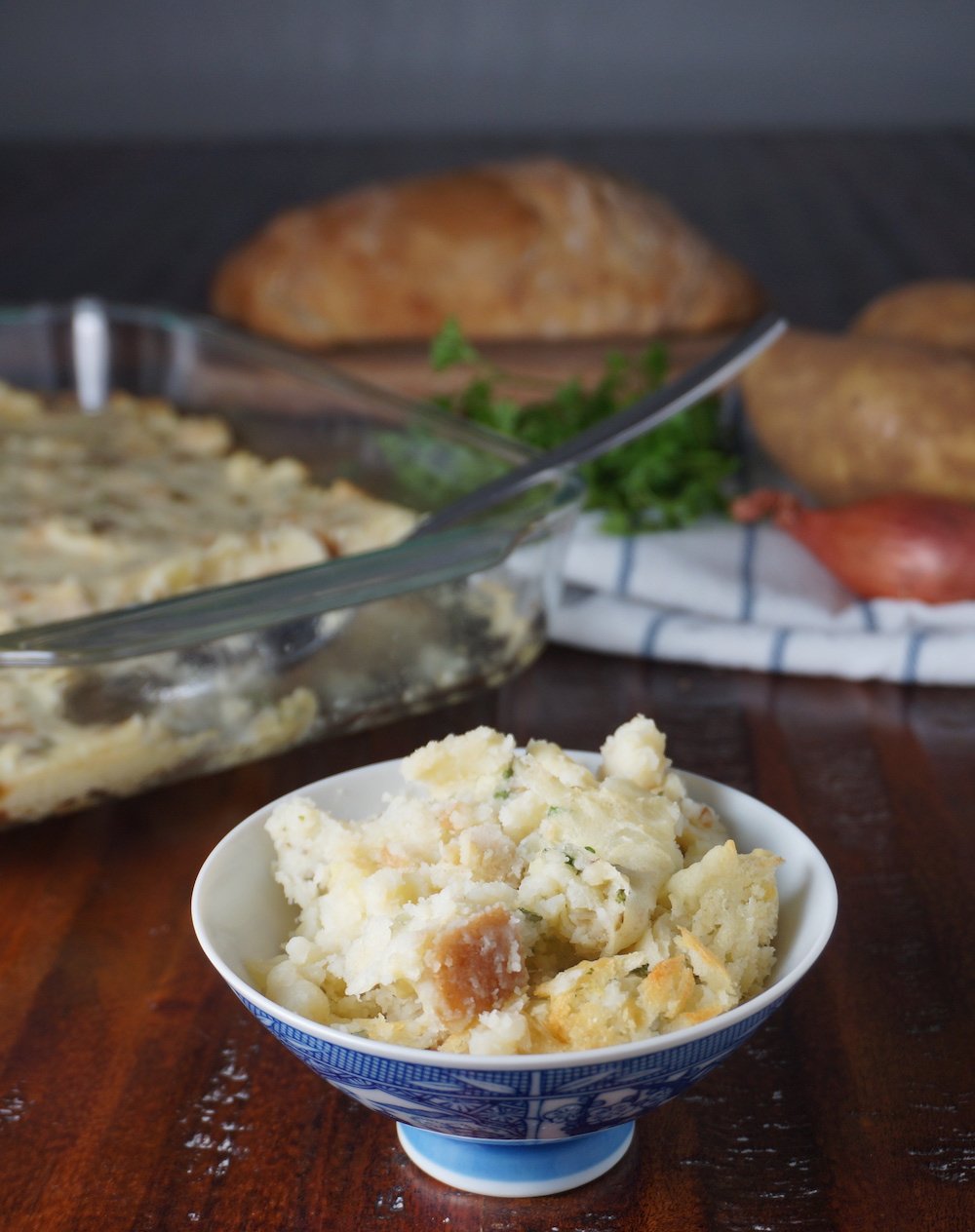 Around Thanksgiving, Weaver's Orchard's deli manager makes Pennsylvania Dutch Potato Filling in-house. It's a rich, creamy, delicious taste of Pennsylvania cooking. We highly recommend picking some up for next year's Thanksgiving meal!
If you're feeling adventurous, you could try making potato filling at home. This recipe isn't our deli's secret recipe, but it's an excellent recipe for beginners to try. It is time-consuming but not difficult, and the results are delectable. All of the savory flavors of Thanksgiving mingle in every bite. It's now one of my favorite recipes for Thanksgiving!
(Get Pennsylvania Dutch Potato Filling Recipe!)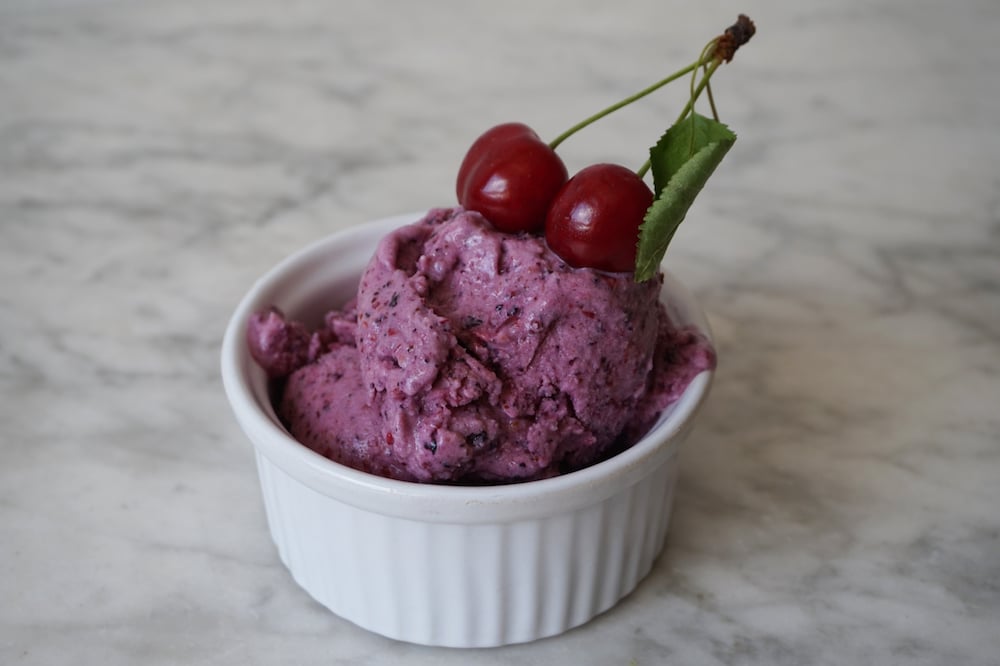 And the winner is… Frutti di Bosco Gelato, an Italian Ice Cream Specialty! The name translates "fruit of the forest," since people once foraged for smaller, wild versions of these fruits growing wild in the woods. It's a no-churn recipe that is lighter than ice cream (it uses milk instead of cream). This might be another one to bookmark for warmer weather… or just bundle up, sit by the heater, and enjoy! It's worth it, and we're sure it will become one of your favorite recipes too!
(Get Frutti di Bosco Gelato Recipe!)
Wondering what our customers' ALL TIME favorite recipe is?
Drum roll…
It's Salsa Verde with Green Tomatoes!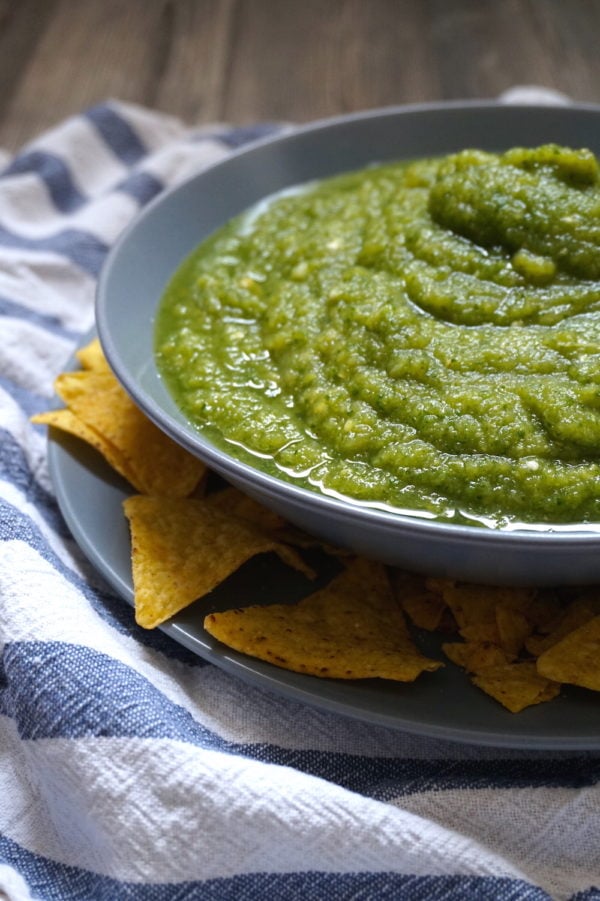 Many of our customers are avid gardeners, and figuring out what to do with green tomatoes can be a real challenge! This salsa recipe is the perfect solution, so no wonder a favorite recipe!
Did you try one of our recipes lately? Drop us a note at info@weaversorchard.com and tell us what you thought, or post to our social media!