Lately, I've been researching recipes from Italy in an attempt to learn more about my own culinary heritage. The Italian side of my family is my father's side. My dad's grandfather was the first generation born in America, in 1890. Perhaps because women have traditionally been the keepers of culinary heritage, and my Italian blood comes from my father's side, I haven't learned any "true" Italian dishes through my family. So I've wanted to uncover them.
When I went looking for a cherry dessert recipe from Rome, I began to learn a sad history. I found a recipe for crostata ricotta e visciole, which the site I found described as a kind of cherry cheesecake served in the "Roman ghetto."
Rome's Jewish ghetto was created in 1555 by the pope's decree, and the Jews were forced to pay for the construction of the wall around the four blocks that became the only place in Rome where they were allowed to live. For permission to live even in this cramped, flood-prone part of the city, they had to pay a special tax.
Whenever they left the walls, they had to wear yellow kerchiefs and hats that would identify them as Jewish, and they had to return before the curfew, when the gates would be locked. Even in the ghetto, they were not allowed to own property. They were restricted to low-paying jobs. They were subjected to a great deal of public humiliation, like having to walk a gauntlet of Roman Christians yelling insults at them during the annual Carnevale (Mardi Gras) celebration.
It was only in 1870 that Roman Jews were given full citizenship.
Today, Rome's Jewish ex-ghetto bears many reminders of its history. This includes plaques describing the devastating events of Oct. 16, 1943, in Nazi-occupied Rome. Part of what is so devastating is that these events were very nearly avoided. Mussolini had already been overthrown, and according to the New York Times, the weaker government that took over announced a truce with Allies on September 8, 1943. Despite this, the Nazis reclaimed power in a battle in Rome that claimed the lives of 597 Italian soldiers and civilians, including nearly 30 women. Back in power, the Nazis stole gold and all the treasures of the Jewish community's libraries, and then on October 16, deported over 1,000 Jews to Auschwitz. Fewer than a dozen survived.
Learning about this history, I remembered sitting with my husband and one of our Jewish friends, and hearing him talk about how the persecution his people have experienced made them so keenly aware of the need to stand up for others' civil rights as well as their own. I can see that in lives of the Jewish people I have known.
This history also makes me think about how it is important not to look away from stories where my ancestors have caused suffering to others. I am proud that both of my grandfathers served the Allies in World War II, but I also know that, farther back, my ancestors living just north of Rome may have been among the crowds hurling insults. If I am aware of history, I will know how easy it is to normalize violence and discrimination. If I can look history in the eye, I can better face today. And there's no time like the present to face the past and work toward justice, as Jews in America are facing increased violence.
Remarkably, the ex-ghetto in Rome is now a happy, bustling place, according to those who have been there–a fashionable, sought-after culinary destination. Visiting this area, "it was impossible," writes David Laskin in the New York Times, "not to be stunned by the contrast between the festive present and the somber past."
Perhaps in serving this delicious cherry cheesecake recipe from the Roman Jewish tradition, the past and the present can come together, as a moment to teach others about the history behind this dish. It is certainly a delicious dessert, with all the flavors of a cannoli mingling with the tangy flavors of tart cherries.
* * *
If you are making this cherry cheesecake when tart cherries are in season, you can use the following recipe to make your own low-sugar cherry preserves. If you don't have Pomona's pectin on hand, try this recipe instead (you can reduce it because you only need 8 or 9 ounces of cherry preserves).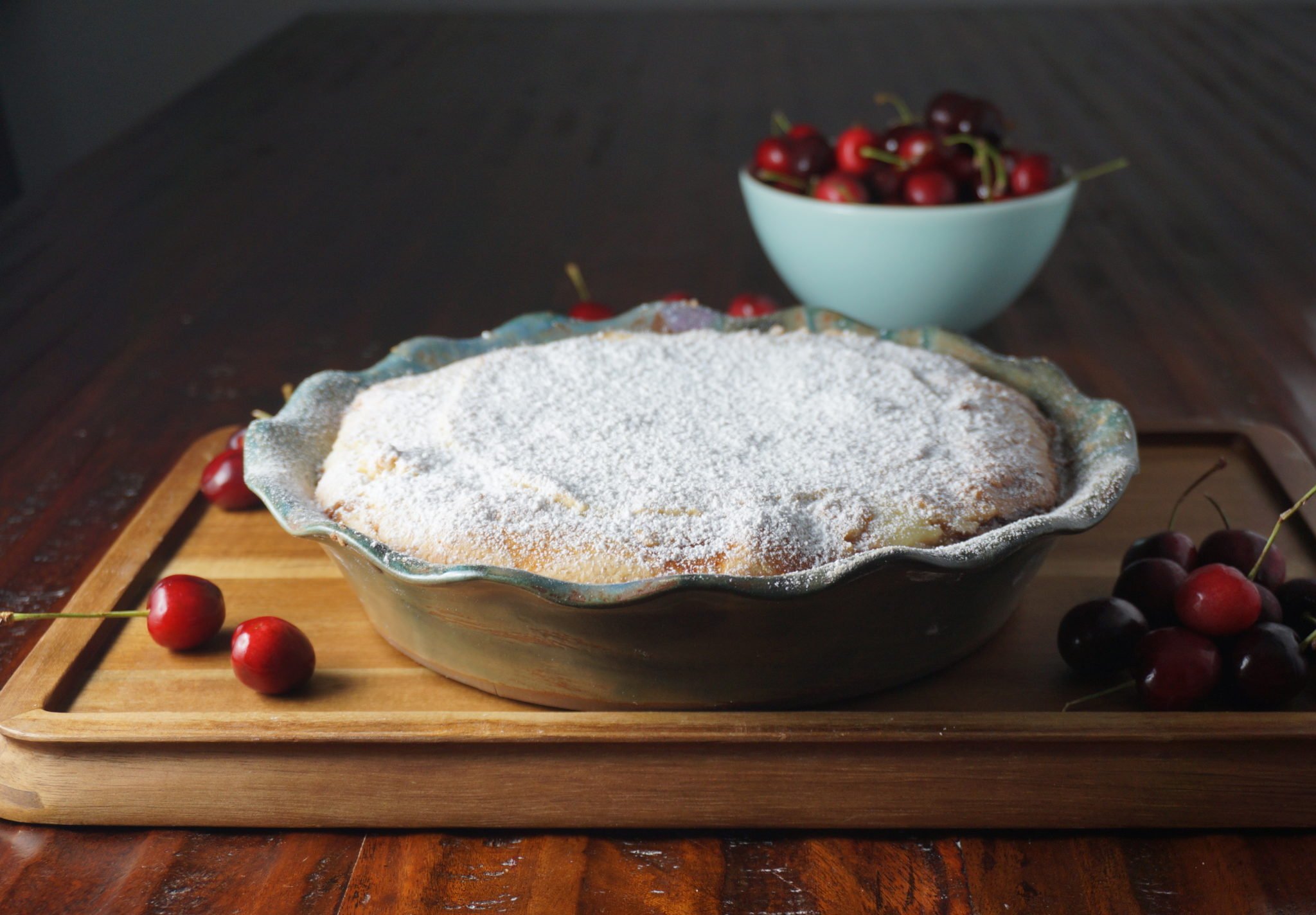 Print
Low-sugar Sour Cherry Preserves
Adapted from Food in Jars
1.25

lbs sour cherries, pitted

2/3 cup

sugar, divided

1 teaspoon

calcium water (comes with the Pomona's pectin)

1 teaspoon

pectin
Instructions
Combine cherries, 1/3 cup sugar, and all the calcium water in a large pot.
Boil. Reduce heat to medium-high. Boil 10 to 15 minutes, or until reduced by at least a third
Stir together pectin and remaining sugar. Pour slowly into the rest of the jam, whisking quickly (you want to avoid lumps).
Boil the jam for 2 minutes. Watch to see that it thickens, and when it does, remove from heat. Test firmness on a chilled plate. If not firm enough, add more calcium water and pectin.
And here is the cherry cheesecake recipe:
Print
Crostata ricotta e visciole Roman Jewish Cherry Cheesecake
Adapted from Luca's Italy
Sweet pastry:
1 1/4

sticks unsalted butter, chilled

2 cups

all purpose flour flour

3/4 cup

granulated sugar

1

egg +

3

yolks, beaten
Filling:
2 1/4 cups

ricotta cheese (about

17 ounces

)

3/4 cup

granulated sugar

1

egg, beaten

8

or

9 ounces

sour cherry preserve
Top with:
Egg wash (beaten egg white)
Confectioner's sugar
Instructions
Sweet pastry:
Cut butter into small cubes, add to the flour, and then combine, working with your fingers, until the mixture becomes a cornmeal consistency. Mix the sugar in.
Add the whole egg, then add the yolks one at a time as needed. You want just enough to bring the dough together but not have it too wet. (Mine ended up fairly wet and I had to add a lot more flour when I rolled it out.)
Wrap the dough in plastic wrap and refrigerate for 30 minutes.
Filling:
Mix ricotta and sugar. Add egg and mix.
Assembly.
Preheat oven to 350°F.
Grease a deep 8-inch pie plate with butter.
Divide the pastry so that 2/3 of it is one ball and 1/3 is another.
Roll out the larger piece on a well floured surface. Make it large enough so that about half an inch will hang over the side of the pie plate (you'll fold it part-way over the filling later). Transfer dough to pie plate.
Add cherry preserves evenly over the dough. Add ricotta mixture. Fold the edge of the dough over the filling. Brush the edge with egg wash.
Roll out the smaller piece of pastry. Cut it into an 8-inch circle
Cover the top of the pie with this circle of pastry. None of the filling should be showing any more.
Paint the top of the pie with egg wash.
Bake 50 minutes.
Cool, sprinkle with confectioner's sugar, and serve.