Apple Cider
Our Fresh-Pressed Apple Cider
Our preservative-free apple cider is famous throughout the region for its fresh-off-the-tree taste. For many years, it has won awards at the Mid-Atlantic Apple Cider Contest, standing up against the best ciders from Pennsylvania, Maryland and New Jersey.
What makes it so good? We blend at least five varieties of our own apples to strike the perfect sweet-tart balance. From September to May, we press it on site. From late spring to early fall, we freeze it so we can offer cider outside of cider pressing season.
Try a glass with one of our homemade apple cider donuts!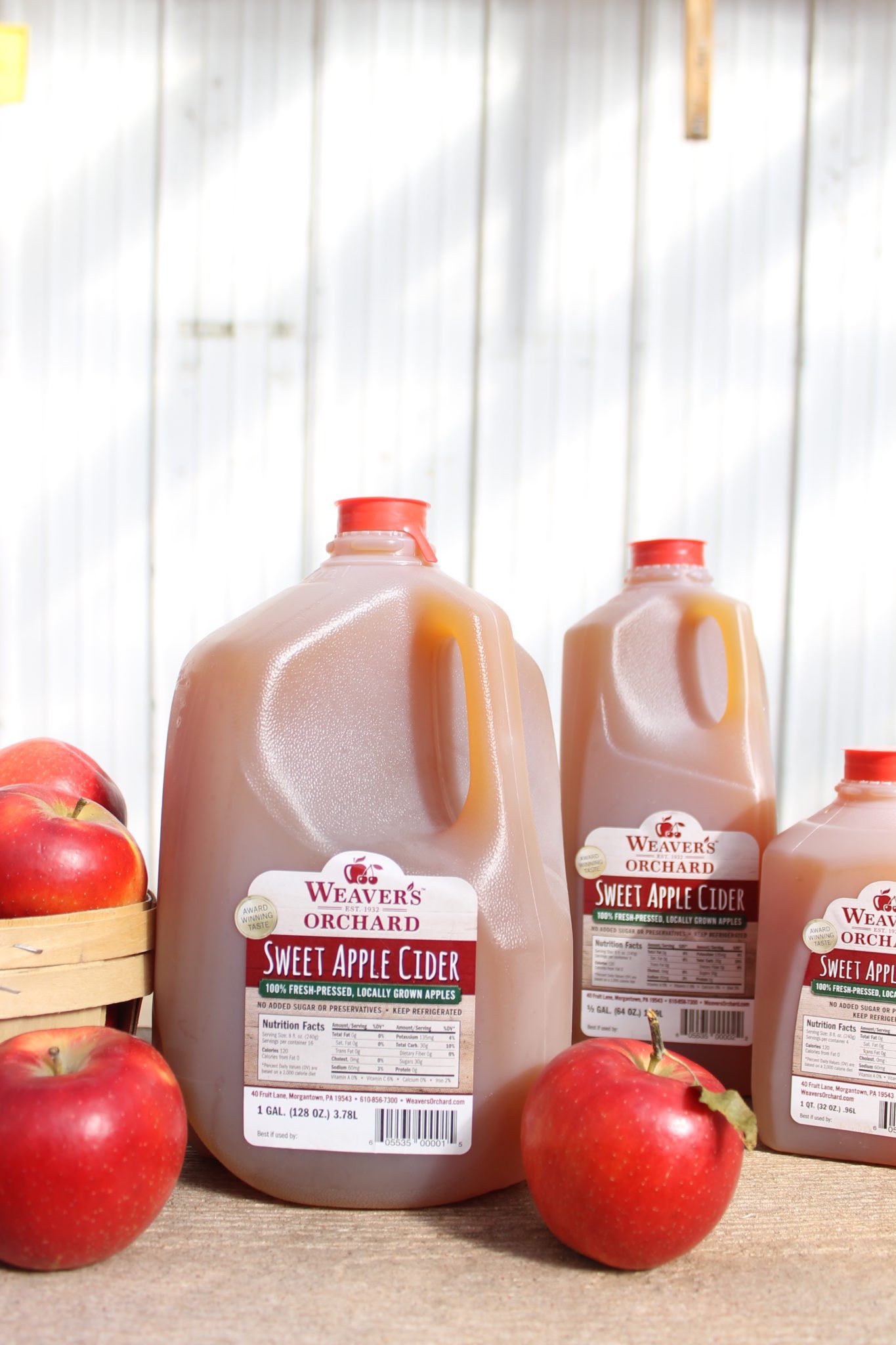 Our Cider Making Process
We pick apples straight from the tree, wash them, brush them and press them.
We keep our operation safe and sanitary by following FDA guidelines, and we use an FDA-approved ultraviolet treatment called "cider sure" to kill all harmful bacteria. Ultraviolet treatments have been used for bottled drinking water for over 25 years, and unlike pasteurization, this treatment does not heat the cider, so it makes the cider safe without diminishing the taste.
Want to watch cider-pressing first-hand? Come to the orchard each fall! We'll show you our cider operation during select family fun days and private events.
—
Where to Buy Our Apple Cider
Pick up Weaver's Orchard freshly-pressed, preservative-free Cider at one of the following locations:
Weaver's Orchard – 40 Fruit Lane, Morgantown, PA 19543
Barnard's Orchards & Greenhouse – 1079 Wawaset Rd Kennett Square, PA 19348 
Beaver Dam Produce at Wyomissing Farmer's Market – 845 Woodland Rd, Reading PA 19610 
Boyer's Orchard – 4116 Cortland Drive, New Paris, PA 15554
Crop's Fresh Marketplace– 1257 Horseshoe Pike, Downingtown, PA 19335 
Dutch Country Farm Market- 3190 Schuylkill Rd, Spring City, PA 19475 
Gentile's Market- Rt.252 & Mary Jane Lane, Newtown Square, PA 19073
Hershey Farm Market – 959 Octarora Trail, Parksburg, PA
Hoober Produce, Inc. at Fairgrounds Market – 2930 N 5th St Hwy, Reading, PA 19605 
Hoover Farm Market- 1719 Main St, East Earl, PA 17519 
Ikes Garden, LLC. at Bristol Amish Market – 498 Green Ln, Bristol, PA 19007 
Kimberton Whole Foods – Several locations- click on link to view all locations. 
Kings Garden at Westtown Amish Market– 1165 Wilmington Pike, West Chester, PA 19382 
Kolb's Farm Store – 231 Baptish Church Rd, Spring City, PA 19475 
Meck's Produce – 1955 Beaver Valley Pike, Strasburg, PA 17579 
Northbrook Marketplace – 1805 Unionville Wawaset Rd.
Sue & Cho's Fresh Produce at Shillington Farmers Market – 10 S Summit Ave, Shillington, PA 19607 
Pete's Produce – 1225 E Street Rd, West Chester, PA 19382
Plum Creek Farm Market– 5035 Bernville Road, Bernville, PA 19506
Renninger's Farm – 924 Second Ave, Royersford, PA 19468 
Ridgetop Orchards – 2953 Valley Rd, Fishertown, PA 15539 
Shirk's Produce – 2222 Main St, Narvon, PA 17555
Wolff's Apple House, Inc. – 12 Van Leer Ave, Media, PA 19063 
—-