Use the delicious local and homegrown food in our market to raise money for causes and organizations you care about.  Most products in our farm market are available for fundraisers.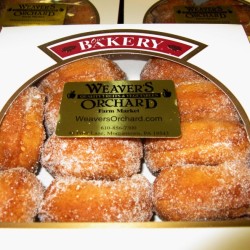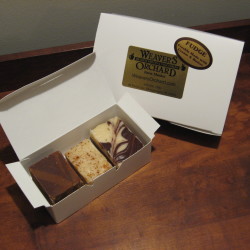 Deli sandwiches, fudge, apple cider doughnuts and other baked goods are also available.
Weaver's gives you two convenient fundraising options:
Option 1: Sell Tickets
Participants will buy tickets from you and then bring their tickets to the orchard, where we prepare the item fresh.  For instance, if you were selling sandwiches, participants could present their tickets at the deli and we would make them a sandwich.
Pies: When you choose this option, participants with tickets can pick up fresh-baked pies at our store on a pre-determined date range.
Option 2: Pre-Order
Your fundraising participants will sign up on an order form.  You then place the order with us, pick up your order and distribute the items yourself.
Pies: We will give you frozen bake-at-home pies to distribute.
__
Let us know how we can help!  We value giving you the ingredients you need to run a successful fundraiser.  Call us for more information, or find out more with our Fruit Pie fundraising flyer. Just be sure to let us know about your fundraiser before handing out the flyers so we can plan accordingly!
What people say about our fundraisers:
"Everyone who had the pies said they were AWESOME and that they would definitely buy them again."
"Pies were AWESOME. Loved the cherry and pumpkin!"
"I already baked the cherry crumb and apple caramel walnut. BOTH were delicious."
"The apple pie went into the freezer for Thanksgiving but the blackberry pie was baked immediately.  It was excellent!!!!!"
"The pies were YUMMY!!  The pumpkin had just the right amount of spices in it that they all melded together beautifully so that one spice was not overpowering another.  The family enjoyed the pecan as well, hubby said it was just the right gooey he likes."
"They are fantastic!"