Educational Events: On-Farm School Tours and Field Trips
Weaver's Orchard offers many educational events. We encourage field trips and school tours on our farm.  We know the value of teaching the next generation about agriculture. After all, we are a fourth-generation farm! We want children from preschool through elementary school to know that eating locally grown fruits and vegetables is healthy and delicious!
Our fall school tours focus on apples. Your group will learn about an apple's life cycle and get a back-stage pass to see what happens to an apple once it is ready to be harvested at Weaver's Orchard.
Our spring and summer group tours focus on planting and pollinators. These are perfect field trips for your preschool, kindergarten or elementary school class, homeschool group, scouts, daycare or day camp group. Topics can also be adjusted to accommodate older children or adults.
Teachers: create your own agricultural lesson plans using curated resources and resources from our blog. Gardeners: Get our recommended resources on caring for fruit trees.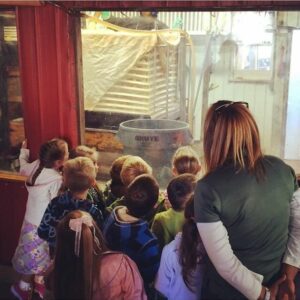 School Tours
During the fall, our tours focus on the apple harvest. These ninety minute tours will show your class the apple trees, cider press and farm market.
In the springtime, our ninety minute "young farmer" tours focus on planting and bees.