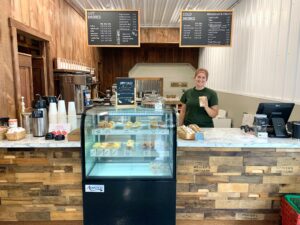 Kim's Café – NOW OPEN in our new expansion!
Winter Hours:
Monday-Friday: 8 am-5 pm
Saturday: 8 am-5 pm
Sunday: CLOSED
Kim's Café is an orchard-fresh café serving locally-roasted coffee, specialty espresso beverages, hot cider, homemade baked goods and more.  It's the perfect stop on your way to work, to our farm market or to pick-your-own!  Our own fruit infuses many of the beverages and baked goods.  Since the café opened in September 2014, we have served:
Specialty Beverages
Peppermint Chai
Italian Soda
Hot Cocoa Joe (Hot Chocolate and Coffee)
Tea Lattes
Caramel Mocha Latte
Caramel Café au Lait

Dirty Chai (Double espresso, chai, steamed milk,)

And more!
Plus, place your order for your espresso beverage (such as a latte or cappuccino) and we'll create it to your liking!
We proudly brew Javataza Coffee and Twin Valley Coffee. Stop by and grab some coffee to-go!

Locally Made Baked Goods (availability varies seasonally)
Cream Cheese Tarts
Biscotti
G/F Pastries
Chocolate Croissants
Energy Bites
And more!
Fresh Pressed Paninis
Caprese on Multi-Grain
Chipotle Turkey and Cheddar on Sourdough
Grilled Cheese on Sourdough
Breakfast Sandwiches Available Daily From 9 am – 12 pm
---
How Kim's Café began:
Kim Weaver has always loved coffee shops. She says she loves the comfortable, personal atmosphere that draws her in as soon as she steps into a café. The dream of starting a café of her own began as she talked with her father, Ed Weaver. They dreamed together about creating a warm, welcoming café on the grounds of Weaver's Orchard, and together, they made it a reality.
When she started Kim's Café in September 2014, Kim designed a café that captures what the community loves about Weaver's.  The café atmosphere offers a chance for customers to stop and chat with Kim, her fellow baristas and each other as they pick up their beverages, to enjoy farm-to-table freshness and to savor quality food and beverages… (Read more…)