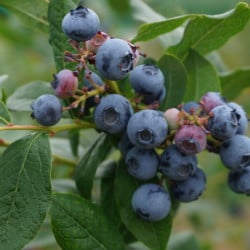 Season: Early July to Early August
Pricing:  
Starting Wednesday, June 14, all pick-your-own customers must receive and wear a wristband when in the fields and orchard.
Customers may obtain wristbands in two ways:
Having a Pick-Your-Own club member card. This costs $5 and is good for 10% off ALL pick-your-own purchases throughout the entire harvest season. Pick-Your-Own club members will receive wristbands for two adults and children 18 and under who are accompanying the club member.
Paying a $3 entry fee. This is good for one person, one day only. Children 18 and under will receive a wristband but do not need to pay entry fee if accompanied by paying adult.
Blueberry pricing:
$2.50 /lb 15+ lbs
$2.99/lb 6-15 lbs
$3.99/lb under 6 lbs
Picking Tips
Blueberries grow in clusters and not all the berries ripen at the same time. One cluster may have ripe fruit, unripe fruit and green fruit. So take your time when picking!
Blueberries begin to turn color before they are fully ripe. A berry may look ripe, but if you turn it over and the stem end is still red or green, it is far from ripe. A fully ripe blueberry is deep blue, even near the stem.
Unripe berries will not ripen further after harvest, so avoid the unripe ones to get those sweet berries that you are looking for!
SaveSave
SaveSave
SaveSave
SaveSave