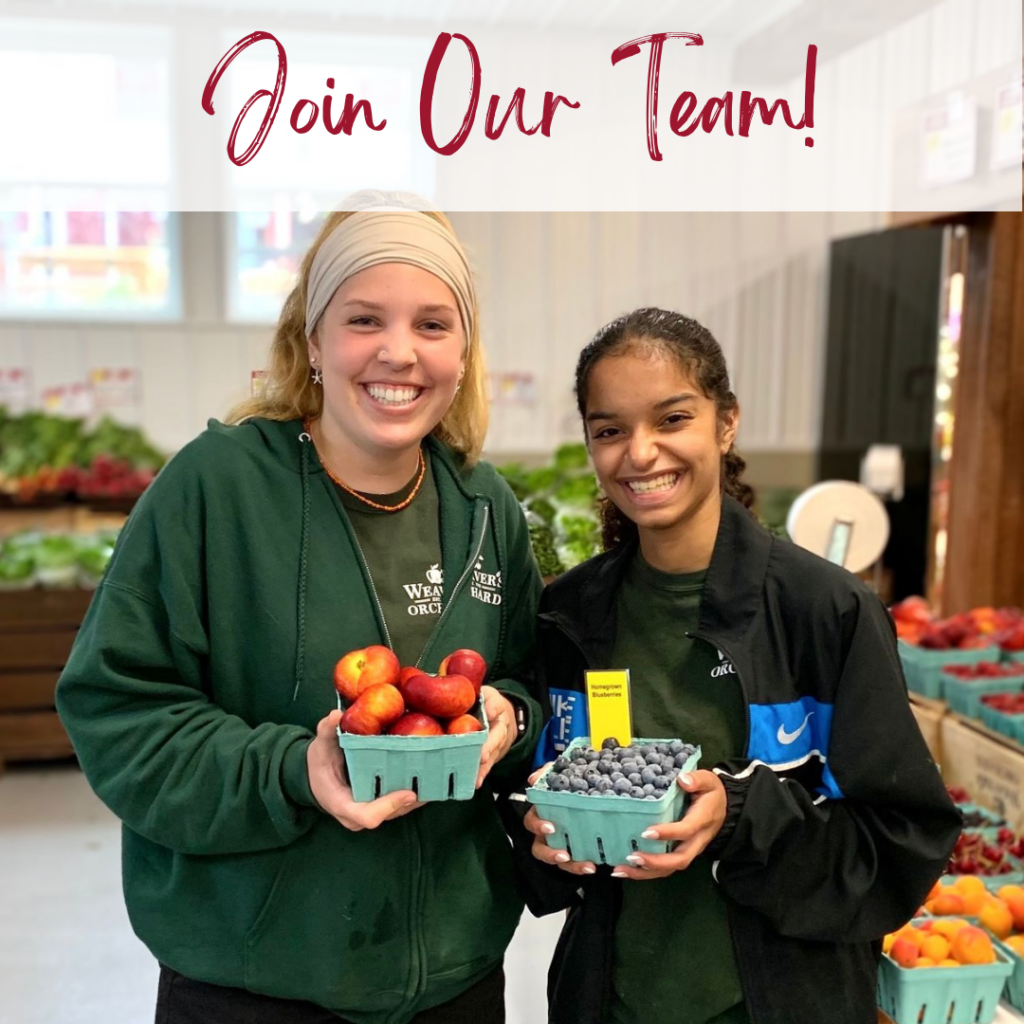 Employment Opportunities at Weaver's Orchard
We are a 4th generation family business located in Berks County, Pennsylvania. We grow fruit and produce with your health in mind. As a family-owned farm, we are always thinking about future generations. We strive to keep our family, our land, and our community safe and healthy. We love to provide educational experiences to the public on our farm.
We offer competitive compensation, Sunday's off, as well as holiday and vacation pay.
We currently have the following job opportunities. A summary of the position is provided here. Please, contact Janell@weaversorchard.com for a full job description.
Farm Market Manager Job Summary:
We are looking for an individual to manage our family-owned farm market, including the staff and product. The market manager is accountable for supervision and support of department managers and staff, setting the general atmosphere for work ethic and customer service, goal setting and attainment, completion of projects and evaluation to generate profits for the business. The manager will develop and grow relationships with vendors and oversee purchasing of current and new product. The market manager will exercise authority and independent judgement regarding making decisions, while reporting directly to the owners.
This position is full-time+. An average of 50hrs per week, depending on season.
Produce Manager Job Summary:
Our produce manager will take a lead role in ensuring that we deliver the highest quality products along with the highest level of customer service. The produce manager is responsible for leading the team of staff, delegation of daily responsibilities, quality control, maintaining organization and cleanliness of the department, purchasing and pricing the product, assisting in and strategizing for sales growth, contributing to creativity and fresh ideas in product displays, and training of new staff. The produce manager must be a team player and lead by example. The individual will work closely with the farm market and production managers to educate staff and customers on the wide variety of seasonal product and sustainable farming practices in order to achieve success through excellent customer service, nurturing a connection with and passion for quality produce.
This position is full-time+. An average of 45-50hrs per week, depending on season.
Deli Staff
Must be 18+
• Shift duration ranges from 4 to 8 hours
• Tend to customers, keep clean work area, keep deli stocked and cut meats and cheese
• Product rotation
• Make sandwiches
• Keep bread and cold selections neat and stocked
• Package or prep food for other departments as needed
• Follow food safety procedures
Human Resources Manager Job Summary:
The Human Resources Manager will use their skills and insight to promote our business values and educate our staff on how to work within and promote those values as well. This individual will oversee and be directly involved in the hiring and training of Farm Market/Pick-Your-Own staff. The individual will also aid the Maintenance, School Tour and Events Coordinators in fielding applications and interviewing/hiring as necessary. The HR Manager will coordinate with other office and payroll staff to ensure effective onboarding of staff, oversee department managers as they train their staff, and ensure that general policies and procedures are being followed. The individual will work alongside staff to give additional training when needed, take disciplinary action if necessary, and work alongside coworkers who are struggling to maintain a healthy work relationship. Finally, our Human Resources Manager will help to create a positive work environment with fun and community/team building experiences, be an encouragement to all, and help to recognize the accomplishments of staff.
This position is full-time. An average of 40 hours per week.
Tour Guide Staff
Do you enjoy working with children and teaching them new things? Join our team of orchard tour guides! We are seeking passionate and energetic tour guides to lead walking tour groups. The tours cover many areas of the orchard, requires sharing interesting orchard facts and doing special activities with the students. This seasonal position (fall with occasional spring and summer tours) is ideal for motivated candidates looking for a fun way to make extra income! From start to finish tours can last between 2 to 2 ½ hours, occasionally up to 4 ½ hours. Part-time hours between 8:30 am and 3:00 pm, Monday through Friday. Days can be flexible. This individual must be dependable and reliable.
—
—