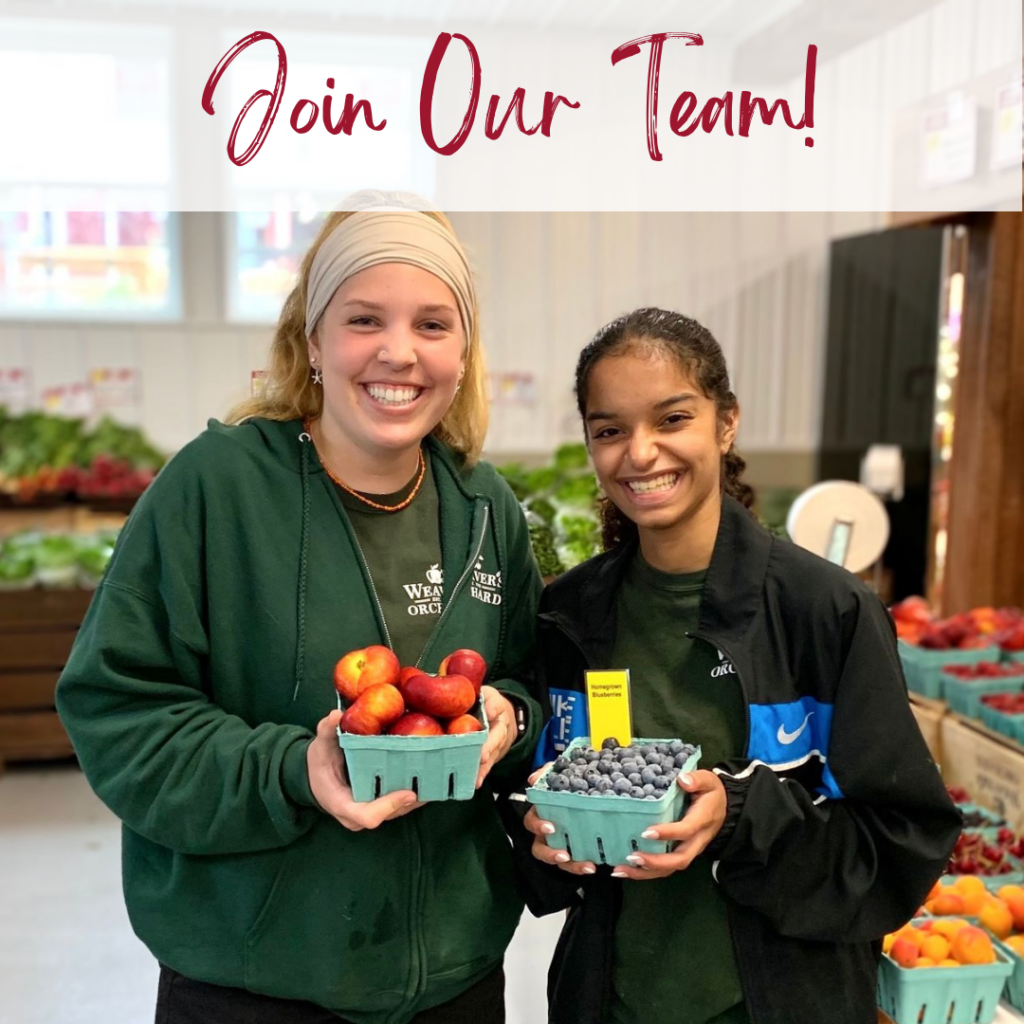 Employment Opportunities at Weaver's Orchard
We are a 4th generation family business located in Berks County, Pennsylvania. We grow fruit and produce with your health in mind. As a family-owned farm, we are always thinking about future generations. We strive to keep our family, our land, and our community safe and healthy. We love to provide educational experiences to the public on our farm.
We offer competitive compensation, Sunday's off, as well as holiday and vacation pay.
We currently have the following job opportunities. A summary of the position is provided here. Please, contact alys@weaversorchard.com for a full job description.
School Tour Guides

Do you enjoy working with children and teaching them new things? Join our team of orchard tour guides! We are seeking passionate and energetic tour guides to lead walking tour groups. The tours cover many areas of the orchard, requires sharing interesting orchard facts and doing special activities with the students. This part-time, seasonal position is ideal for motivated candidates looking for a fun way to make extra income! From start to finish tours can last between 2 to 2 ½ hours, occasionally up to 4 ½ hours.
Minimum Qualifications:
· Must be at least 18 years of age.
· Must have excellent communication and interpersonal skills to relate to customers and coworkers.
· Must have the ability to follow the instructions of a manager(s).
· Must have the ability to work independently and as part of a team.
Preferred experience/skills
· Some knowledge of working on an orchard/farm and experience with children.
Primary responsibilities:
· Setting up in preparation for the tour.
· Gathering and maintaining materials needed for each tour.
· Greeting and welcoming students and teachers/parents upon arrival.
· Reviewing itinerary of tour with your group.
· Taking group on guided tour of orchard; including special activities.
· Ability to share facts with the group about the orchard.
· Cleaning up upon completion of tour.
Personal Attributes:
Individual shall be:
· Pleasant and willing to communicate with all customers.
· Capable of maintaining a positive attitude in all types of customer/employee interactions.
· Able to quickly adapt to changing circumstances.
· Organized and neat.
· Willing to learn new things and receive correction from manager(s).
· Ability to be flexible and problem-solve.
Physical requirements:
· Must be able to lift at minimum 25lbs.
· Must be able to walk for an extended time and be mobile.
· Must have a strong voice that can project in a loud environment.
Physical appearance:
Due to the nature of this position, and the image we wish to convey, we require conservative, neat/ clean attire. Additionally, the individual shall not have visible tattoos or piercings other than ear piercings deemed to be conservative by management. Hair color shall appear natural (i.e. not green, purple, etc.) and style shall be conservative. Any other requirements will be found in the Employee Handbook.
Structure:
Part-time hours between 8:30 am and 3:00 pm, Spring tours: Tuesdays and Fridays, end of April-May; Fall Tours: Monday through Friday, mid-September through the first week of November; (Few summer tours sporadically, optional). Days can be flexible. This individual must be dependable and reliable. Your availability is agreed to when you interview/sign the job offer.
Job Type: Part-time
Farm Market Manager Job Summary:
Job Summary:
Individual will manage a family-owned farm market, including the staff and product. The market manager is accountable for supervision and support of department managers and staff, setting the general atmosphere for work ethic and customer service, goal setting and attainment, completion of projects and evaluation to generate profits for the business. The manager will develop and grow relationships with vendors and oversee purchasing of current and new product. The market manager will exercise authority and independent judgement regarding making decisions, while reporting directly to the owners.
Responsibilities:
Provide prompt and Friendly service to our customers
Engage and interact with customers to create a positive and familiar shopping experience
Overseeing department managers and staff
Train, motivate, evaluate and guide staff to current and future goals of the business
Sustain a high-level knowledge of all products, especially what is grown at Weaver's Orchard, its uses and seasonality.
Establish and achieve sales and financial objectives.
Assist owners with special projects and tasks as required.
Personal Attributes:
Pleasant, outgoing, and skilled in all forms of communication
Managing time in a fast paced environment during busy days/ seasons
Organized and keep accurate records
Minimum Qualifications:
High school Diploma
Must have experience in retail and management of people and product ( preferred 5 years total experience in retail, 2 years of experience in management)
Excellent communication and interpersonal skills
Strong initiative, self motivated
Must be flexible and able to adapt to an ever-changing retail environment
Must be able to work as a team.
Must be able to lift up to 50Lbs frequently
Job requires prolonged standing, walking, and lifting, with the potential for prolonged work outdoors in varying weather conditions.
Structure:
This position requires a minimum of 50-55hours/week for most of the year. Busy season hours (summer and fall) are determined in part by efficiency of the individual filling the role. Must be able to work all Saturdays (except for pre-approved time off for important events) during the busy season (May through December) and at least 3 out of 4 Saturdays per month in the slow season (January through April). Most holidays are required with adjusted hours (except when the market is closed – see market hours on website). NO SUNDAYS – market closed.
Produce Manager Job Summary:
Our produce manager will take a lead role in ensuring that we deliver the highest quality products along with the highest level of customer service. The produce manager is responsible for leading the team of staff, delegation of daily responsibilities, quality control, maintaining organization and cleanliness of the department, purchasing and pricing the product, assisting in and strategizing for sales growth, contributing to creativity and fresh ideas in product displays, and training of new staff. The produce manager must be a team player and lead by example. The individual will work closely with the farm market and production managers to educate staff and customers on the wide variety of seasonal product and sustainable farming practices in order to achieve success through excellent customer service, nurturing a connection with and passion for quality produce.
This position is full-time+. An average of 45-50hrs per week, depending on season.
Assistant Café Manager
Our team is looking for an assistant manager for Kim's Café.
Deli Manager Job Summary:
Our market team is looking for a deli manager who will manage the product and personnel of
the market deli with the end goal of a profitable, organized deli in order to continue serving
our customers with top quality sandwiches, meats, cheeses and salads. This individual will
train new staff and provide continued supervision, ensuring that department staff provide
friendly and efficient service and are in alignment with overall market goals.
This position is full-time. An average of 40 hours per week.
—
—