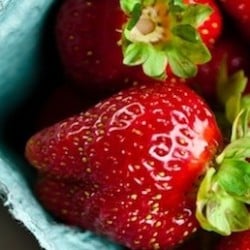 Season: Now CLOSED for 2017
Our strawberries are planted on raised, plastic-lined beds with plenty of straw in between the rows to keep you and your kids from getting muddy. (Although we can't guarantee you'll be totally mud-free!)
Pricing:
Starting Wednesday, June 14, all pick-your-own customers must receive and wear a wristband when in the fields and orchard.
Customers may obtain wristbands in two ways:
Having a Pick-Your-Own club member card. This costs $5 and is good for 10% off ALL pick-your-own purchases throughout the entire harvest season. Pick-Your-Own club members will receive wristbands for two adults and children 18 and under who are accompanying the club member.
Paying a $3 entry fee. This is good for one person, one day only. Children 18 and under will receive a wristband but do not need to pay entry fee if accompanied by paying adult.
Strawberry Pricing: 
JUNE 22 THROUGH END OF SEASON
$2.39/lb for all quantities- club membership discount still applies
No entry fee required for PYO strawberries
Picking Tips
Avoid pale red strawberries and berries with green tips.  Strawberries will not ripen after you pick them!
Pick all the ripe berries, big and small.  Smaller berries are often sweeter.  Sweetness also depends on the variety.
When picking, be sure the cap, or green top, remains on the strawberry by pinching the stem of the berry between your thumb and forefinger.
SaveSave
SaveSave
SaveSave
SaveSave
SaveSave