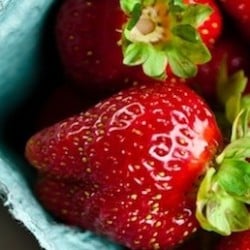 Season for Strawberries: Late May / early June through the end of June / beginning of July. Finished for 2018.
Our strawberries are planted on raised, plastic-lined beds with plenty of straw in between the rows to keep you and your kids from getting muddy. (Although we can't guarantee you'll be totally mud-free!)
Wristbands:
We require wristbands for everyone entering the pick-your-own areas, which allows us to identify people who are in the orchard as paying pick-your-own customers. This leads to greater security for us and for you, ensuring that everyone who is on the property is accounted for. It is also a way for us to keep overall costs down by ensuring that everyone is paying for the fruit they pick.
WRISTBANDS ARE FREE ON NON PEAK DAYS – MONDAY THROUGH THURSDAY, excluding holidays.
Wristbands are always free for children five years old and younger who are accompanied by a paying parent or legal guardian.
Wristbands are $2 for customers 6 years old and up on peak days (Fridays, Saturdays, Independence Day, Labor Day and Columbus Day in 2018).
A $10 pick-your-own discount card provides 10% off all pick-your-own purchases throughout the season. (Most customers find this card pays for itself within the first two visits.)
Read orchard president Ed Weaver's description of our pick-your-own experience & the crop outlook for 2018 
here
.
Pricing:
Check back for our 2019 pricing.
Picking Tips
Avoid pale red berries and berries with green tips.  Strawberries will not ripen after you pick them!
Pick all the ripe berries, big and small.  Smaller berries are often sweeter.  Sweetness also depends on the variety.
When picking, be sure the cap, or green top, remains on the strawberry by pinching the stem of the berry between your thumb and forefinger.
Visit our Pinterest page and our blog for recipe inspiration!
SaveSave
SaveSave
SaveSave
SaveSave
SaveSave
SaveSave
SaveSaveSaveSave
SaveSave
SaveSave
SaveSave