Pick-Your-Own Daily Update
Update for Tuesday, 9/26/23
Pick-Your-Own is now closed due to the inclement weather.
Check-in on our Weaver Road location. Follow signs to check in. Staff will then direct you towards picking areas.
Please be cautious as wasps, hornets, and bees are very active! We recommend wearing closed-toe shoes!
Apples – Honeycrisp, Autumn Crisp, Crimson Crisp, Pixie Crunch, Macintosh, Smokehouse, Gala, Jonathan, Cortland, Ambrosia, Shizuka, Red Delicious, Gold Delicious, Empire, Crimson Gold
Price: Peck (3 Wristbands) – $24 1/2 Bushel (6 Wristbands) – $42; 4+ 1/2 Bushels – $39
Pears – Gem, Shenandoah, Asian, Harrow Sweet
Price: 5qt Bucket (2 Wristbands) – $18 Peck Box (3 Wristbands) – $29 1/2 Bushel Box (6 Wristbands) – $45
Kiwiberries – open now!
Price: Quart: $12, Bucket: $48
PYO hours:
Monday – Thursday – 9 am- 4:30 pm
Friday – 9 am – 5:30 pm
Saturday 8 am – 3:30 pm
As we have in past years, hours will be adjusted if temperatures are forecast to go above 90 degrees, which will then be 9 AM – 1 PM.
Crop Ripening Dates: We have had great weather this year, and our crops are ripening early. Stay tuned for details.
Pumpkins – Late Sept. – Oct.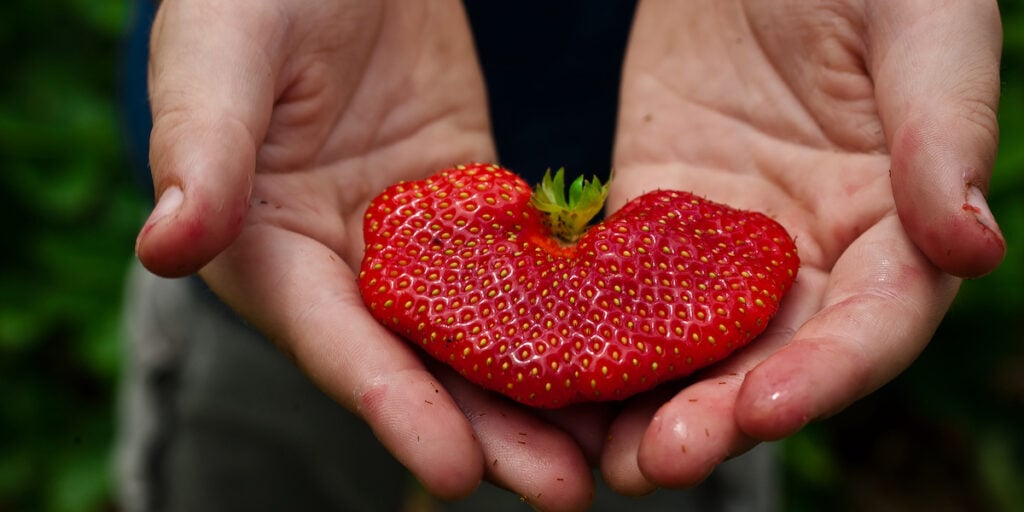 Strawberries
Our strawberries are planted on raised, plastic-lined beds with plenty of straw in between the rows to keep you and your kids from getting muddy. (Although we can't guarantee you'll be totally mud-free!)
Pricing
Purchase a Pick-Your-Own Rewards Card during your next picking visit for only $10! Use your rewards to receive 10% ANY crop ANY time you pick!
Season
Strawberries are now finished for the 2023 season. See you in 2024!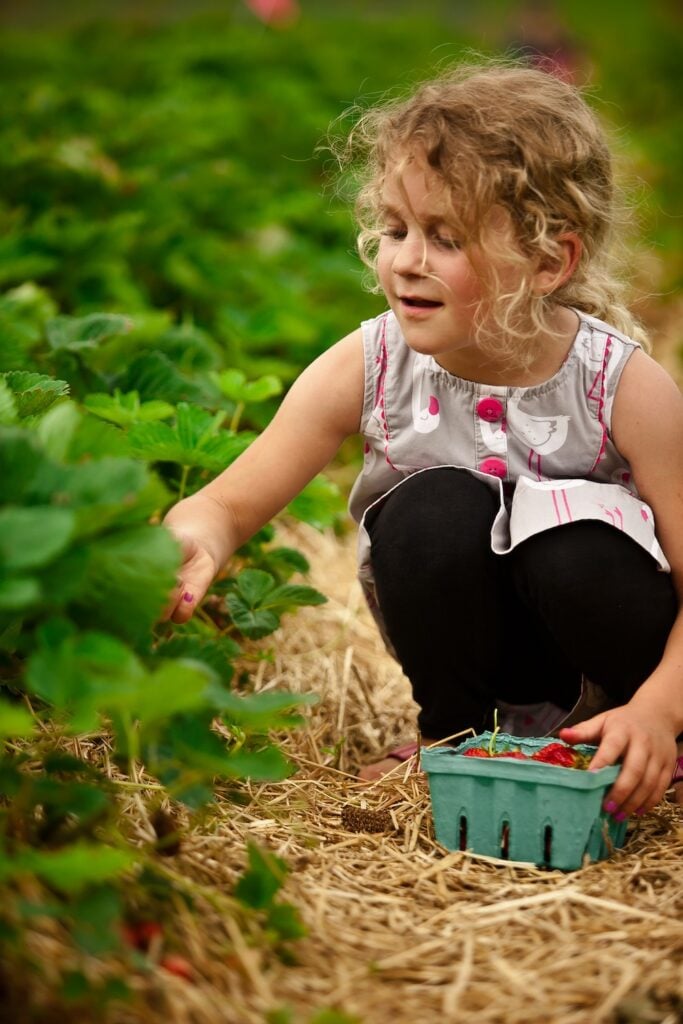 Picking Tips
Avoid pale red berries and berries with green tips. Strawberries will not ripen after you pick them!
Pick all the ripe berries, big and small. Smaller berries are often sweeter. Sweetness also depends on the variety.
When picking, be sure the cap, or green top, remains on the strawberry by pinching the stem of the berry between your thumb and forefinger.
Visit our Pinterest page and our blog for recipe inspiration!
—
SaveSave
SaveSave
SaveSave
SaveSave
SaveSave
SaveSaveSaveSave
SaveSave
SaveSave
SaveSave