Pick-Your-Own Daily Update
Update for Wednesday, 9/27/23
Check-in on our Weaver Road location. Follow signs to check in. Staff will then direct you towards picking areas.
Please be cautious as wasps, hornets, and bees are very active! We recommend wearing closed-toe shoes!
Apples – Honeycrisp, Autumn Crisp, Crimson Crisp, Pixie Crunch, Macintosh, Smokehouse, Gala, Jonathan, Cortland, Ambrosia, Shizuka, Red Delicious, Gold Delicious, Empire, Crimson Gold
Price: Peck (3 Wristbands) – $24 1/2 Bushel (6 Wristbands) – $42; 4+ 1/2 Bushels – $39
Pears – Gem, Shenandoah, Asian, Harrow Sweet
Price: 5qt Bucket (2 Wristbands) – $18 Peck Box (3 Wristbands) – $29 1/2 Bushel Box (6 Wristbands) – $45
Kiwiberries – open now!
Price: Quart: $12, Bucket: $48
PYO hours:
Monday – Thursday – 9 am- 4:30 pm
Friday – 9 am – 5:30 pm
Saturday 8 am – 3:30 pm
As we have in past years, hours will be adjusted if temperatures are forecast to go above 90 degrees, which will then be 9 AM – 1 PM.
Crop Ripening Dates: We have had great weather this year, and our crops are ripening early. Stay tuned for details.
Pumpkins – Late Sept. – Oct.

Kiwiberries
KiwiBerries are a unique, grape-sized berry that tastes like a fuzz-less kiwi fruit! Pick-your-own kiwi berries right off the vine in our orchard.
—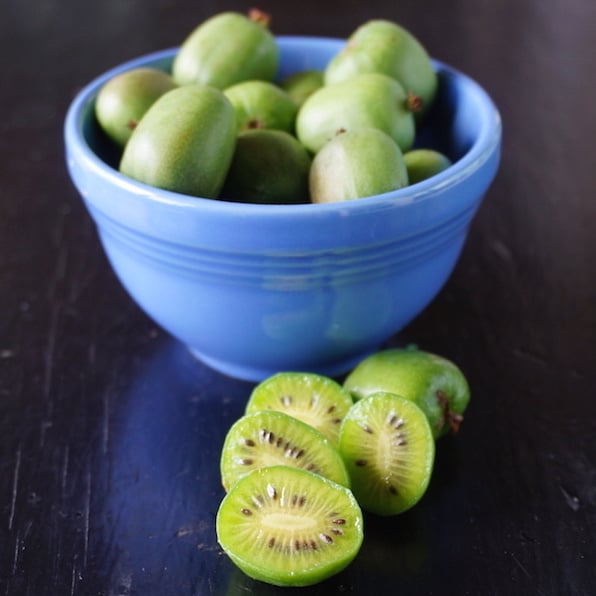 Pricing
Kiwiberry pricing coming soon.
Season
Ripening September 2022.
Picking Tips:
The riper fruit is larger and has a slightly lighter green color. Don't wait until fruit is soft on the vine to pick it.
Use a small container for picking. A 4-5 quart box works well. They will be firm when you pick them but will become more delicate as they ripen.
The berries will need to ripen for 3-4 days at room temperature after picking. If you place them in a container with a banana or tomato, this will help the fruit ripen more evenly.
SaveSav
SaveSave
SaveSaveSaveSave
SaveSav