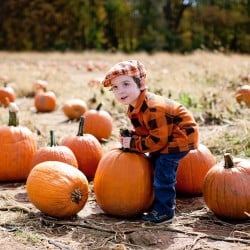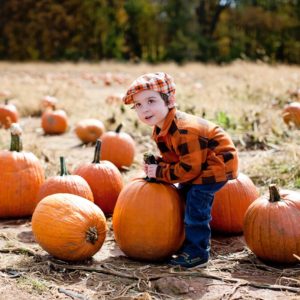 Season: Late-September to Late October (PYO). Mid-September-Late November (Market)
Pricing:  
Starting Wednesday, June 14, all pick-your-own customers must receive and wear a wristband when in the fields and orchard.
Customers may obtain wristbands in two ways:
Having a Pick-Your-Own club member card. This costs $5 and is good for 10% off ALL pick-your-own purchases throughout the entire harvest season. Pick-Your-Own club members will receive wristbands for two adults and children 18 and under who are accompanying the club member.
Paying a $3 entry fee. This is good for one person, one day only. Children 18 and under will receive a wristband but do not need to pay entry fee if accompanied by paying adult.
Check back for additional 2017 pricing.
Picking Tips
Drum on the pumpkin lightly and listen for a hollow sound.  This means it is ready to be picked.
If the pumpkin's skin is hard when you press on it and almost feels like a shell, it is ripe.
Look for a good amount of yellow-green leaves around ripe pumpkins.
SaveSave
SaveSaveSaveSave
SaveSave
SaveSave