Pick-Your-Own Daily Update
Update for Wednesday, 9/29/23
Check-in on our Weaver Road location. Follow signs to check in. Staff will then direct you towards picking areas.
Please be cautious as wasps, hornets, and bees are very active! We recommend wearing closed-toe shoes!
Apples – Honeycrisp, Autumn Crisp, Crimson Crisp, Pixie Crunch, Macintosh, Smokehouse, Gala, Jonathan, Cortland, Ambrosia, Shizuka, Red Delicious, Gold Delicious, Empire, Crimson Gold, Maccoun, Rosalee, Jonagold, Ludacrisp
Price: Peck (3 Wristbands) – $24 1/2 Bushel (6 Wristbands) – $42; 4+ 1/2 Bushels – $39
Pears – Gem, Shenandoah, Asian, Harrow Sweet
Price: 5qt Bucket (2 Wristbands) – $18 Peck Box (3 Wristbands) – $29 1/2 Bushel Box (6 Wristbands) – $45
Kiwiberries – open now!
Price: Quart: $12, Bucket: $48
PYO hours:
Monday – Thursday – 9 am- 4:30 pm
Friday – 9 am – 5:30 pm
Saturday 8 am – 3:30 pm
As we have in past years, hours will be adjusted if temperatures are forecast to go above 90 degrees, which will then be 9 AM – 1 PM.
Crop Ripening Dates: We have had great weather this year, and our crops are ripening early. Stay tuned for details.
Pumpkins – Late Sept. – Oct.

Cherries
Pricing
Dark and Yellow Sweet Cherries:
Sweet cherries are finished and closed for the 2023 season. Check back for 2024 info!
Tart Cherries:
Tart cherries are finished and closed for the 2023 season.
Season
June to early July.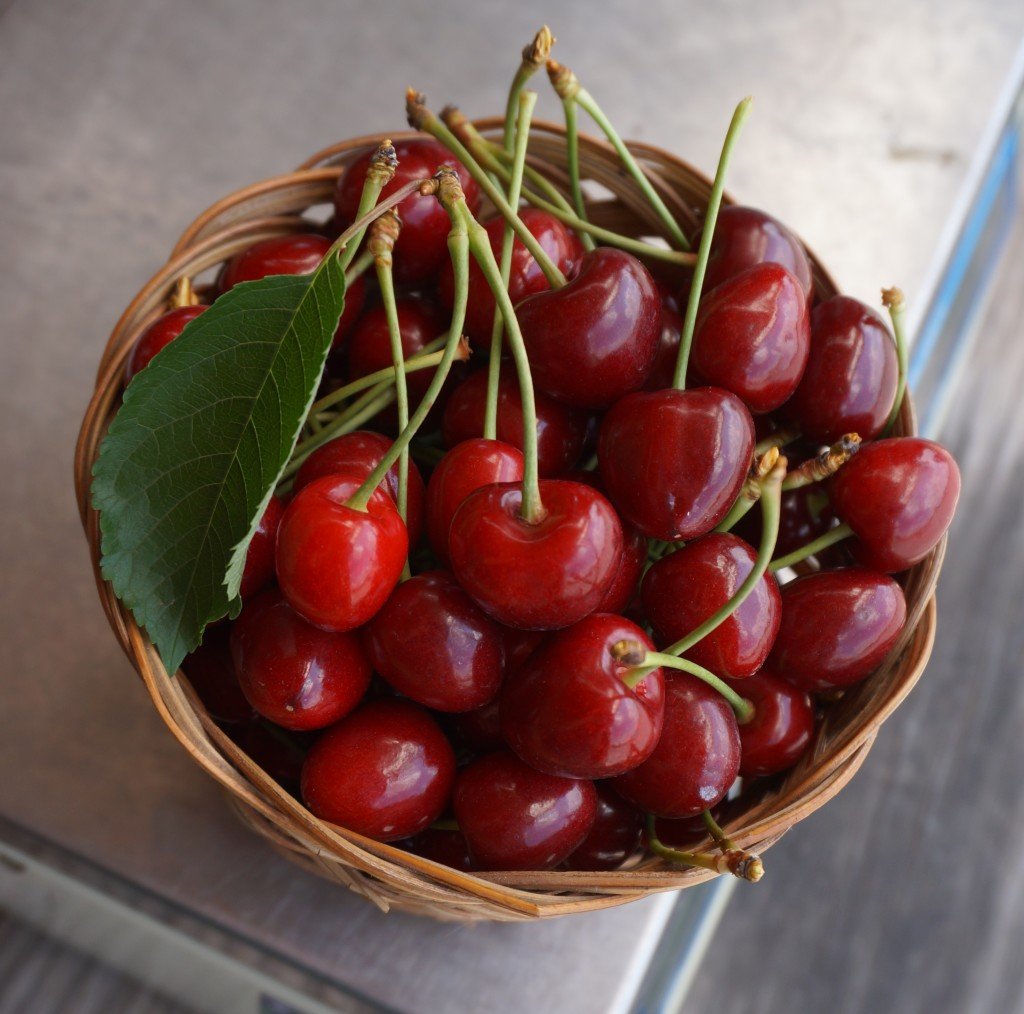 Picking Tips
For dark sweet cherries, darkness is the true key to getting a ripe cherry. The darker they are, the sweeter they will be.
For yellow sweet cherries, you want to pay special attention to the rosy cheeks of the fruit. Rosy cheeks mean ripe fruit.
Many of the really dark cherries can be found high up in the trees. If you brought your own ladder, feel free to use it. If not, please do not pull on the limbs as this will damage our trees. Young trees are not very thick and can snap easily!
Keep stems on the fruit you pick—this makes them last longer.
SaveSave