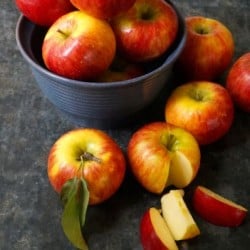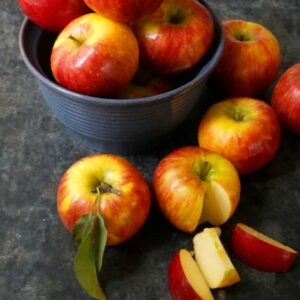 Season: Early August to Early November (PYO). Year-Round (Market).
Pricing:
We have a prepaid apple bag system priced as follows:
Monday-Friday:

10# bag: $16.00
20# bag: $24.00

Saturdays:

10# bag: $18.00
20# bag: $26.00
Our orchard grows about 18,000 apple trees on roughly 35 acres of land.  We invite you to pick many varieties, including the Star Gala that was discovered right here at Weaver's Orchard. If a homegrown apple is listed as finished or not yet available for Pick-Your-Own, look for them in our farm market.  We keep apples fresh and crisp in cold storage throughout the winter.  Our apple cider-pressing season lasts from September to May, so if you're craving that fresh apple taste after apple harvesting season, pick up a jug in our farm market!
Learn About the 30+ Varieties We Grow!
Apple
Best Uses

PYO & Store
Availability


Lodi
Very firm and tart, making excellent pies and sauces.

Finished

Earligold
Tart apple with firm flesh. Good for sauces and baking.

Finished

Summer
Rambo
Very tart apple great for sauces and baking.

Finished

Sansa
Excellent early eating apple with sweet flavor and crisp flesh.

  Finished

Ginger Gold
Sweet-tart, firm apple, very versatile, great for snacking, pies, salads, sauce and baking.

Finished

Golden Supreme
Sweet all-purpose apple, great for snacking, salads, baking and drying.

In Store

Gala
Juicy and very sweet with crisp yellow flesh. It is a great snack and good in salads.

In Store

Honeycrisp
Amazing eating apple with very distinct sweet flavor. Firm flesh makes it great for pies and baking.

In Store

Jonamac
Cross between Jonathan and McIntosh. Sweet-tart flavor with soft flesh, good for eating, sauces and baking.

Finished

Early Fuji
Very sweet flavor with a firm, crisp flesh. Great for eating, sauces and baking.

Finished

Smokehouse
Very tart apple used for baking and sauces.

In Store

McIntosh
Softer apple with a mildly tart flavor. Excellent for sauces and eating.

In Store

Autumn Crisp
Sweet, crisp and juicy. Excellent all-purpose apple with a flavor similar to Gala and Honeycrisp.

Finished

Red Delicious
Sweet, crisp and juicy. This eating apple is good for salads too.

In Store

Cortland
Slightly tart and very crisp. The flesh is very white and resists browning! Great for everything.

In Store

Jonathan
Tart, crisp and juicy apple, excellent for snacking and sauces.

In Store

Empire
Cross between McIntosh and Red Delicious. Extra crisp with a sweet-tart flavor. Good for snacking, salads and sauces.

In Store

Golden Delicious
Sweet and juicy, softer flesh. Very versatile, great for snacking, pies, salads, sauce and baking.

In Store

Crimson Crisp
Extremely crunchy tart apple. Good for baking and sauces.

In Store

Shizuka
Sweet, juicy, firm apple similar to a Crispin.

In Store

Jonagold
Cross between Jonathan and Golden Delicious. Crisp, juicy with a great sweet flavor. Excellent for eating and baking.

In Store

Macoun
Sweet-tart flavor, softer flesh. Good for eating and sauces.

In Store

Stayman
Sweet-tart flavor, firm and juicy. Very versatile, great for snacking, pies, salads, sauce and baking.

In Store

Crispin  Mutsu
Slightly tart flavor, very juicy, firm and crisp. Good for snacking, pies and baking.

In Store

Blushing Gold
Sweet-tart flavor. Good for snacking, salads and baking.

In Store

Cameo
Sweet-tart flavor with firm flesh that resists browning. Good for everything.

In Store

Fuji
Very sweet flavor with a firm crisp flesh. Great for eating, sauces and baking.
 PYO & In Store
Granny Smith
Very tart, crisp and juicy. Excellent for baking, pies and sauces. Good flavor for eating.

In Store

Pink Lady
Very crisp with a sweet-tart taste. Great for snacking, salads, pies and baking.

PYO &

In Store

Braeburn
Sweet-tart, juicy and firm. Best for snacking, salads, pies, sauces and baking. All-around apple.

In Store

Sun Crisp
Sweet and snappy, juicy and very firm. All-purpose apple, great for eating, pies and baking.
Finished