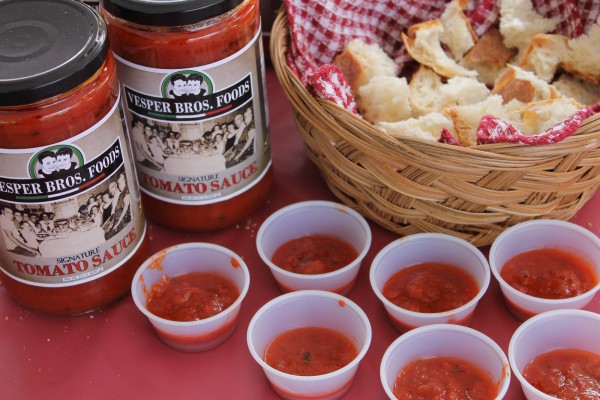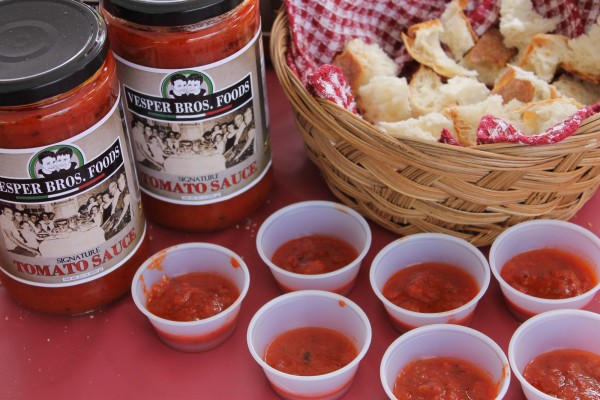 Don't you just hate when you're in middle of making dinner and you reaIize you forgot to pick up a crucial ingredient for your recipe? I just hate when that happens, and I did that a few weeks ago when I was in the throes of making pizza. My kiddos and I had to make a quick run to our farm market. I'll confess, I don't usually get pizza sauce at our market. But our market manager Dwayne Musser introduced me to one of our new products—I just have to share– the Vesper Brother's pizza sauce that he convinced me to try was absolutely amazing and out of this world! It has become my "go to" store bought sauce, it tastes like it's made fresh but it comes out of a jar—amazing!
Vespar Brother's Foods is a family owned company and one of our newest vendors. The company is run by brothers who are packaging and selling some of their family's favorite Italian foods.  I love that they are Pennsylvania based company—from Brookhaven.
Giving local businesses an outlet for selling their products has become a passion for our store manager Dwayne Musser, he has told me many times, "I like finding new local vendors that have products that you just can't find at an ordinary grocery store." Being a small business ourselves, Weaver's Orchard loves supporting the local economy by selling Pennsylvania products in our store whenever possible.
I love hearing the stories behind the connections that Dwayne makes and how the products arrive on our store shelves. There are some truly amazing entrepreneurs and business people, we feel proud to support and as a family we'd love to give you our customers the opportunity to meets some of these amazing business owners and to get a taste of what they have to offer.
For the past ten years we've been hosting a sampling day called Taste of Weaver's. It is an event where we invite as many of our vendors as are able to come to bring samples of their products for  tasting. This year will be one of our biggest years yet—we have over 20 vendors coming!
Taste of Weavers will be held on Saturday June 1 from 10am-3pm. There will be tents set up with samples of the products we sell, all FREE and available for you to enjoy! Don't even bother to eat lunch! I'm sure you'll fill up on the scrumptious food samples these wonderful people have to offer and you'll have the amazing opportunity to meet the creators behind the savory products we offer every day at our Market! I can't wait to enjoy the samples of Taste of Weavers and we hope to see you there!
In the meantime here's an easy idea for your family's dinner– try this recipe with any of the Vesper brothers sauces, you'll love it:
Print
Taco Pizza
Author:
Category:

Main Dish

Cuisine:

Tex-Mex
1

ready made round pizza crust (available in our market)
Or make your own, my favorite recipe so far can be found at this link.

½

pound ground burger (We have burger available from L

one

Star Farm in our freezer)

1 tablespoon

chili powder (substitute the chili powder and cumin for Southeastern Mills taco seasoning)

1 tablespoon

cumin

1 teaspoon

garlic powder

1 teaspoon

onion powder

1

jar Vesper brothers pizza sauce or spaghetti sauce
Colby Jack marble cheese or your other favorite taco cheese (available in our Deli)
Shredded lettuce

1

–

2

diced Roma tomatoes

1

jar of your favorite salsa (check out the Amish Wedding Salsa in our canned goods aisle)
Instructions
Brown burger over med/high heat. When using free range meat it is helpful to add a little olive oil as it tends to be leaner meat. As it cooks, add all the spices.
Meanwhile, put desired quantity of pizza sauce on your crust. Add the cooked burger to your crust, sprinkle on cheese.
Bake at 350 for 30 min or until crust is finished. Pull out of oven and top with shredded lettuce, tomatoes, and your favorite salsa. Enjoy!