Cherry pie has long been my favorite pie, but sometimes making a cherry crisp is just so much easier! Plus, when you pick your own sweet cherries, sometimes it's easy to go overboard with how many you pick. Who can blame you? They are so delicious! I always freeze any extra sweet cherries I pick and use them for recipes later in the season. Freezing cherries is very simple, especially when you have a nifty cherry pitter to make the job go faster. I love my OXO Good Grips Cherry Pitter.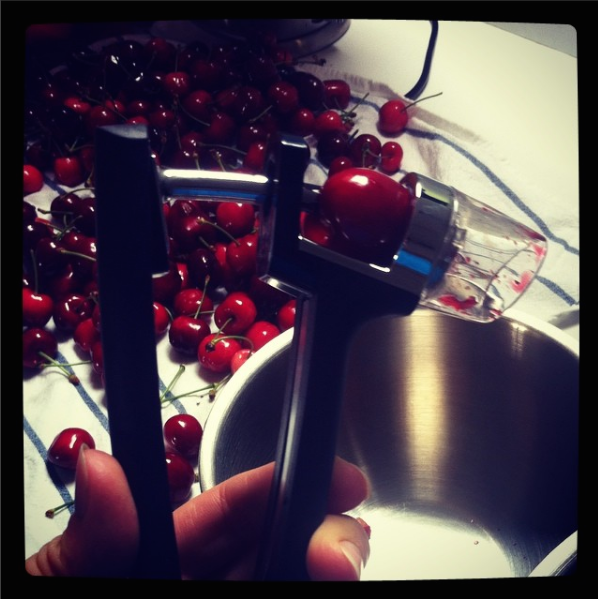 Let's be honest: who doesn't love to eat pie for breakfast too? I mean, it goes so well with coffee! I wanted to create a recipe that was rich in fiber and protein, but still had enough sweetness to satisfy the sweet tooth in the family. I can always be happy with less sugar, but the rest of my family, not so much. I used 1/2 a cup of brown sugar, but you could make it a refined-sugar free cherry crisp with just maple sugar instead of powdered and brown sugar.
Also optional is vanilla. I love a dash of vanilla bean powder in the topping mixture and extract in the filling, but it's optional, especially since vanilla bean powder can be hard to come by (I order it from Amazon).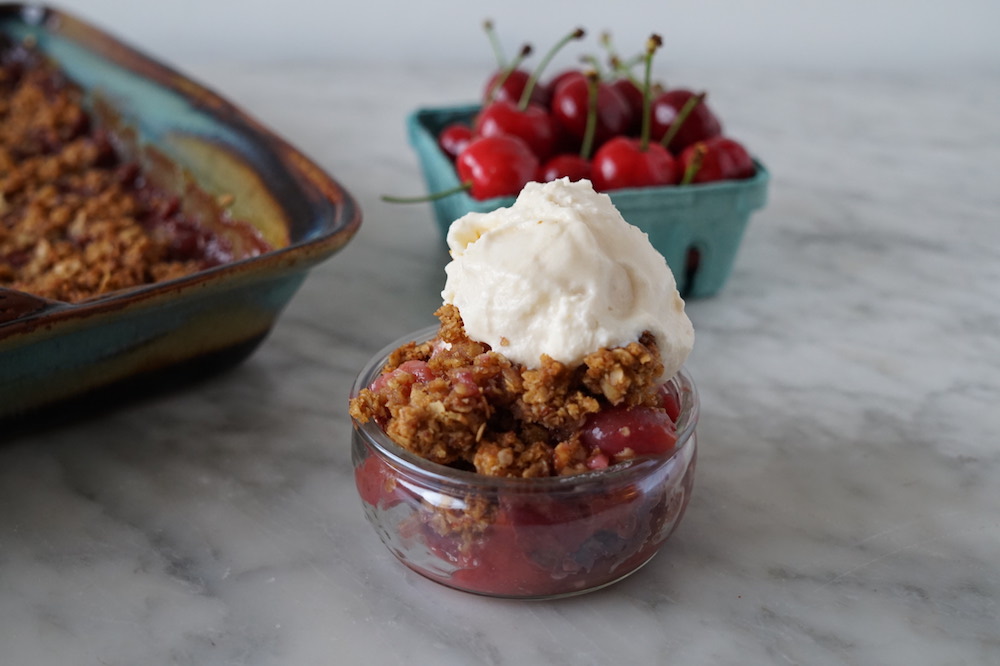 The recipe calls for extra oats and pecans for added fiber and protein, and the cherry mixture is sweetened mostly with apple cider to reduce the amount of sugar needed.
To make this recipe, just pit the cherries and let them simmer for 15 minutes with lemon juice, powdered sugar and apple cider.
Make the topping by blending together the pecans, half of the oats and sugar in the food processor. Add the butter and remaining oats and pulse until combined.
Pour the cherry mixture into a baking dish and then spread the topping mixture over the cherry filling. Bake at 350 degrees for approximately 30 minutes.
Serve it as a dessert with ice cream, or reduce the amount of sugar in the topping and use it as a hearty breakfast option.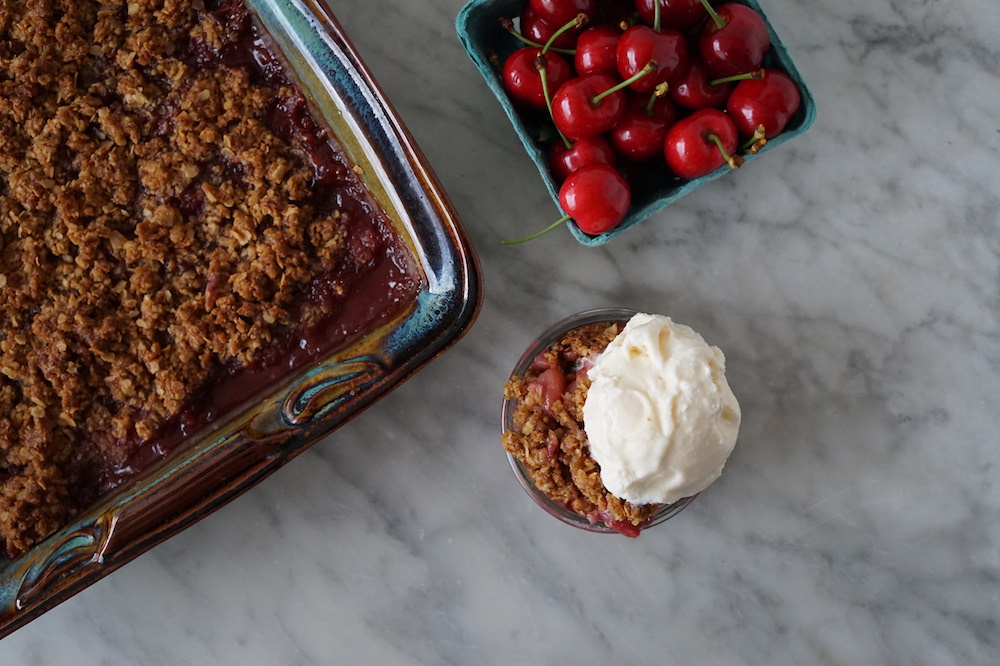 Print
Gluten-free Sweet Cherry Crisp
Sweet Cherry Crisp Author: Weaver's Orchard Prep time: 15 mins Cook time: 45 mins Total time: 1 hour Serves: 6-8
6 cups

sweet cherries

1/4 cup

apple cider
Juice of

1/2

a lemon

1 tablespoon

powdered sugar

1 tsp

. vanilla extract (optional)

1 1/2 cups

rolled oats, divided (use gluten-free oats to make it GF)

1/2 cup

brown or maple sugar

1/2 tsp

vanilla bean powder (optional)

1/2 cup

chopped pecans

1/2 cup

butter
Instructions
Preheat oven to 350.
To make the filling, let the cherries, lemon juice, apple cider, powdered sugar and vanilla extract simmer for 15 minutes on medium-low heat.
Pour into a pie or casserole dish.
Blend together half of the oats, brown or maple sugar and pecans in a food processor or blender. Add the remaining oats, butter and vanilla bean powder. Blend until combined
Bake at 350 for 30 minutes until the top is golden brown.
View the recipe video here and don't forget to subscribe!