Tomatoes in my garden suffer one of two fates: fungal wilt or feasting squirrels. To combat tomato wilt, I uproot and discard the affected tomato plants and make sure not to plant tomatoes in the same part of the garden the next year. To outwit the squirrels, I pick tomatoes early and ripen them indoors. If a tomato looks especially large and rodent-enticing, I pick it green. This is particularly annoying since squirrels don't actually eat green tomatoes but only taste them. If I don't harvest the large green tomatoes, my garden looks like a dressing room at Marshall's, with discarded objects tossed every which way.
Have you had the same problem? Or maybe you're leaving for a long vacation with tons of tomatoes still without a blush of red? Or maybe you've had to do some pruning?
Then maybe you're wondering if there's a good use for green tomatoes. Good news! There are many good uses!
Recipe ideas come from around the world. That's not surprising, since people have a long history of dealing with pruning, frosts and squirrels (or other animals whose chief end in life is to run off with objects twice their own size).
Of course, there's the classic Southern dish, Fried Green Tomatoes. And in the Midwest, Laura Ingalls Wilder's family made Green Tomato Pickles. The British, for their part, love green tomato chutney. Western India has a Green Tomato and Onion Curry.
To finish up her tomato harvest, one gardener made a Green Tomato Tarte Tatin (an upside-down pie usually made with caramelized fruit). You can also make a Green Tomato Mayonnaise, or Sweet Green Tomato Cornmeal Muffins.
But an easy way to use up a heap of green tomatoes is to make Salsa Verde. Traditionally, Mexican salsa verde uses green tomatillos, but some recipes substitute green tomatoes.
Recently, faced with both a massive pruning and upcoming travels, my sister made this recipe. She says this salsa was great on quesadillas, but she was too hungry to photograph those.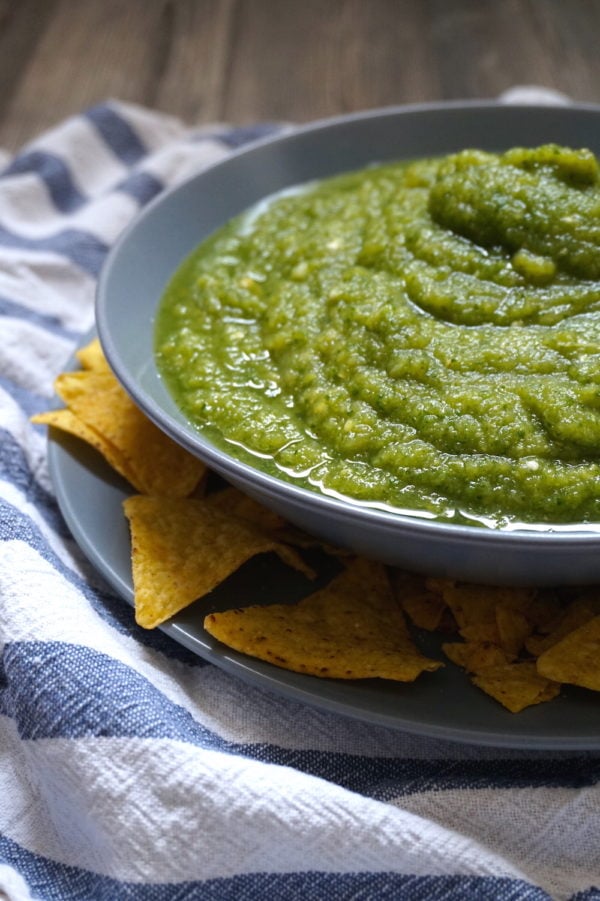 Print
Green Tomato Salsa Verde
Adapted from NYT Cooking. Excellent paired with mangoes!
1

lb. green tomatoes

2

–

3

jalapeno peppers (the potency can really vary!)
Half of a medium onion, chopped
Juice of

1/4

of a lime

1/2 cup

chopped cilantro
salt
water, as needed
Instructions
Soak chopped onion in cold water for five minutes, then drain. Rinse and drain again on paper towels.
Broil whole tomatoes on a foil-lined baking sheet until charred (5-10 minutes per side). Remove from the heat. When tomatoes have cooled, core them and discard the charred skin. Cut into quarters and process in a blender or food processor.
Add all remaining ingredients but water and puree. Wait 30 minutes before serving so the flavors mature. If the mixture looks especially thick, add water.