People have loved to cook with pumpkins for millennia. In fact, archeological sites in North America and Central America have unearthed evidence of pumpkin seeds from thousands of years ago.
With such a long history of cooking with pumpkins, it's not surprising that pumpkin soup is a traditional food in important celebrations. For Haitians, a pumpkin-beef soup is the signature dish to celebrate the country's independence from France, declared on January 1, 1804. It is said that those who held people in slavery were the only ones allowed to eat the soup, and so, after the enslaved people freed themselves after thirteen years of struggle, they celebrated by eating the soup themselves. It's no wonder it has taken center stage in Haitian celebrations of freedom. Here is a recipe for Haitian pumpkin-beef soup (and more about the story behind it).
The soup I made last night was more of a pumpkin bisque. It turned out quite garlicky. I was thinking, while mincing the garlic, that a "clove" of garlic is a funny measurement, because these cloves were nearly the size of a lemon wedge. Friends later informed me that I was unwittingly using elephant garlic. Whoops. Well, since I love garlic, I was pleased with the flavor. But if your garlic appears to have been cultivated by a vampire-fighting super hero, and you aren't a huge garlic fan, feel free to reduce the amount of garlic.
It's quite possible to make your own pumpkin puree at home. Let Elizabeth Weaver walk you through it!
On this occasion, I did not roast and puree my own pumpkins. But I did make my own vegetable broth, which is super easy if you save various small scraps of herbs and vegetables in the freezer, scour the fridge for any vegetables that need to get used up, and throw them all in a pot to simmer for about an hour. Then simply strain out the veggies and use the remaining liquid as broth.
Now you're ready to make the soup.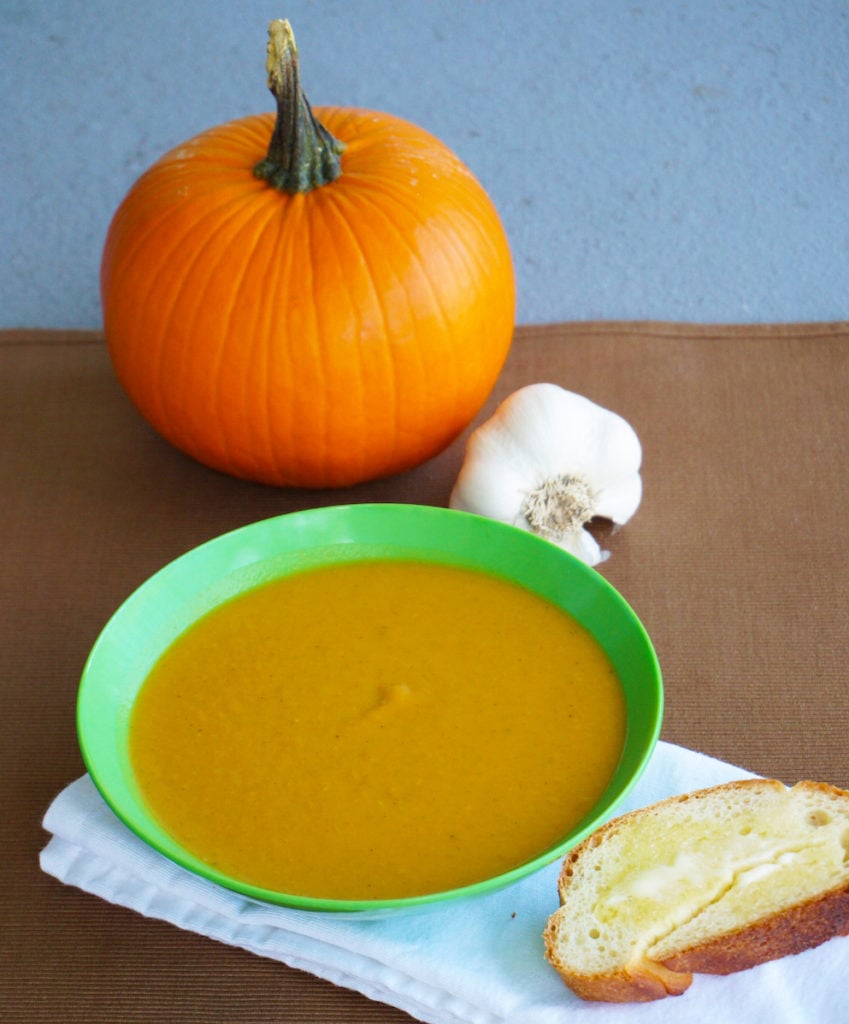 Print
Pumpkin Soup
1 tablespoon

olive oil

1/4 cup

chopped onion

3

cloves garlic (or less), minced

1

15-ounce can pumpkin puree, or

2 1/4 cups

homemade pumpkin puree

2 cups

vegetable broth

1 cup

coconut milk

2 Tbsp

maple syrup

1/4 tsp

each salt, black pepper, cinnamon, nutmeg
Instructions
Heat oil in large saucepan over medium heat. Add onion and garlic. Cook until slightly browned and translucent
Add all remaining ingredients and bring to a simmer.
Let cool and transfer to a blender. With the lid tightly closed, puree the soup. (The soup mixture filled my blender almost to the top. If this makes you nervous, puree the soup in portions.)
Transfer soup back into the pot once blended.
Cook over medium heat for for 5 more minutes, until heated through.