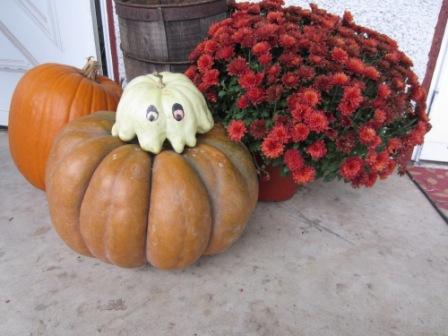 Pumpkins! They're everywhere this time of year. Since our family happens to grow pumpkins here at the Orchard I find my self completely surrounded by them at this time of year. It feels like every time I turn around one of my boys– or husband– is dragging a new one onto my front porch. While I appreciate their thoughtfulness– I'm literally up to my ears in pumpkins this time of year! (I've even found some tiny ones hiding in my sofa cushions!) I've decided to put our abundance to good use– I've canned pumpkins till the cows come home (and we don't have any!) I've boiled them, baked them, put them in soups– and still we have plenty on my porch.
While I like all types of pumpkins– my favorite for cooking has to be the Neck Pumpkin and the Fairy Tale Pumpkins. (Fairy Tale pumpkins definitely take the prize for being the best all around pie, soup, and baking pumpkin!) Wondering just how you take that precious orangish object form your front porch to your dinner table? Allow me to enlighten you.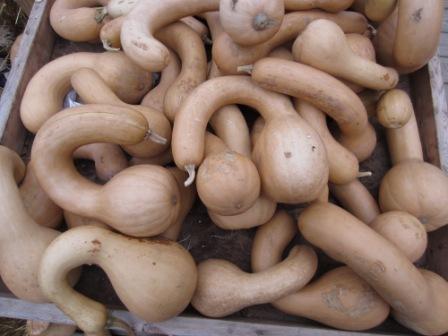 Print
Cooked Pumpkin Puree
To be frozen or refrigerated for future baking endeavors. (The USDA no longer recommends canning pumpkin).
(Materials):
Butcher knife
Cutting board
Large cooking pot
Fairytale or Neck pumpkin
Instructions
Use your good set of strong arm muscles to heave that pumpkin from your front porch into your kitchen sink. Rinse it with a clean dish cloth to remove any dirt or mud. Towel it dry. Use those muscles again to place it onto a cutting board. If you wish, you can complete several repetitions of the lifting and get your workout in for the day!
Cut the pumpkin into wedges. Remove and discard any seeds.
Put the pumpkin wedges into a large pot with about an inch of water in the bottom. Bring to a boil. Reduce heat slightly and simmer until pumpkin is soft. (If you have a large steamer you can also place the pumpkin in that to cook it. It doesn't need to sit in the water to get soft).
Scoop the soft pumpkin out of the skin and place in a blender. Puree.
There you go– you can use this mixture in most pumpkin recipes!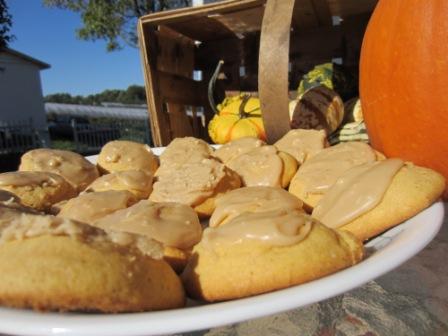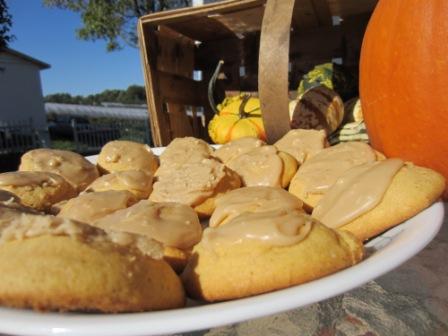 Here is a recipe for my favorite Pumpkin Cookie:
Print
A fairytale of a pumpkin cookie…
COOKIE DOUGH:

1 cup

fairytale pumpkin puree

1 cup

shortening

1 cup

sugar

1

egg

2 cups

flour

1 teaspoon

baking soda

1 teaspoon

cinnamon

1/2 teaspoon

salt

1/2 teaspoon

nutmeg

1/4

–

1/2

teaspoon rum extract
FROSTING:

3 tablespoons

butter

4 teaspoons

milk

1 teaspoons

vanilla

1/2 cup

brown sugar

1 cup

powdered sugar
Instructions
Cream shortening, sugar, pumpkin and egg. Add rum extract and spices. Mix in flour, baking soda and salt.
Drop from a spoon onto a cookie sheet and bake at 375˚F for 10-12 minutes.
Meanwhile, making frosting. Heat butter, milk and brown sugar until dissolved. Add powdered sugar and vanilla. Spread icing on warm cookies as they come out of the oven.