I recently watched the movie, "That Sugar Film," and was inspired once again to cut out hidden sugar in my diet and to re-start my low-sugar lifestyle.. The filmmaker in the movie, who had normally been on a low-sugar diet, decided to up his sugar intake to the national average sugar intake for two months. He was only allowed to eat foods that were perceived to be healthy such as yogurt, granola, jam, juices and smoothies and healthy/organic meal helpers or ready-to-eat meals. His findings were astounding, including the amount of weight he gained over the two months, as well as the negative health effects and mood swings and fatigue he experienced. I've definitely seen the same positive effects when off sugar and negative effects when consuming it in excess.
I've been adhering to a relatively low-sugar lifestyle for the past few years now, but every so often sugar creeps back in to my regular diet. The holidays are one of those times when it's nearly impossible to cut out sugar, and I also don't want to impose my low-sugar recipes on other people at a time of year when we have much to be thankful and joyous for.
I remember a scene from a favorite sitcom in which a health-conscious vegan party guest had been asked to supply the cake. He brought a vegetable loaf instead, much to the dismay of the other party-goers! Often when I create low-sugar recipes, I'll give the low-sugar option and the regular option because I know it's just not everyone's cup of tea to cut out sugar.
But now, as we move into January, I've decided to latch on to a 30-day sugar free challenge and guess what? I'm not the only one who had the same idea. Food Blog Pinch of Yum is inspiring others to join in and has some great resources, including meal planning guides, shopping guides and even a sheet where you can fill out your own list of rules – only committing to what you can actually follow!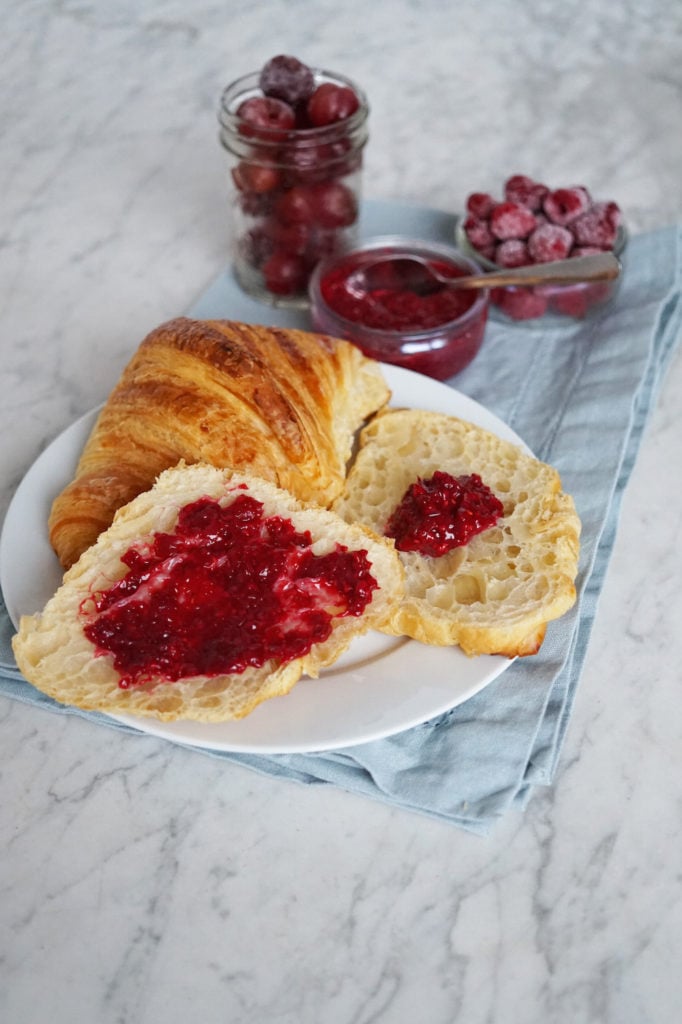 Recently, I made my own refrigerator jam recipe, because well, I love jam but I definitely don't love all the sugar. I'll spread this on toast, a croissant or homemade plain traditional British scone (sugar omitted), or put a dollop of it in some plain yogurt.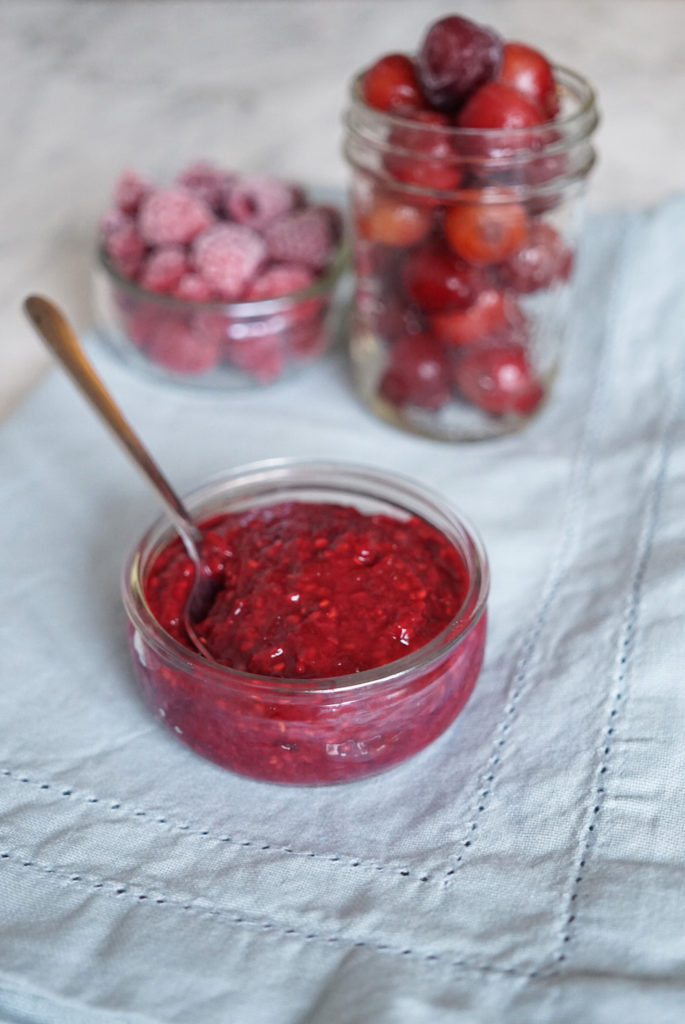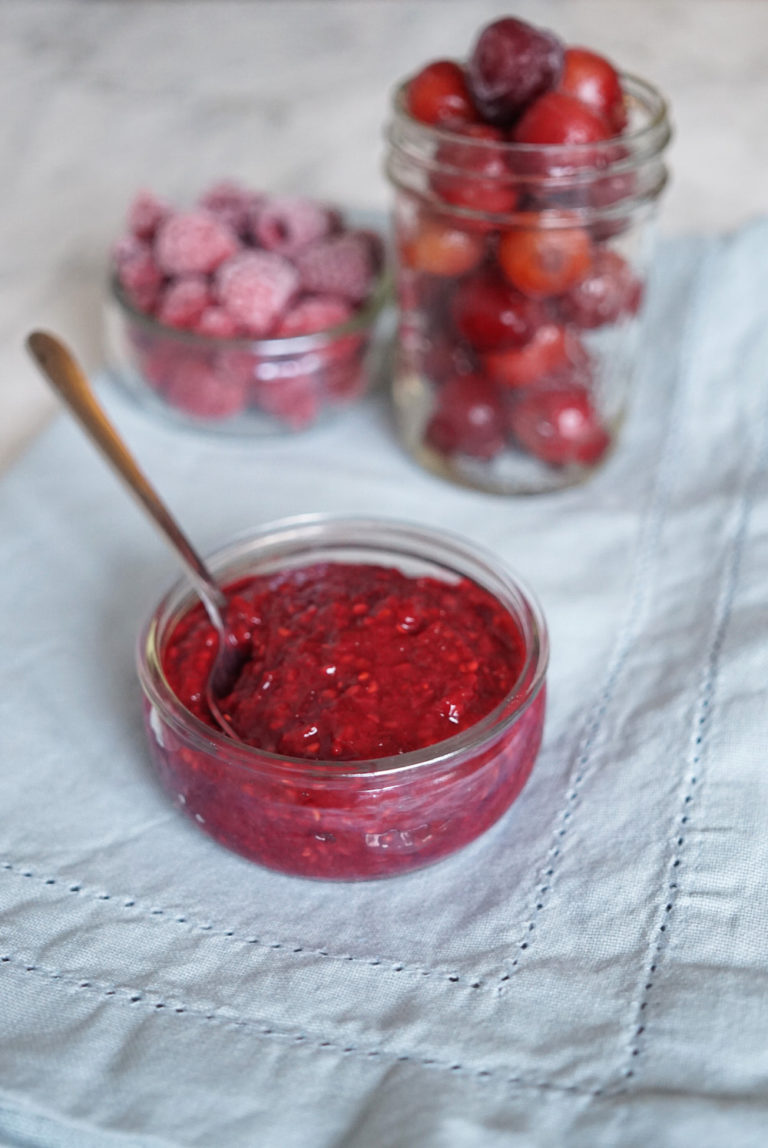 Print
Recipes for a Low-Sugar January
Sugar-Free Refrigerator Jam Author: Weaver's Orchard Prep time: 10 mins Cook time: 10 mins Total time: 20 mins Serves: 10 Recipes for a Low Sugar January: Sugar-Free Refrigerator Jam
1 cup

sour fruit like pie cherries, raspberries, blackberries or plums

1 cup

sweet fruit like sweet cherries, strawberries or blueberries

1 Tablespoon

maple syrup (more if needed depending on how sour your fruit is)

2 teaspoons

cornstarch (fruit pectin would probably also work)
Instructions
If the berries are frozen, let them defrost at room temperature or in the microwave. Add the berries to a small saucepan and bring to a simmer. If you have a plunger/blender, use this to form a puree. If not, carefully transfer to a blender and then back to the saucepan. Stir in the maple syrup and corn starch and whisk until there are no more lumps. Simmer, stirring constantly 8-12 minutes until it begins to thicken and get a little sticky. It will thicken up more as it cools. Transfer to a jar for storage in the fridge up to 1 week.
As you planfor low sugar recipes in January, take a look through these articles from our blog for inspiration!
Low-Sugar Recipes
Breakfasts
Picking Red Raspberries & Making Raspberry Chia Overnight Oats
Main Dishes & Sides
Super Tasty Superfoods: Carla Guss Offers Tips and Recipes for Eating a Raw Diet
Herb & Mushroom Omelettes & Marinated Mushrooms:
Pork Tenderloin with Peaches, Sausage & Peppers & Pork Chops with Mango Pineapple Chutney:
Chilled Cantaloupe Basil Soup with Prosciutto, Grilled-Vegetable Gazpacho & Chilled Peach Soup with Ginger
Desserts & Sweet Sides
This is only a brief look at our low-sugar recipes. Check out our cookbook, Savoring the Seasons with Weaver's Orchard for more delicious recipes!
SaveSave
SaveSaveSaveSave
SaveSave