It has often amazed me that Daniel Weaver started Weaver's Orchard in 1932, during a worldwide economic depression. It seems like an incredibly plucky thing to do. But then again, the more I get to know farmers, the more I realize how much farming depends on circumstances outside their control, and this makes me believe farmers have a gift for remaining hopeful in uncertain times.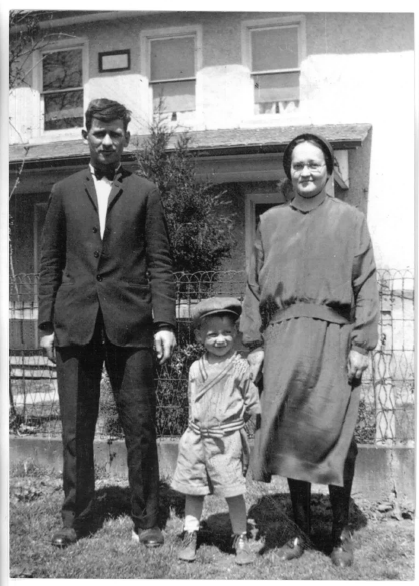 Still, I wanted to know more about what farming would have been like in the 1930s in Berks County and the surrounding area, so Ed Weaver let me know that the proceedings of the State Horticultural Association of Pennsylvania had been digitized, going back all the way to 1924–and this would give me plentiful information about fruit growing, since the association's mission is to support PA's fruit growers.
Many of the January meetings from 1931-1939 talked about the previous year not being "very kind," or holding "many trials and difficulties." Pennsylvania fruit growers not only faced a difficult economic climate, but their trees were also suffering from droughts, diseases, and widespread insect invasions (like the San Jose scale, which sucks the juice from the tree's twigs, foliage, branches and fruit, and the codling moth, whose larvae actually stop fruit growth in its tracks, so that it ripens before it's really ready). The farmers wondered how long the global "business depression" would last. They thought if it dragged on for a long time, many orchards would suffer.
In 1931, they said that a large crop, "for the most part of high quality fruit, has been disposed of or will be disposed of at either an actual loss or practically no profit in many instances."
Nevertheless, at each January meeting, the farmers looked forward to better times ahead. We have had "a lot of anxious moments," said association president F.G. Reiter of Butler County in 1935, "but still we are holding on."
So why did Daniel Weaver decide to start an orchard in 1932? The state horticultural proceedings offer a few clues. Fruit growing was difficult in the 30s, but in general it was doing better than other kinds of farming and other types of businesses. It would be hard work for slim rewards, but Daniel was used to hard work. He had grown up on a farm in Delaware. And, as a young adult, he had traveled out west, working on farms to finance his journey.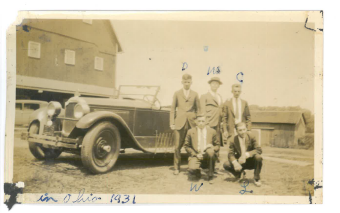 And so, Daniel Weaver planted many fruit trees, berries and vegetables. He marketed the produce by the truckload on street corners in the city of Reading.  At the time, this was known as a "Huckster route," which meant he was a type of produce peddler common in those days. This was another advantage fruit growers had: they could keep their overhead lower by selling directly to their community, rather than shipping the produce to far away markets.
In this way, Daniel Weaver also contributed to the health of his community. During a time when people were cutting back to the bare essentials in their diets, fruit growers started to emphasize how healthy apples and other fruits are.
"Unfortunately," said the president of the  State Horticultural Association of Pennsylvania in 1931, "too many people think of the heavier foods, such as meats, cereals, and potatoes, as the only food essentials." He wished that instead of pamphlets with "delectable dishes" that could be made with apples, the association could circulate pamphlets that shared facts about how nutritious apples are!
Though I certainly have a weakness for apple crisp, apple pie, apple fritters and pretty much any other apple dessert, I thought that in the spirit of recognizing how healthy apples are, I would share a side dish made with apples and sweet potatoes. It's rich in vitamins A and C, potassium, fiber, iron and calcium!
And this recipe is a slice of history, too. It comes from a 1911 Church of the Brethren cookbook called The Inglenook Cookbook, which reminds me of mennonite classics like the More-with-Less cookbook because it gathers recipes from many mennonite cooks across the country. A nice feature of this historical cookbook is that many different cooks contributed recipes for a single type of dish, so you can choose from, say, five versions of a single recipe and find the version that looks most appealing to you. *If you browse for other recipes in this cookbook, always use caution when adapting historical recipes because food safety guidelines may have changed. Refer to current FDA and USDA standards.*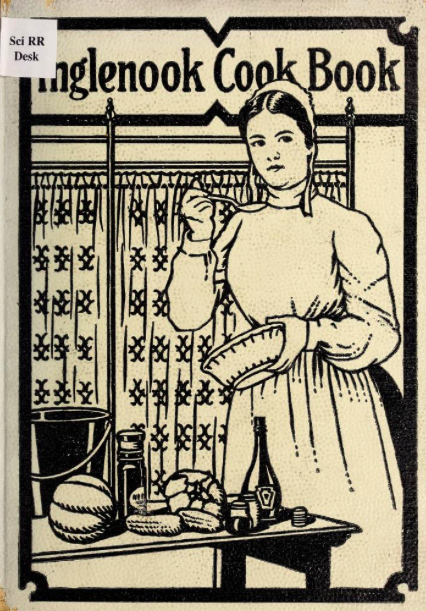 I used Fuji apples but you could also use Cortland or Golden Delicious– two new varieties introduced to Berks County in the 1930s and still available today!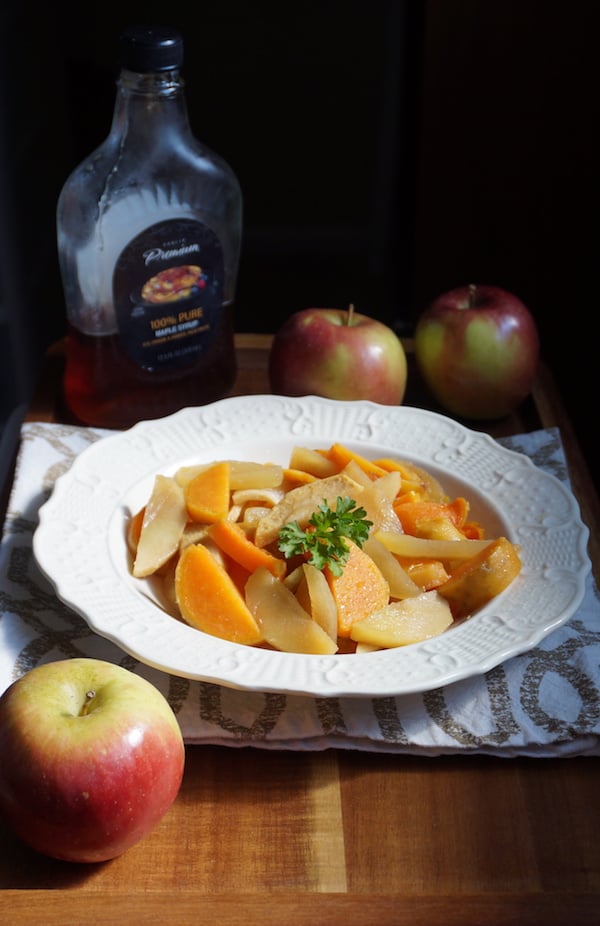 Print
Baked Apples & Sweet Potatoes
Based on Sister Pearl Weimer's recipe in the Inglenook Cookbook, 1911.
Author:
Prep Time:

15 mins

Cook Time:

1 hour 15 mins

Total Time:

1 hour 30 mins

Yield:

4

1

x
4

large sweet potatoes

4

large apples

1/2 cup

butter, cut into small cubes.

1 cup

water

1 tablespoon

maple syrup or sugar
Instructions
Preheat oven to 350.
Boil potatoes until tender (about 15 minutes), then peel and slice.
Pare apples and slice in the same way.
Add a layer of apples to the bottom of a casserole dish, then add a layer of sweet potatoes, continuing to alternate layers until they're used up.
Add butter on top and pour water and maple syrup over the apples and sweet potatoes.
Bake 1 hour.
Curious about more of Weaver's Orchard's history? Watch our video!
SaveSaveSaveSave
SaveSave
SaveSave