On July 12, Ed Deren led his second class for the summer. This one focused on pairing fruit and meat on the grill. Here are his recipes.
Print
Italian Sausage in Peppers, Onions and Crushed Garlic
2

lbs sausage

1 cup

onions

2 cups

green peppers

2

cloves crushed garlic

2 cups

chicken stock
Salt and pepper to taste
Instructions
Grill sausage over medium heat for 6-8 minutes/ remove from heat
Cut sausage into one inch pieces/ set aside to add to stock
Chop onions and peppers
Add onions, pepper and crushed garlic to 2 cups of chicken stock
Bring stock to boil and add sausage
Set pot to cool side of grill and simmer for 10 minutes
Serve on roll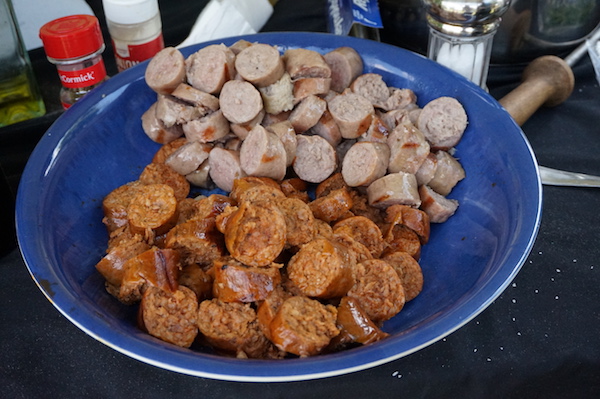 Print
Chorizo Sausage with Apple Cider
2

lbs of chorizo sausage

1 ½ cups

apple cider

2

bay leaves
Instructions
Grill sausage 5- 8 minutes. Cool and cut into ½ inch slices
Add sausage to apple cider and bay leaves in medium sauce pan
Simmer 5-8 minutes until cider thickens/ remove from heat and serve on tooth pick
Print
Pork Tenderloin with Peaches
2

or

3

pound pork tenderloin

1 tbsp

. onion powder

½ teaspoon

smoked paprika

1 tbsp

. garlic powder

1 tbsp

. fresh thyme

¼ teaspoon

Dijon mustard

¼ cup

olive oil
Nonstick aluminum foil

2 cups

fresh peaches/ 3 table spoons olive oil
Instructions
In small mixing bowl add, onion powder, smoked paprika, garlic powder, fresh thyme, Dijon mustard and olive oil/ whisk until blended.
Add pork loin and mixture to a plastic bag, seal and rub pork. Marinate meat in refrigerator for 4 hours to 24 hours.
Remove from marinade and set aside for 1 hour for meat to come to room temperature. Prepare grill to medium heat.
Sear pork on all 4 sides, about 90 seconds per side.
Grill pork for 5 minutes per side until pork reaches 150 degree with inserted thermometer.
Places peaches in aluminum foil and drizzle with olive oil. Close bag and place on direct heat for ten minutes.
Slice pork and add grilled peaches to top of pork and enjoy.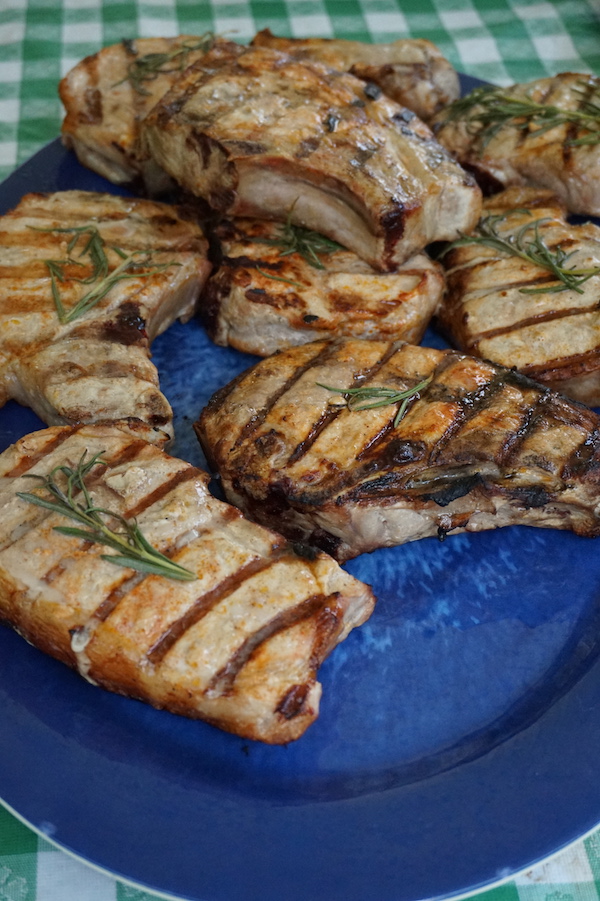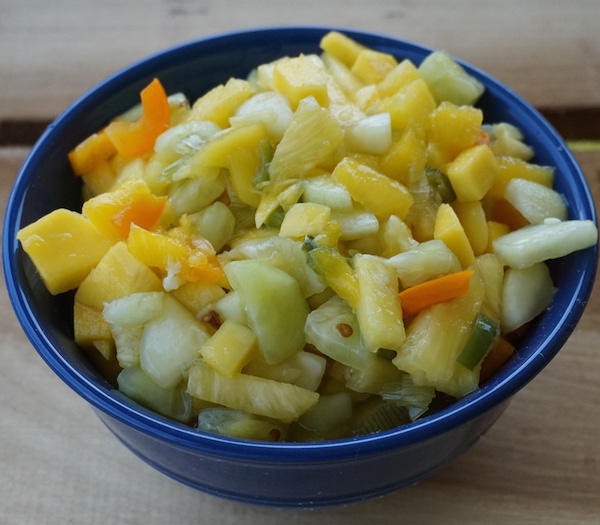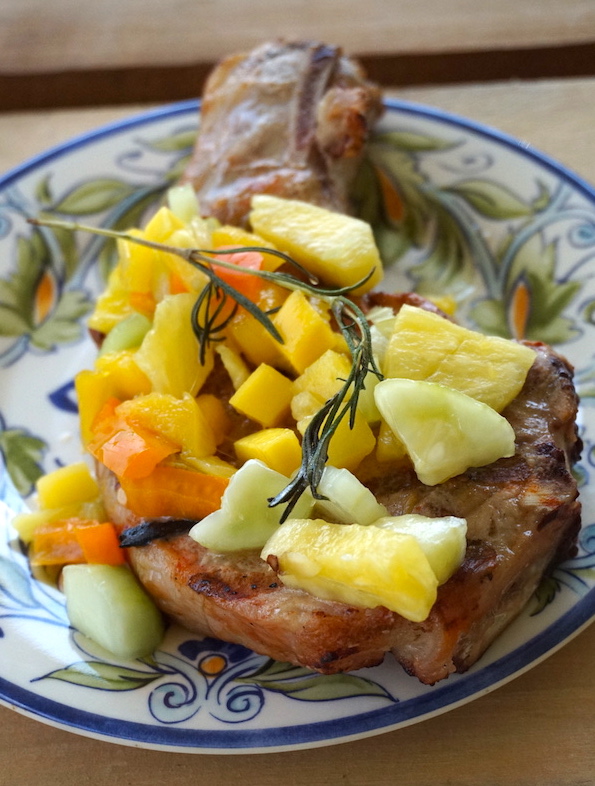 Print
Pork Chops with Mango Pineapple Chutney
Mango Chutney
½ cup

diced pineapple

½ cup

diced mango

½ cup

diced cucumber

1/3 cup

chopped orange pepper

2

limes juiced
Three dashes of white vinegar

3 tablespoons

minced green onions

½

jalapeno pepper minced/ remove seeds if to hot
Salt to taste
Pork Chops
Pork chop
Smoked paprika
Salt and pepper to taste

1 tsp

Olive oil
Instructions
Chutney
Combine chutney ingredients to mixing bowl. Place chutney in small sauce pan and add to medium heat to warm. Do not over cook.
Grilling
Prepare Grill to a medium high temperature
Rub pork chop on both sides with olive oil
Season pork chop with salt, pepper and smoked paprika
Grill pork chop 5- 7 minutes per side or until pork reaches internal temperature of 150
Remove pork from grill rest for 5 minutes and add mango chutney to top of chop.