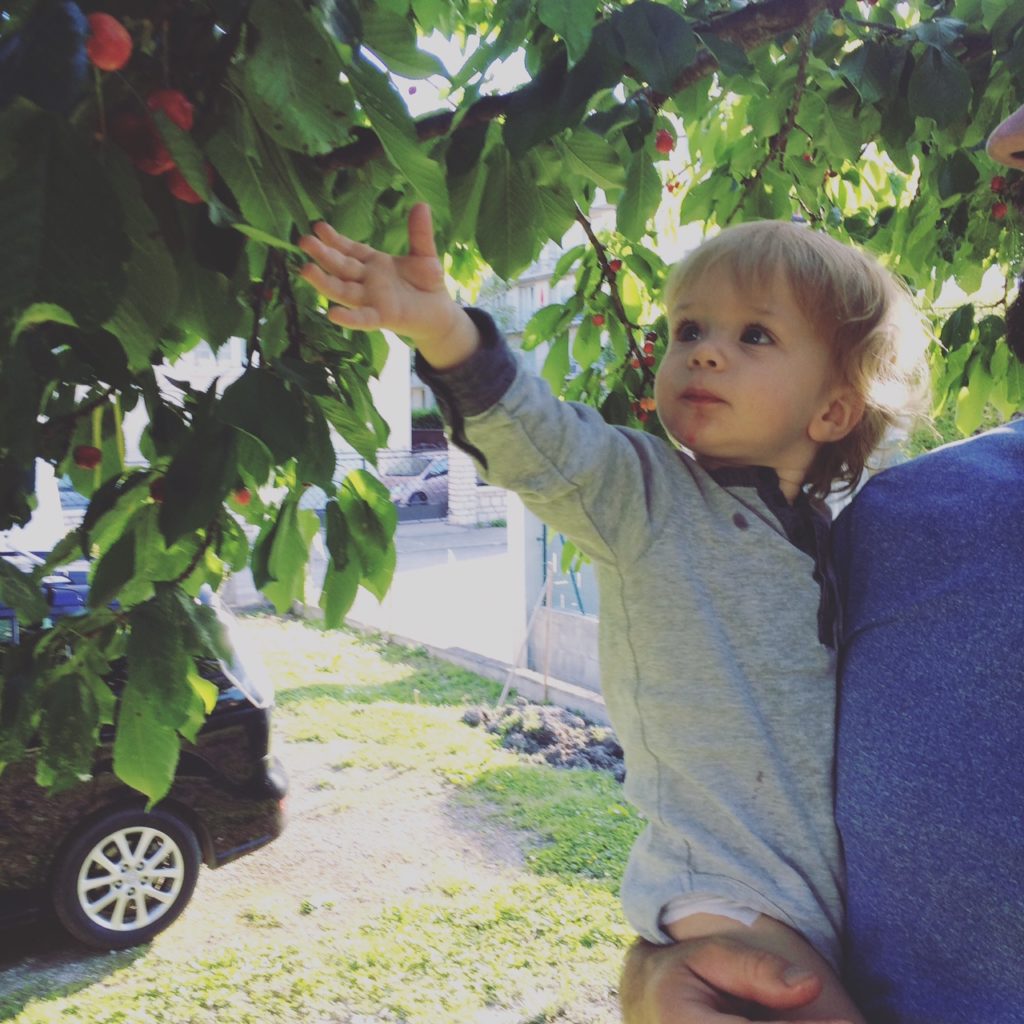 I've probably said it before, but I'll say it again. My 16-month-old son absolutely loves cherries. He will eat handfuls of (pitted) sweet cherries – he doesn't even mind if they are frozen and then thawed. So one night I decided to thaw out some cherries and try them on our pizza with fresh mozzarella, goat cheese and a sprinkling of arugula on top. My husband was very skeptical that this would taste good, but he was pleasantly surprised. Now it's one of our favorite combinations! Our son loves it too – though he'd be just as happy with simply a bowl of cherries and spoonfuls of goat cheese.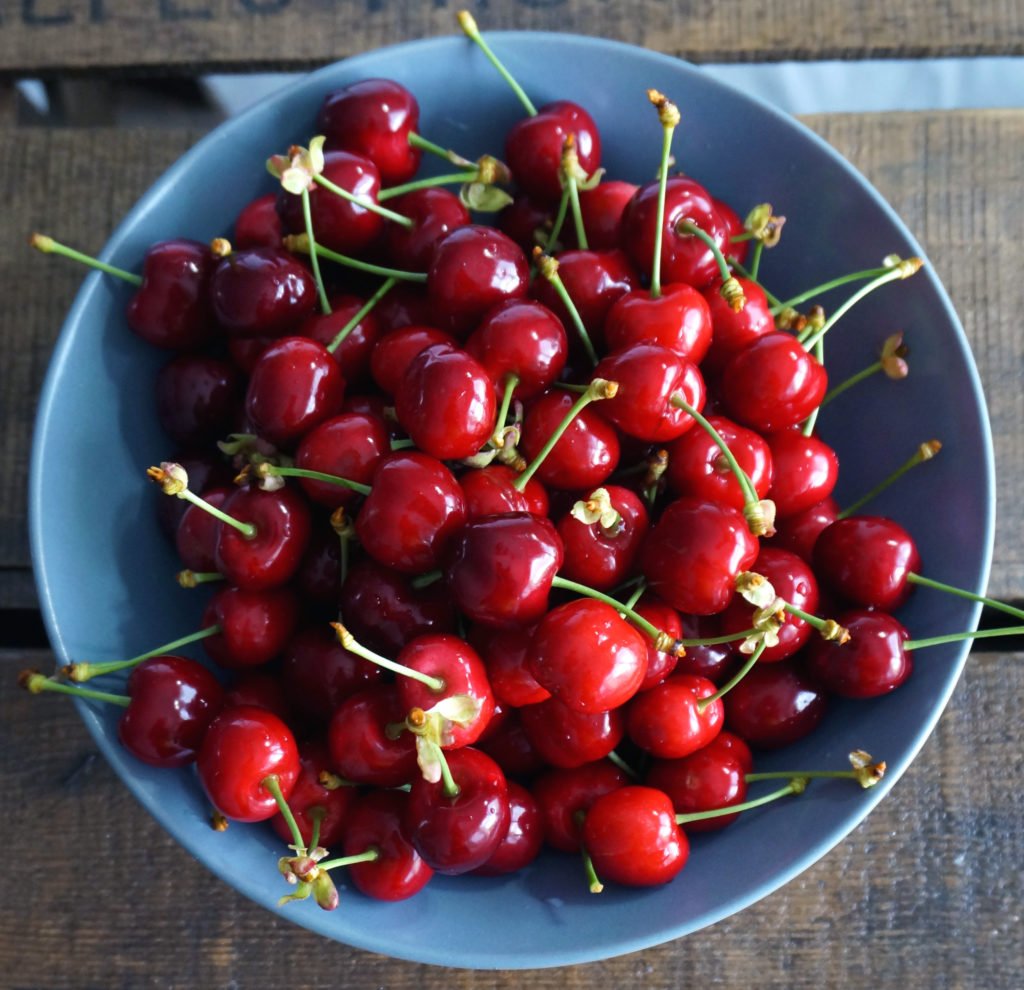 Cherries are my favorite fruit to pick because they are so easy to pick off the tree. No bending over or climbing trees required! The dwarf trees at Weaver's Orchard make it easy to pick cherries just within reach. When I pick cherries with my son in the Ergo Baby Carrier, he just giggles until I give him a piece of cherry! It's so much fun to watch him enjoy this experience. I remember getting so excited to pick cherries (and any fruit really!) at Weaver's when I was a kid with my mom and our neighbors. I hope my son, too, will have fond memories of picking fruit together in the years to come!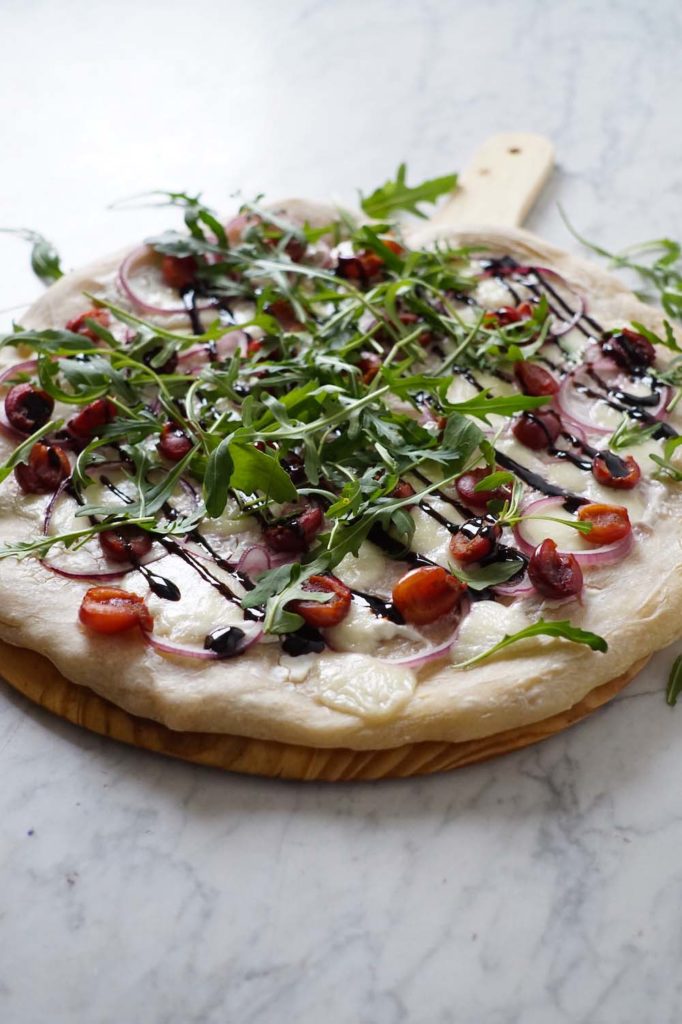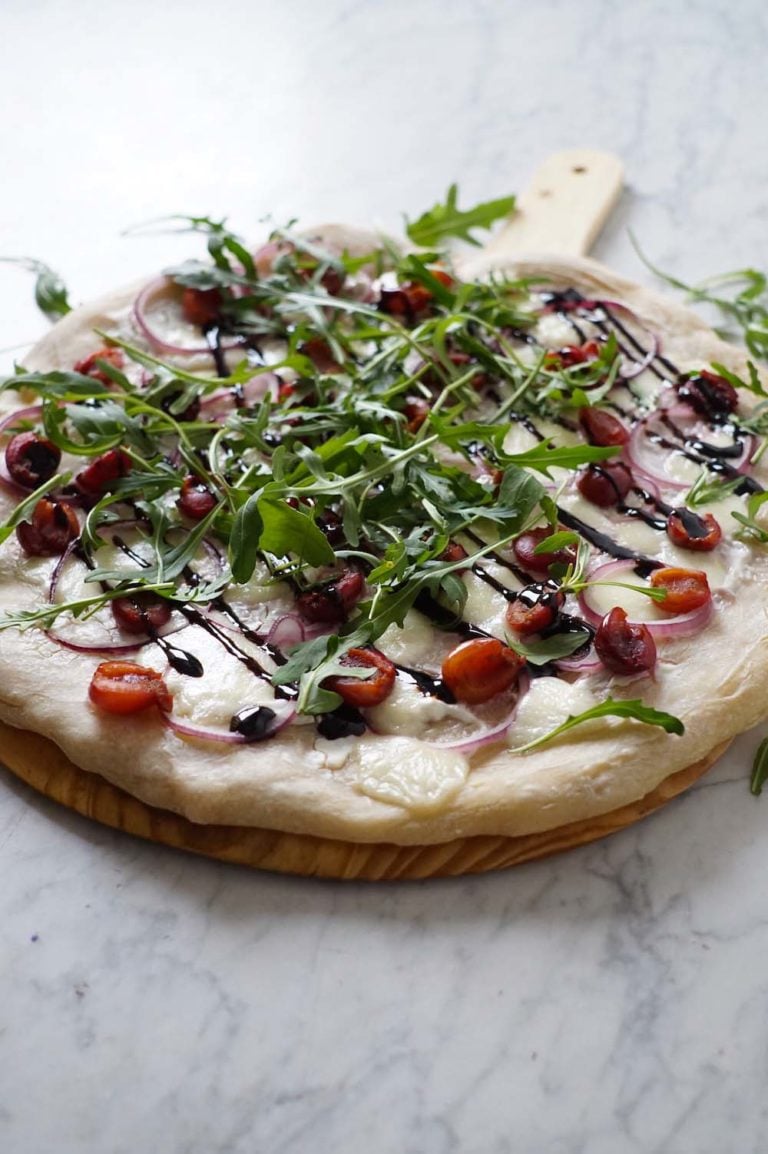 Print
Cherry, Goat Cheese & Arugula Pizza
Author:
Prep Time:

15 mins

Cook Time:

15 mins

Total Time:

30 mins

Yield:

1

pizza

1

x
1

recipe pizza dough (Find my favorite recipe here)

1 cup

pitted sweet cherries, cut in half (frozen or fresh)

1

ball fresh mozzarella cheese

4 oz

. goat cheese

1/4

of a red onion, thinly sliced

1

handful arugula, rinsed and dried
Salt, pepper or olive oil to taste
Balsamic glaze
Instructions
Pre-heat oven to 500 degrees. If using a pizza stone, make sure the stone is in the oven while it heats up.
Spread pizza dough out on an aerated pizza pan. Poke with a fork or pizza docker. Pre-cook the dough about 6-8 minutes until it's no longer doughy, but not to the point where it gets browned or crispy. (I cook mine on an aerated pan directly on top of the pre-heated pizza stone)
Add the cheeses, red onion and cherries. Return to oven about 5-7 minutes until dough gets crispy and the cheese is melted.
If desired, toss the arugula in olive oil, salt and pepper. Spread on top of pizza just before serving and drizzle with balsamic glaze.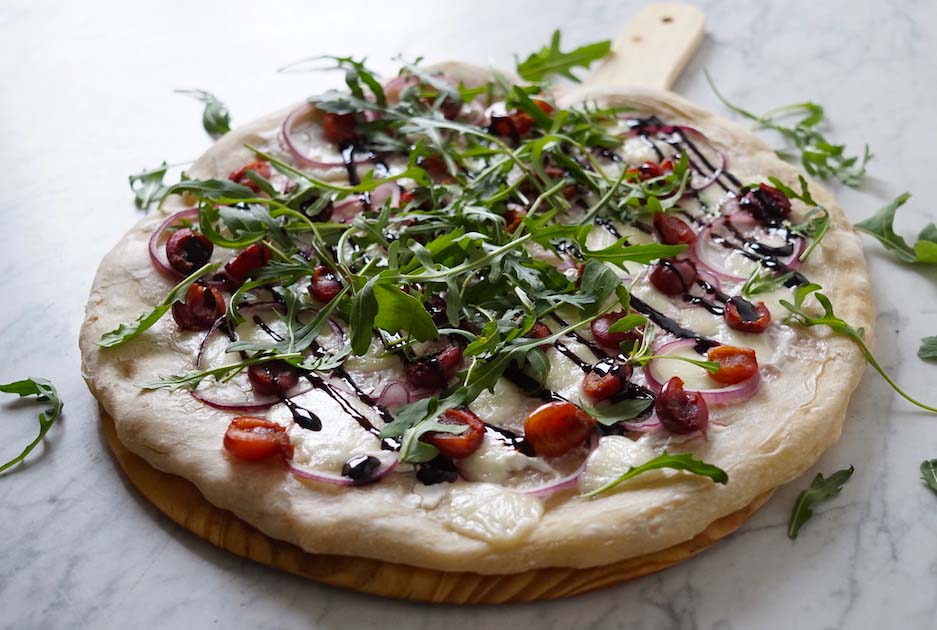 Hurry on over to pick Sweet Cherries at Weaver's! For dark sweet cherries, we have excellent picking today (Monday, June 26) and should have them available at least through July 4th. For yellow cherries, we have a few Rainiers left, but they won't last long! We will have a few other yellow cherries available through July 1st.
What else can you pick? Like us on Facebook or check here for updates!
SaveSave
SaveSave
SaveSaveSaveSave
SaveSave