I make pizza every Friday night. It's become so much of a tradition for us that the employees of the shop where we buy our dough recognize us when we come in on a Friday afternoon. "Four pizza doughs, right?" they ask. I make four pizzas, or two pizzas and one larger, thick-crust focaccia-style pizza, and then we enjoy leftovers all weekend.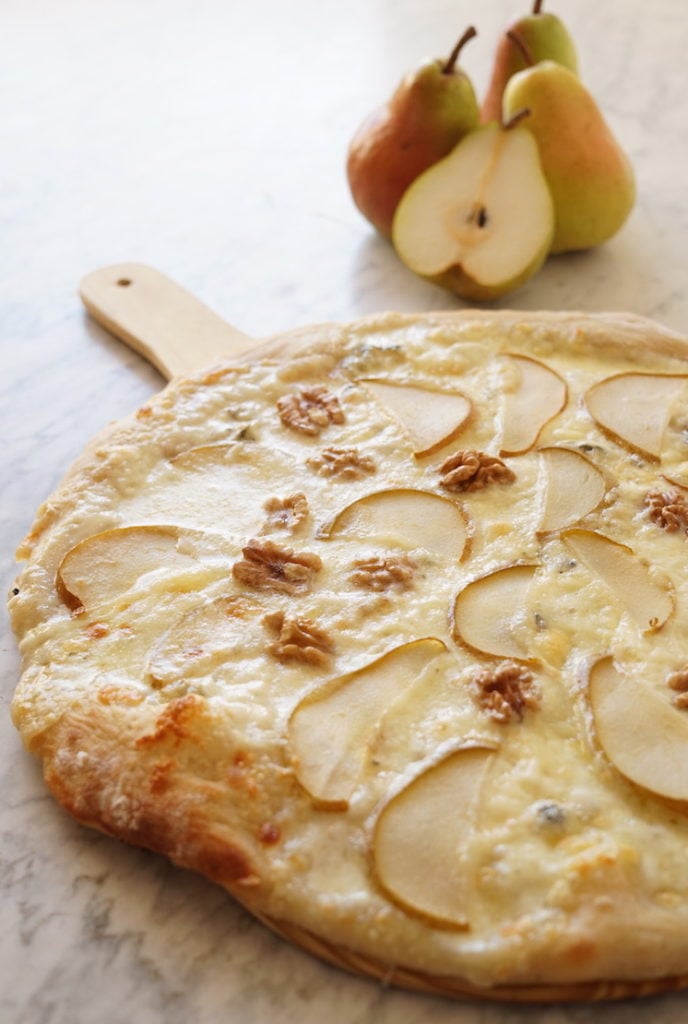 Sometimes I feel like I keep doing the same pizza toppings over and over again, so I decided to reach out to my friends on Facebook and see what kind of toppings they love. Here's what they suggested:
No sauce, garlic, sliced grilled chicken and red onions drizzled with BBQ sauce (from Kari)
Flatbreads with mozzarella, pesto and sundried tomatoes (from Kari)
Chicken parm pizza (sliced breaded chicken fingers with dollops of ricotta) (from Kari)
Smoked salmon pizza (from Donna)
Pineapple with either chicken, bacon, ham or ranch dressing (from Donna, Delia & Abbi) (and anything but Pineapple, from Sanjay)
Sour cream base with ham, mushrooms, green peppers, three cheeses, herbes de Provence and black olives baked in a wood burning oven (from Judy)
White sauce with caramelized onion, wilted spinach, bacon and a drizzle of balsamic (from Kim)
Pesto, hot pepperoni salami and mushrooms (from Jana)
Ham sandwich pizza: ham, pepperoni & cheese on a flat bread – folded over once it's warmed up (from Erin)
Bacon and onion (from Wendy)
Asiago and Parmesan cheese with crispy prosciutto and arugula with a sweet balsamic glaze (from Dawn)
Caramelized fennel and roasted mushroom (from Audrey)
Fresh mozzarella, fresh basil and breaded eggplant (from Bonnie)
Garlic, spinach and artichoke (from Grace)
Honey and goat cheese (from Olivia)
Arugula, fig, fancy cheese and balsamic (from Amy)
Arugula, fig, and bacon (garlic too if desired) (from Lynne)
Fresh mozzarella, tomato and basil (from Michelle)
Olive oil, spinach, mozzarella, feta, red onion and tomato (olives if desired) (from Nancy)
Minced garlic & olive oil sauce with sun dried tomatoes, ricotta cheese and spinach on top (from Beth)
Mozzarella, pecorino romano and speck topped topped with fresh arugula that has been tossed in olive oil, salt and pepper (from Brian & Elizabeth)
And here are a few toppings suggested on the Weaver's Facebook page:
Pumpkin and ricotta pizza topped with mozzarella and sage (from Anita)

Olives, feta and a little bit of mozzarella + an in-season veggie like spinach or fresh tomatoes (from Becky)

Flatbread pizza topped with peaches, mascarpone cheese, fresh thyme and prosciutto (from Becky)
Plus here's a few we've featured before:
Fresh mozzarella, goat cheese, red onion, cherries and arugula with a balsamic glaze
Sliced peaches with balsamic glaze and basil on a focaccia
Asparagus, sundried tomatoes & Parmesan
Focaccia with tomatoes, garlic, salt & pepper and parmesan
The recipe I'll share below was inspired by a pizza I ate in Northern Italy – it was topped with fresh mozzarella, gorgonzola, sliced pears and walnuts. Both hazelnuts and walnuts are popular in Northern Italian cuisine because it's a huge region for growing these tree nuts.
I know that two of these main ingredients can be controversial as pizza toppings – you either love or hate blue cheese or fruit on pizza. I obviously love both. My husband likes fruit on pizza but isn't too keen on blue cheese, so sometimes I make it with goat cheese instead. I'm sure it would be equally delicious with a cheese like fontina or gruyere too.
This season's pears have been great and while pick-your-own pears will wrap up this Saturday, there will be plenty of varieties in the market to choose from! Current varieties, as of 9/28/17, are Bartlett, Sunrise, Gem, Bosc, Seckel and Magness.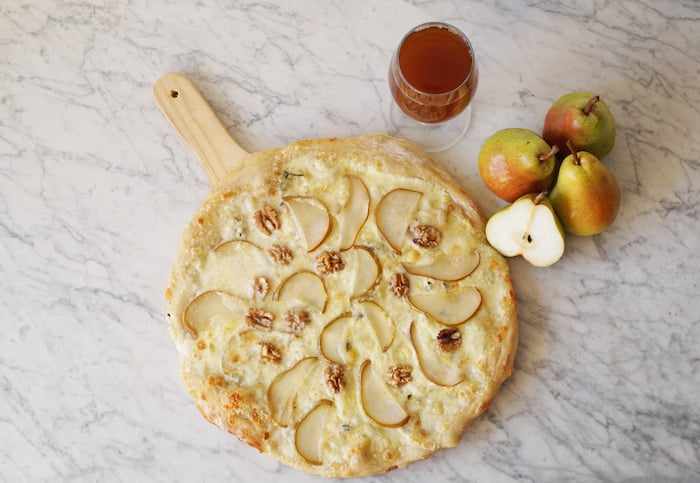 So here's how I make it:
Print
Northern Italian Pear, Walnut & Gorgonzola Pizza
Author:
Prep Time:

10 mins

Cook Time:

15 mins

Total Time:

25 mins

Yield:

2

-

3

servings

1

x
Category:

Pizza

Cuisine:

Italian
1

pizza dough recipe (get our overnight dough recipe)

8 oz

. fresh mozzarella (if it is packed in water, dry it off very well with a paper towel)

4 oz

. crumbled gorgonzola (or goat cheese, or gruyere or fontina)

1/2

a pear (any will do, but I tend to use softer pears like Bartlett)
A handful of walnuts
Olive oil and flour for the dough/pans
Instructions
Place a pizza stone (if you have one) in the oven and pre-heat to 500 degrees fahrenheit on the convection setting if you have one.
Dust the dough with flour and press out on a floured surface. Work it with your fists or toss it in the air to stretch it.
Oil a perforated pizza pan. Spread the dough on the pan.
Break off chunks of the mozzarella and cover the dough, then add the gorgonzola and arrange the pear.
Place the perforated pan in the oven on top of the pizza stone and watch it carefully for 5-10 minutes. When the cheese is beginning to melt but the pizza isn't totally done, bring it out and put the walnuts on top.
Return to oven another 3-5 minutes until the crust is crispy and the cheese is bubbly and starting to become golden brown in spots. Remove it with a pizza peel and let it sit until it's cool enough to handle.
Slice up with a pizza slicer or scissors.
Tip: to reheat the pizza and achieve a crispy crust and melty cheese, place it on a sauté pan on medium-high heat. If you prefer for the cheese to melt even more, cover it with a lid and heat it over medium heat. Watch our quick how-to video!
SaveSave
SaveSave
SaveSave
SaveSave
SaveSave