This morning as I thought about last night's dinner, I got curious. "When did peaches start to be used in savory dishes and not just in sweet baked goods?" I wondered. "Is this a passing food trend? Or a tradition?"
For anyone who finds herself musing about what many people ate in the United States during its early years, Michigan State University has started a project that holds the answers. Their online collection called "Feeding America" has compiled the most influential American cookbooks.
In the earliest books, no references to peaches exist. Why not? Peaches weren't grown commercially in the U.S. until the mid-1800s, so Americans couldn't reliably find them as an ingredient.
Around the time peaches started to be cultivated on a larger scale, many of the cookbooks I discovered focused on preserving this rare delicacy. One even gave a recipe for "peach chips," which were sun-dried sweetened peaches:
Slice them thin, and boil them till clear in a syrup made with half their weight of sugar; lay them on dishes in the sun, and turn them till dry; pack them in pots with powdered sugar sifted over each layer; should there be syrup left, continue the process with other peaches. They are very nice when done with pure honey instead of sugar.
The first reference I could find for savory for peaches was for peach sauce that could be used for roast meat, game or poultry. This recipe comes from nineteenth century cookbook called "DIRECTIONS FOR COOKERY, IN ITS VARIOUS BRANCHES," by a Philadelphia author named Eliza Leslie.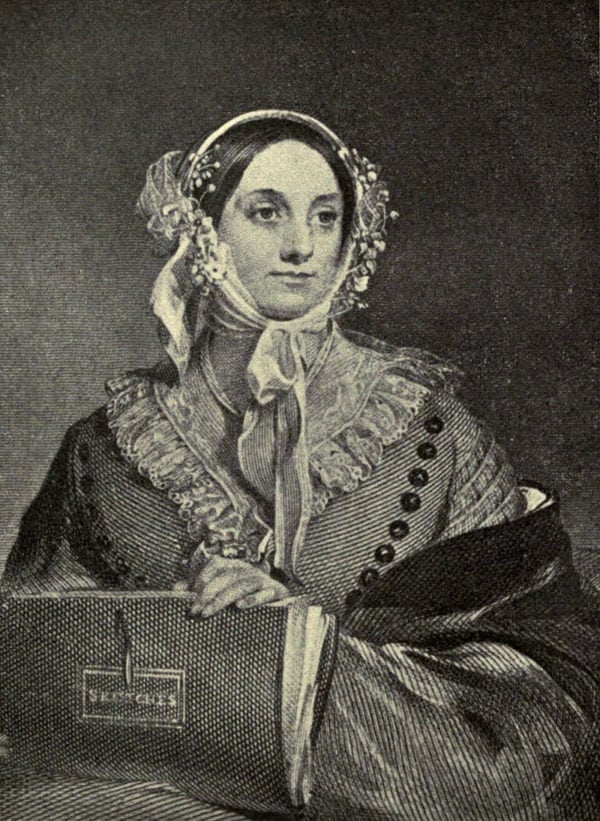 This peach sauce uses dried peaches soaked in cold water until tender. The soaked peaches are then drained and simmered over coals. "Then mash them with brown sugar," Miss Leslie concludes, "and send them to table cold."
Apparently Miss Leslie loved peaches because her cookbook contains nearly 100 references to the fruit. And though I would try her peach sauce in a heartbeat, using my electric stove rather than a coal fire, I'd steer clear of her recipes that use peach leaves and pits! Peach leaves, pits and twigs are dangerous to consume in large quantities. (A good reminder that when cooking or canning, it's always best to check current food safety guidelines!)
Last night's recipe is one that I modified based on a more standard, up-to-date source. It was for peach coconut curry with cashews.
I can't pin down a memory of when I first experienced fruit in a savory recipe, but it is a blend I frequently crave. This curry is the perfect recipe for the later weeks of peach season as both summer veggies like zucchini and cold-hardy veggies like broccoli are in season. Right now, Weaver's broccoli and zucchini are both homegrown.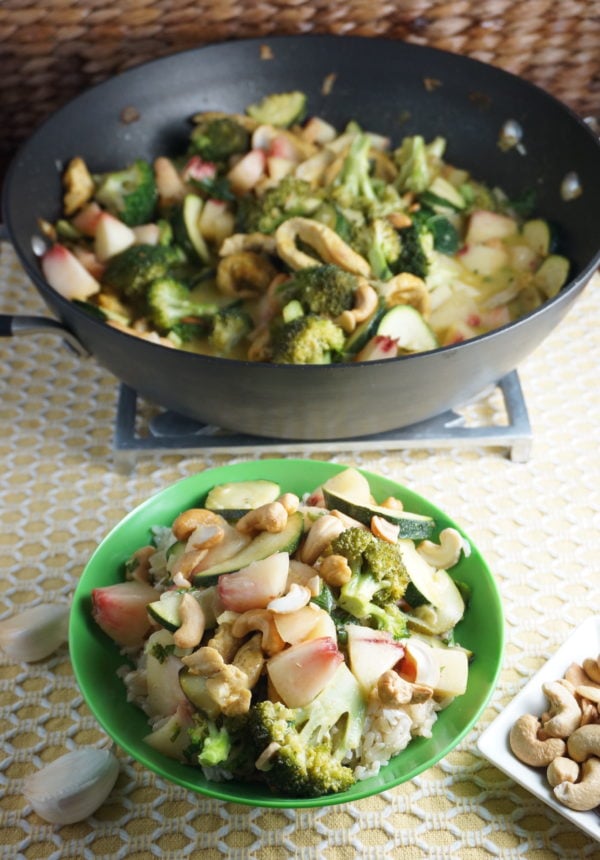 Print
Peach Coconut Curry with Cashews
Author:
Prep Time:

15 mins

Cook Time:

25 mins

Total Time:

40 mins

Yield:

4

-6

1

x
Category:

Main Dish
2 tablespoons

olive oil

1

small sweet onion, diced

1

pound boneless skinless chicken breast, cut into strips

1

heaping tablespoon yellow curry powder
A pinch of chili powder or cayenne pepper
A pinch of salt and pepper

4

cloves garlic, minced

1

inch piece ginger, minced

2

medium zucchini, sliced

1

head broccoli, cut into florets

1

14 ounce can coconut milk

1/4 cup

fresh cilantro, chopped

2

peaches, diced
juice and zest of 1 lime
Brown rice, shredded coconut and cashews for serving
Instructions
Heat olive oil over medium-high heat. Add onion and cook until golden, about 5 minutes.
Add the chicken, curry powder, chili powder, salt and pepper. Cook until the chicken is browned. Add garlic and ginger and cook one minute more. Add the zucchini and cook 2 minutes more. Add coconut milk and broccoli. Simmer 10 minutes or until broccoli is tender.
Remove from heat. Add peaches, cilantro, lime juice and zest and cashews. Serve over brown rice and top with more cashews and, if desired, shredded coconut.
SaveSaveSaveSave
SaveSave
SaveSave
SaveSave
SaveSave
SaveSave