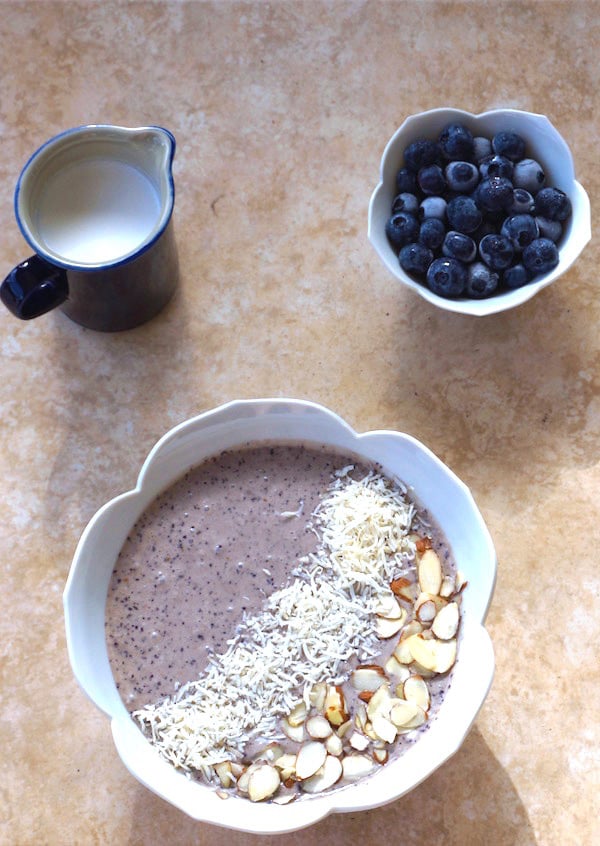 You learn helpful things in the checkout line at Weaver's. Last month, I was picking up my first-ever bag of chia seeds when the cashier struck up a conversation, asking if I'd ever used these healthy, trendy seeds before and what I planned to make with them.
"I think I'll blog about overnight oats," I answered.
She was excited, and went on to ask if I'd ever tried making a smoothie bowl before.
I'd seen them pop up on Pinterest, but I had never attempted one. She said her friends made them often, and these breakfasts were delicious and really filling because, unlike a traditional smoothie, you could load them up with healthy fruit, nuts, and seeds since you were going to eat the smoothie with a spoon anyhow.
Now, in the heart of blueberry season, it feels like high time to act on this conversation and make a blueberry smoothie bowl.
Unfortunately, I didn't have chia seeds on hand for this recipe, but you could certainly add them if you wish. What this one does have is a ton of superfood blueberries–did you know they can reduce the risk of heart disease?–and a double-dose of rich, sweet coconut.
Coconut gets a bad rap because it's high in calories and fat. Coconut milk, for instance, has 445 calories and and 48.2 grams of fat per cup. Yowsa!
So if you want to slurp up a blueberry smoothie bowl every morning (like I do now), you may want to alternate between coconut milk and:
Greek Yogurt (130 calories; 0g fat per cup)
Almond Milk (40 calories; 3g fat per cup)
Kreider Farms 2% Milk (125 calories; 5g fat per cup)
But don't give up on coconut milk altogether. Their fatty acids contain monolaurin, which fights viruses and infections! And the type of fat contained in coconut milk metabolizes rapidly instead of being stored as fat. Nonetheless, it is a saturated fat, though a better one, so practice moderation. I will say this about coconut milk: It is so filling I wasn't even hungry for lunch!
Even if you switch to something other than coconut milk, you can still make use of this method for enjoying blueberries, which are so deliciously in-season right now.
Print
Blueberry Coconut Almond Smoothie Bowl
Switch to almond milk, Greek yogurt, or 2% milk for a less fatty version.
Author:
Category:

Breakfast
1/2

a banana

1/2 cup

frozen blueberries

4 tablespoons

unsweetened shredded coconut

1/2 cup

coconut milk
Toppings: sliced almonds, shredded coconut, blueberries
Instructions
Blend banana, blueberries and half of the coconut milk. Add the rest of the coconut milk and shredded coconut and blend until smooth.
Serve chilled.