"How is this SO good?"
My husband and I sat across from each other at our kitchen table, enjoying the last few bites of fish tacos with peach salsa and remoulade.
Was it the peaches? The chili powder? The mayonnaise? The tilapia? Was it the harmony of all these?
Whatever it was, it's a recipe I will come back to again and again. Because it proved three things to me:
Peach salsa is the ideal accompaniment for fish tacos.
We actually do like fish.
Fish is not that hard to cook.
So, first of all: peach salsa. Accept no alternatives! I have had fish tacos served with mango salsa, but peach salsa is way better. The sweet tang of peaches complements the buttery flakiness of the fish.
I have had a chance to try Weaver's peaches this season and they taste even better than I ever remember peaches tasting. Ed Weaver, orchard president, says the abundant sunshine of this season has led to a very good flavor and sweetness.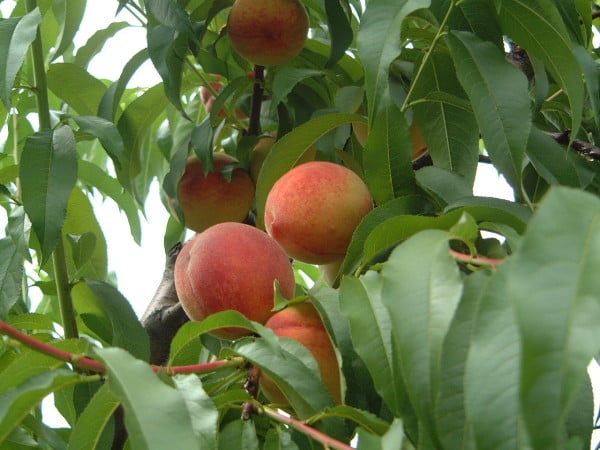 BUT, it's an early season this year, so now is the time to harvest! Justin Weaver, production manager, says we can expect peak peach season to last through August 24. More will be coming through mid-September, though there may be a few short gaps in availability.
Why not can peaches you can use in peach salsa later? Here's a recipe from Kendra Musser, whose husband Dwayne is our market manager. (Canning fresh peach salsa is not recommended.)
On the second point, my husband and I both grew up eating fish sticks, but decided at some point in our teenage years that fish is just a little too…fishy. Although I am getting more adventurous, I still feel trepidation whenever I order seafood: will I really like this kind of fish prepared this particular way?
But after last night's meal, I am going to banish my caution. If this recipe can taste this good, surely there are other tantalizing fish recipes I haven't discovered yet.
Okay, but, cooking fish at home? It's really hard, right? That's what I always thought. It must make the whole house smell weird. It must be hard to cook it so it tastes good. And aren't basically all fish filled with tiny bones?
Ah, the anxieties of the uninitiated. I bought some tilapia fillets, baked them in a buttery sauce and flaked the fillets (which are cut to remove both large bones and the tiny "pin bones"). It is true that you  have to check for freshness (and it's a good idea just to double check for bones). And you have to be careful to wash anything that has touched raw fish–but, if you're used to working with raw chicken, you probably already have the necessary food safety practices in place.
After trying this recipe, you'll be convinced that those precautions are well worth the effort. And maybe, unlike me, you'll be able to answer the question of which magical ingredients make these tacos so irresistible.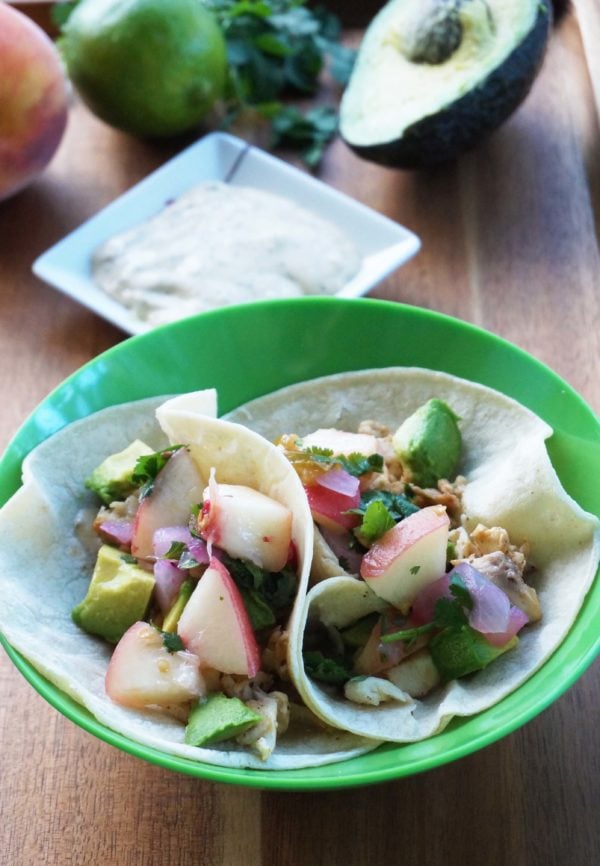 Print
Fish Tacos with Peach Salsa
BAKED FISH:
3 tablespoons

butter, melted
Juice of

1

lime

1 teaspoon

chili powder

1 teaspoon

oregano

1

garlic clove, minced

1/2 teaspoon

salt

1

lb tilapia
PEACH SALSA:
1

white peach, chopped

1/4 cup

cilantro, chopped

1/4 cup

chopped red onion

1

small jalapeno pepper, seeded and minced
Juice of

1

lime

¼ tsp

salt
REMOULADE:
1/4 cup

of the reserved butter mixture for the baked fish

2 tablespoons

mayonnaise
FOR SERVING:
corn tortillas
avocado
cilantro
Instructions
If using frozen fish, follow package instructions for defrosting. Preheat the oven to 400 degrees F.
Whisk the butter, lime juice, garlic and spices. Reserve 1/4 cup of this mixture, and whisk it together with the mayonnaise. Set aside.
Put the tilapia in a small oven-safe dish and pour sauce over the top. Bake for 15 minutes, then remove fish from the oven, flake into small pieces with two forks, and give it a good stir so it will absorb all the sauce. Bake 5 minutes longer until the fish is opaque.
While fish is baking, mix all the salsa ingredients together.
Assemble tacos and enjoy!
SaveSave
SaveSave