Super Tasty Superfoods: Carla and AnnMarie share delicious raw food recipes Kale Salad and Strawberry Smoothie from Deep Focus on Vimeo.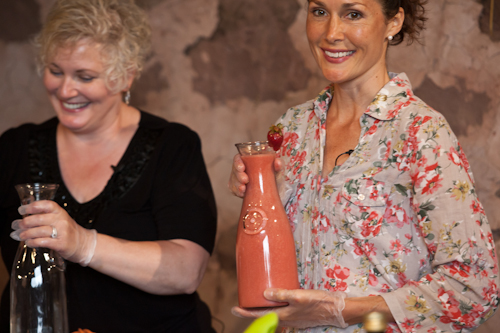 Carla Guss and Anne Marie Hinkson are health-conscious cooks who've learned to make delicious food with the most nutritious, raw ingredients. On Tuesday, June 10, they shared two of their recipes at Weaver's first free cooking class of the summer.
Carla has a bachelor's degree in nursing, while Anne Marie has a background in nutrition. Both teach cooking and nutrition classes in the area and coach individuals in healthy eating and food preparation. They believe certain dietary changes can promote healing of many diseases and conditions. In fact, they wholeheartedly agree with Hippocrates' statement: "Let food be thy medicine and medicine be thy food." Carla's daughter had severe asthma and Lyme disease, and Carla saw dramatic changes in all of her children's health after her family switched to a raw diet. Raw foods contain enzymes that help build immunity and fight illness. According to Carla, when you drink juice you make at home using fruits and vegetables, the nutrients go straight to your cells. Vitamin-rich foods build strong and healthy bodies that can fight disease. And when children are involved in the process, from gardening to helping in the kitchen, they enjoy eating the good food they've prepared. Carla used her prized Vitamix blender during this presentation and mentioned that when teaching juicing classes, she uses her Hurom Slow Juicer, her husband's favorite kitchen gadget.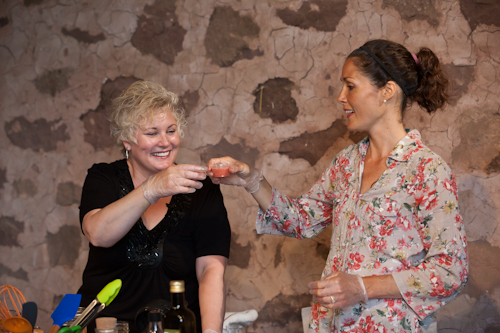 Kale is one of Carla and Anne Marie's favorite vegetables. One cup of chopped kale (only 33 calories) contains as much calcium as 2/3 cup of milk, and it's highly absorbable.  A cup also has 134% of the daily recommendation for Vitamin C, 206% of Vitamin A, and 684% of Vitamin K. That's six times the daily value for Vitamin K, which helps improve bone density. Kale is also a good source of copper, potassium, iron, manganese, and phosphorus. And it contains antioxidants that have been shown to fight cancer. Kale is also rich in lutein and zeaxanthin compounds, which promote eye health. And the fiber in kale binds bile acids and helps lower blood cholesterol levels.
But now that you're convinced kale is a super food, you may not know what to do with it.  Carla and Anne Marie have some ideas. First of all, if you've tried kale and found it bitter, you can massage the leaves to make them sweeter. They not only demonstrated that technique, but let us taste the results. Even the children in the audience admitted the kale salad they made was very tasty.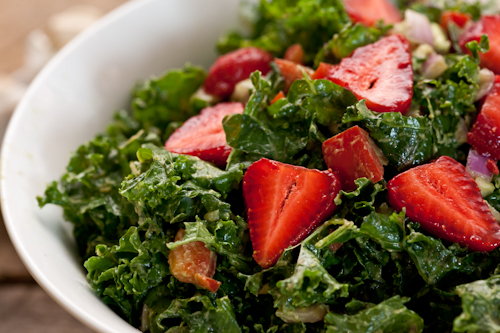 Here's the recipe: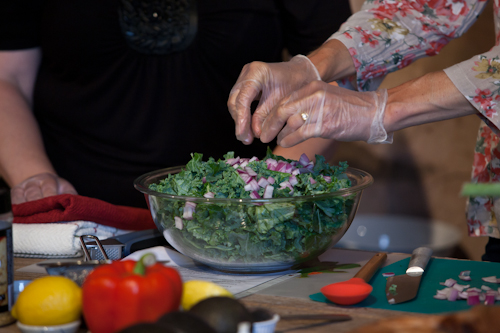 Print
Kale-Avocado Salad
Salad
Combine these ingredients in a large salad bowl:

1

bunch curly kale, chopped or torn into small pieces (Add the stalks to your next batch of juice.)

½

red onion, chopped

2

garlic cloves , chopped

1

avocado, pit removed, chopped

1

red pepper, chopped
Dressing
Instead of mixing the dressing separately, pour each ingredient onto the salad and then mix it all in with your hands, as if you're massaging the ingredients into each leaf of kale while tossing the salad. Let the kale marinate in the dressing for a little while. (It gets tastier as it marinates.)
Juice of

½

lemon

1 tablespoon

Bragg's Liquid Aminos

1 ½ tablespoon

olive oil

1 tablespoon

nutritional yeast
Cayenne pepper to taste
Sea salt or Himalayan salt to taste
Instructions
Combine salad ingredients in a large salad bowl. Pour lemon juice, liquid aminos and olive oil onto the salad. Sprinkle on the yeast, cayenne and salt. Massage for a minute or two, to "wilt" the kale and cream the avocado.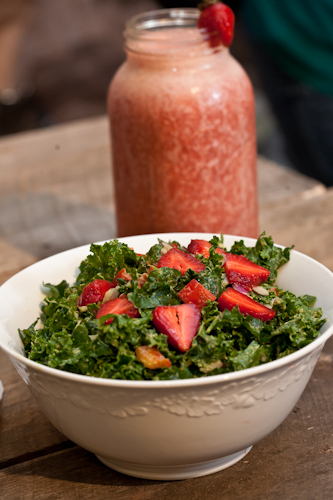 After letting the audience sample this kale salad, Carla and Anne Marie mixed up a fruit smoothie as a sweet treat. Amounts of each ingredient may vary, but the delicious concoction they whipped up in their blender contained:
Print
Strawberry Smoothie
Author:
Category:

Beverage
One quart

of ripe strawberries (with the leaves on!)
About

2 cups

fresh squeezed orange juice

2

frozen bananas

2 tablespoons

raw honey
A handful of ice cubes
Instructions
Blend. If your mixture seems too thick when blended, add some water till it becomes the consistency you desire.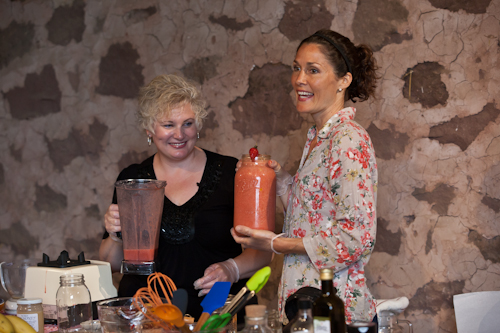 Here are some tips on making smoothies and frozen treats:
Don't remove the leaves from the strawberries; blend them along with the fruit. The leaves provide some nutrients, just like any other leafy green.
Keep frozen bananas in your freezer. When the bananas on your counter start to brown, peel them and put them into a sealed bag. You can add them to smoothies at any time.
Raw honey (available at Weaver's) is unheated, unfiltered honey. Not only is it a natural sweetener, but it contains vitamins, minerals and enzymes.
Make smoothie popsicles! Just pour your mixture into popsicle molds for a refreshing, kid-friendly treat that's free of dyes, refined sugar and artificial ingredients.
To be part of Weaver's next free cooking class, come to the stone barn at 11:00 a.m. next Tuesday (behind the store by the apple orchard). Classes will be held every Tuesday until August 26. No pre-registration is required and there are plenty of comfortable seats in the rustic barn. The classes are interactive, and free samples are always part of the fun! Don't miss this chance to learn from some of the area's most experienced cooks. You'll go home inspired to try new recipes your family and friends will love!
* * *
Article written by Nancy Tirrell and coordinated by VanDuzer Design & Marketing for Weaver's Orchard and may also be syndicated on Fig: West Chester and Rachel's Farm Table.