Weaver's Orchard Farm Market & Pick-Your-Own Farm
A destination for homegrown produce & events near Reading & Lancaster County
Weaver's Orchard Farm Market is nestled in the scenic hills of Berks County, just 15 minutes south of Reading, Pa.
Today at Weaver's Orchard
Our farm market is open Monday-Saturday! Stop by Monday-Friday from 8 a.m. – 6 p.m. and Saturday from 8 a.m. – 5 p.m. Find fresh produce, our own homegrown apples, locally grown greens, Florida citrus and more when browsing our produce selection. Order sandwiches and cold cuts from our deli and select locally raised free-range meats and locally made and sourced artisan cheeses. Don't forget to pick up a gallon of our award-winning apple cider! 

Our orchard offers pick-your-own apples, blackberries, blueberries, cherries, kiwiberries, peaches, pears, plums, pumpkins, raspberries and strawberries. We use an Integrated Pest Management approach with our farming practices that employs many preventative and organic methods to ensure that our crops and our land remain healthy.

Find our homegrown produce and freshly pressed apple cider in our year-round farm market, which also features a bakery, a deli and a selection of all-natural dairy items and free-range meats. Plus, order fresh fruits or vegetables to have them delivered straight to your workplace through our Orchard2Office produce delivery program.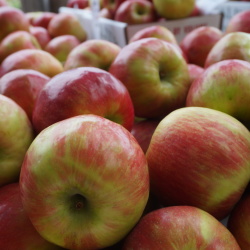 Experience our farm through:
Watch More Cooking Class Videos
Find More Recipes & Food Stories