I'm fully aware that the overnight oats craze has come and gone, but perhaps you, like me, have adopted this highly nutritious habit into your morning, or rather evening routine.
Having made its debut on social media and the wider food culture back in 2012, this morning powerhouse originated back in the nineteenth century. Did you know that the original version of what we know today was called muesli and was created by a Swiss physician named Maximilian Bircher-Benner?
The young doctor started his practice while Europe was in the thoughts of tuberculosis outbreaks. Muesli was made of a mixture of oats, nuts, and yogurt that steeped overnight.
While ahead of his time with regards to tracking macros in ones diet, Bircher-Benner made an important connection between the foods his patients were eating and their overall health. It was seen that diets high in fiber and protein, yet low in sugar helped abate the worst of many tuberculosis symptoms.  
Thanks to modern science, we are able to enjoy overnight oats for a different set of health benefits that do not include skirting tuberculosis. If you have yet to try overnight oats, the magic happens when adding liquid to oats and, well as the name suggests it, letting them set overnight.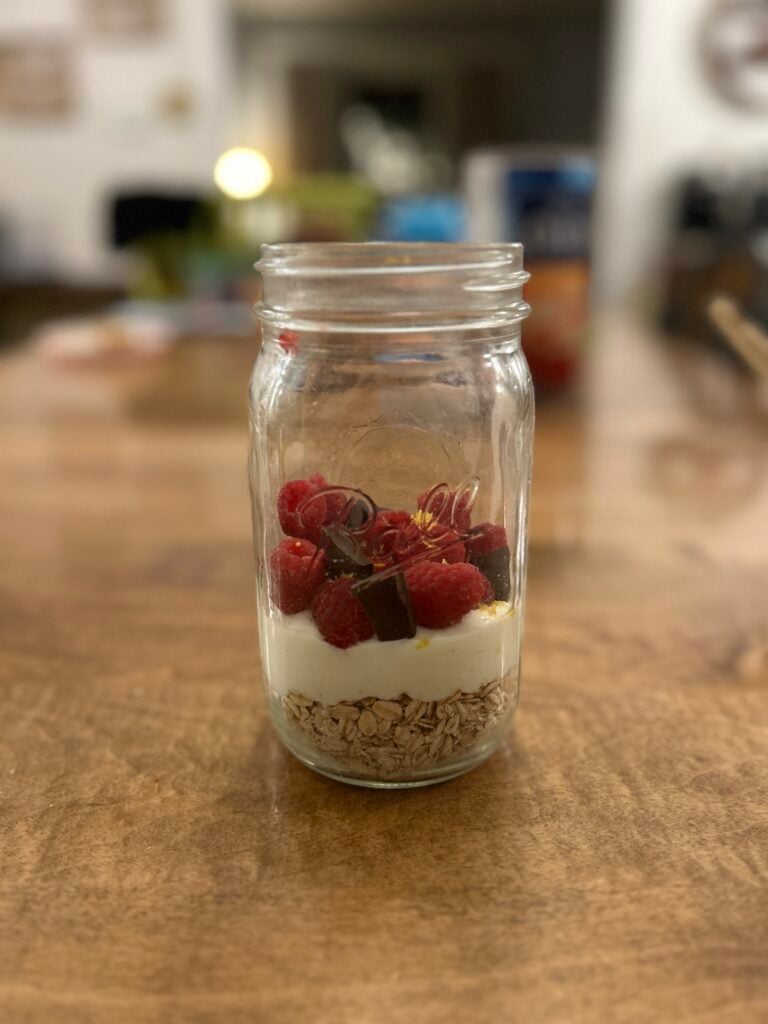 What you get is a beautiful bowl of perfectly tender oats that are just as good as if you cooked them. The beauty of overnight oats is that while soaking the grain, the oats are prepared in such a way they are easily consumed, but having not cooked them the nutrient content and composition is untouched.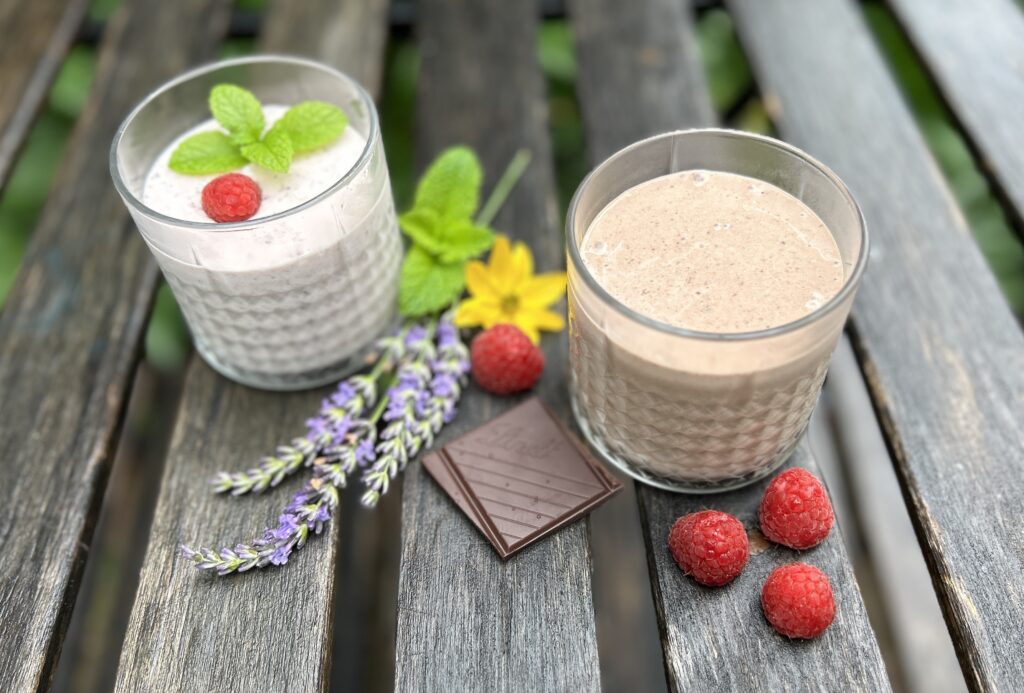 I personally often use oats, a combination of milk and half and half, nuts, raisins or fresh fruit and a pinch of cinnamon and salt. With high levels of protein and fiber, this is a great way to start your day. 
The origin of this riff on overnight oats came to me when I had made a batch of oats two days prior and forgotten about them. I was running late getting the kids and I to a friend's house for a Monday morning play date in the first week of summer and wanted something fast, but didn't have the time to, nor did I want to inhale a bowl of oats. Remembering I had just picked some beautiful red raspberries from the orchard, I added the oats to a blender, threw in some berries and a splash more milk and voila, the overnight oat smoothie was born.
After my first sip, I chose to add in some lemon zest to punch up the raspberry flavor and a splash of vanilla. The next morning I added about a teaspoon and a half of cocoa powder to my wife's smoothie and she really enjoyed it.  
Print
Overnight Oats Raspberry Smoothie
1

c. dry old-fashioned oats

1.

c. milk plus more to thin the smoothie to fit your liking

½

c. whole fat yogurt, plain or vanilla flavor

½

–

1

c. raspberries

½ tsp

. vanilla extract

Pinch of salt
Optional Add-ins:
⅓

c. cashews or other nuts

1 Tbsp

. honey or maple syrup, optional

Zest of

½

a lemon

2 tsp

. cocoa powder and a handful of dark chocolate chips
Instructions
Combine all ingredients into a wide mouth mason jar if using an immersion blender, or directly into a leak proof blender, or food processor smoothie attachment.

Stir all ingredients to combine and let sit overnight.

Blend all ingredients together until you reach your ideal smoothie consistency. Add milk as needed to thin the smoothie.

Drink and enjoy hours of fulfillment from this powerhouse of a breakfast.