New this year at Weaver's Orchard are the autumn-hugging addition of apple fries.
They've been available at Fall Family Fun Days every Saturday since September 19, and the last Saturday when they'll be up for grabs is October 31.
Festival-goers looking to scoop up their own sets of apple fries at the orchard are welcome to do so at the food shed between 10 a.m. and 5 p.m. during the remaining Saturdays until the end of this month.
David Howe and his wife, Becky Howe, are the apple-minded duo behind the delectable fruit fries, which have cinnamon and sugar sprinkled on top and come with a souffle cup of caramel for dipping, all for $3.50 in a one-pound paper French fry boat.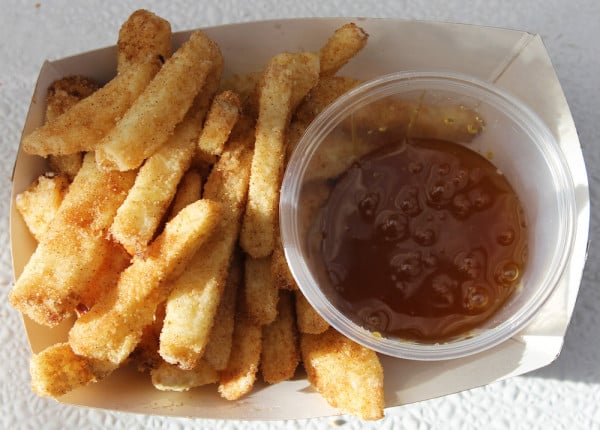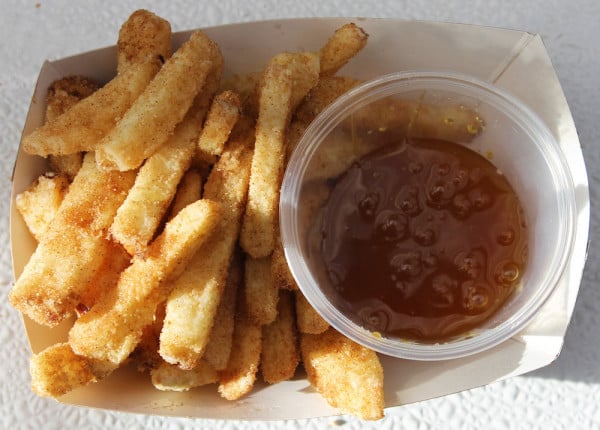 David serves as the garden center manager and festival food manager for Weaver's Orchard, while Becky is the wholesale bookkeeper and what she calls her husband's "right-hand lady on Saturdays" because, along with other employees, she helps to hand out the orders of apple fries.
For several years, David wanted to find a feasible way to put apple pie on a stick but found no successful approach.
A eureka! moment hit as Becky researched unique food ideas online this August and stumbled across the concept of using a French fry cutter to craft apple fries.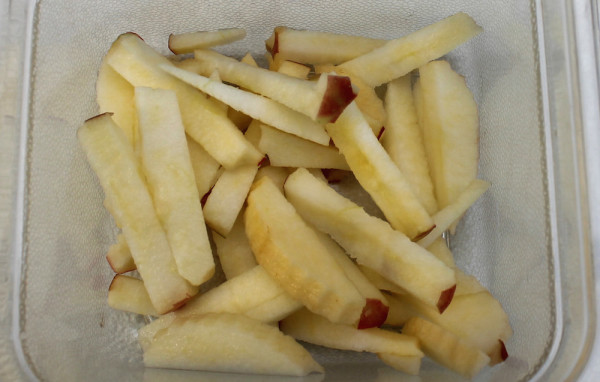 He tested out a batch and immediately knew they'd discovered a win-win for the orchard and its customers.
David notes that the apple fries taste like apple pie, warm and fully crave-worthy. And they easily stir nostalgia for homemade farmland treats with their taste and comforting reminders of go-to sweets in autumn.
After apples are sliced in the French fry cutter, they're coated in cornstarch and then lowered into a deep fryer of canola oil for approximately three minutes.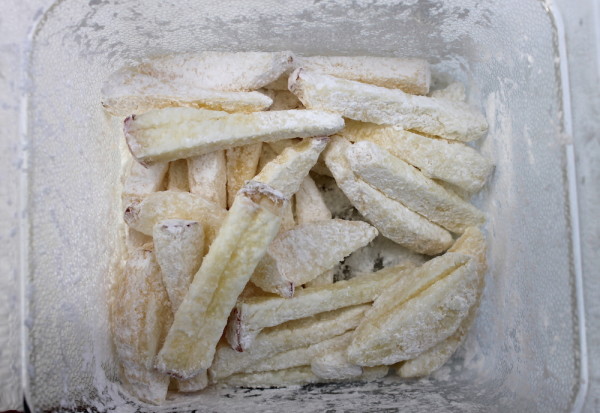 "Cornstarch on the apple fries gives them substance so the apples don't suck up all of the oil," David says.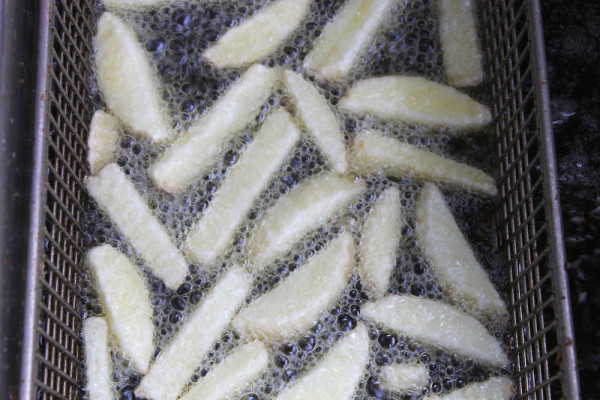 "The harder the apple, the better it turns out," David adds. "They stay firm. Otherwise, with softer apples, the fries would be more mushy."
One of the aspects David says makes the fries unique, aside from already being unique just by nature of what they are, is the mixture of different varieties of apples in a single batch.
Pink Lady®, Jonathan, Cortland and Jonagold are some apples he uses for the eventual fries.
Approximately one apple creates a single set of fries, but the slices in each order are always a blend of several varieties of apples.
Enough slices are usually in the deep fryer at once for two to three orders of the apple fries, David notes.
He estimates that 50 to 70 orders of apple fries are prepared at the food shed on each recent Saturday, and more tend to sell if samples are set out for taste-testing.
"When this first idea came through, I thought, 'This is something we grow, and we're known for our apples, so this is a way to promote what we are growing,'" David says.
The fact that the apple slices are fried in canola oil and not peanut or soybean oils is another detail which David says seems to be a plus, especially for any customers who have serious nut allergies.
Weaver's Orchard has made freshly cut French fries from potatoes during Family Fall Fun Days for more than a decade, but apple fries add a whole new appeal (no apple peels, though, but the pun is very much intended.)
And remembering that A is for Apple certainly comes into play here, with A+ feedback from customers.
Some responses David says he's heard from customers about the taste of the apple fries involve words starting with the letter A: Absolutely amazing. Awesome.
A few people have said, "These could be addicting," David adds.
Their affection for the apple fries shows in people's eyes as they glitter and light up with first bites—a sure sign of falling in love with a new autumn food at Weaver's Orchard.