I discovered the recipe below in Delicious Living Magazine last month and fell in love with the combination of flavors. We just started carrying goat cheese again from Amazing Acres goat dairy, and the grill pan gives the potatoes those delicious grill marks without the hassle of the outdoor grill. You don't have to break the budget by purchasing a grill pan, either. I was able to find one that I love for only $17.99 at Ikea. I'm always a fan of quick recipes involving potatoes since we gave up our microwave this summer. (I'm not terribly opposed to the idea of a microwave, but ours got misplaced during our move and I haven't really found the need to replace it yet.)  Enjoy these fall recipes, and celebrate the season!
Print
Grilled Potatoes with Cilantro Vinaigrette & Goat Cheese
Adapted from Delicious Living
Author:
Category:

Side Dish
POTATOES:
• 2 pounds medium red-skinned potatoes
• Olive oil, for brushing
• 2 cloves garlic, crushed
• 2 ounces Amazing Acres chevre (goat cheese) crumbled
CILANTRO VINAIGRETTE

1

large garlic clove

1/2 cup

fresh basil

1/2 cup

fresh cilantro

1 teaspoon

toasted cumin seeds (or

1/2 teaspoon

ground cumin)

1 teaspoon

toasted fennel seeds

1/2 teaspoon

crushed red pepper flakes

1/4 teaspoon

sea salt

2 tablespoons

apple cider vinegar or white wine vinegar

1/4 cup

extra virgin olive oil
Instructions
Puree all of the cilantro vinaigrette ingredients in a blender. Add more salt and pepper to taste. (Makes 1/2 cup).
In a large pot of salted water, gently simmer potatoes until just turning soft, about 10-15 minutes. Drain, rise with cool water, drain again and slice into 1/2 inch-tick rounds. Brush with olive oil and season with crushed garlic, sea salt and freshly ground black pepper.
Oil a grill pan; then pre-heat grill. Grill potatoes until nicely browned, 20-25 minutes. Transfer to a serving platter, top with goat cheese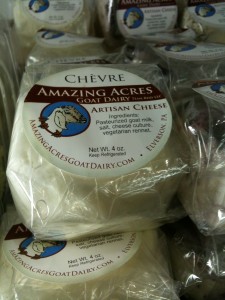 Print
Curried Butternut Squash with Cranberries and Toasted Coconut
This dish makes a great side for your holiday or everyday meals. Fresh ginger gives it a little bit of a kick, and also will help relieve any headaches or muscle aches!
2

pounds butternut squash or neck pumpkin (

2

small or

1

large squash)

3

garlic cloves, minced

1

1-inch piece fresh ginger, peeled and grated

3 tablespoons

olive oil

3 tablespoons

pure maple syrup

1 teaspoon

allspice

1 teaspoon

curry powder

2 teaspoons

chili powder

3 tablespoons

unsweetened shredded coconut, lightly toasted

2 tablespoons

dried cranberries
Instructions
Preheat oven to 375˚F.
Peel squash and chop into 2-inch squares. In a large bowl, salt and pepper the squash to taste. Add remaining ingredients except coconut and cranberries and toss well to coat. Bake in a casserole dish for about an hour, stirring occasionally.
Sprinkle coconut and cranberries on top just before serving.