When comparing something real to the imitation or mass-produced version, the genuine one is just about always superior in quality. When it comes to strawberries, we can be thankful that Florida and California grown strawberries are available to us in the winter when local berries aren't ripe, but it sure makes us thankful for our own strawberry season. Although Florida and California strawberries are of course real berries, the varieties grown are made to withstand long transit times and to have a long shelf-life. On the contrary, we're able to grow varieties of strawberries that have incredible flavor but that need to be enjoyed fairly soon after being harvested.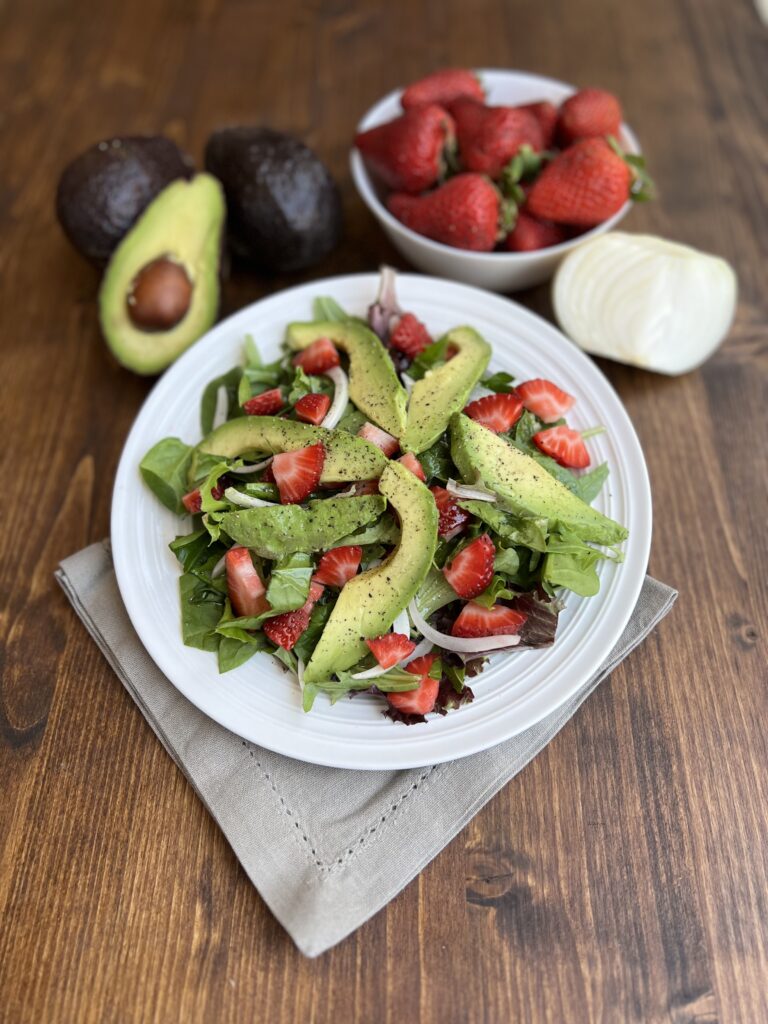 "Real food" ingredients like the homemade dressing and fresh produce in this salad are much more flavorful than most store-bought dressings and freshly cracked salt and pepper enhance the flavor of the avocados in this salad.
So why all this talk about real vs. imposter? You might be surprised to learn that artificial intelligence (or AI) actually accounts for many blog articles and recipes out there. Just one simple request from Chat GPT and you have a full recipe for strawberry shortcake! The problem? No one knows if that recipe was actually tested, or if the ingredient list is even right! The New York Times published an article titled "Can A.I. Write Recipes Better Than Humans? We Put It to the Ultimate Test."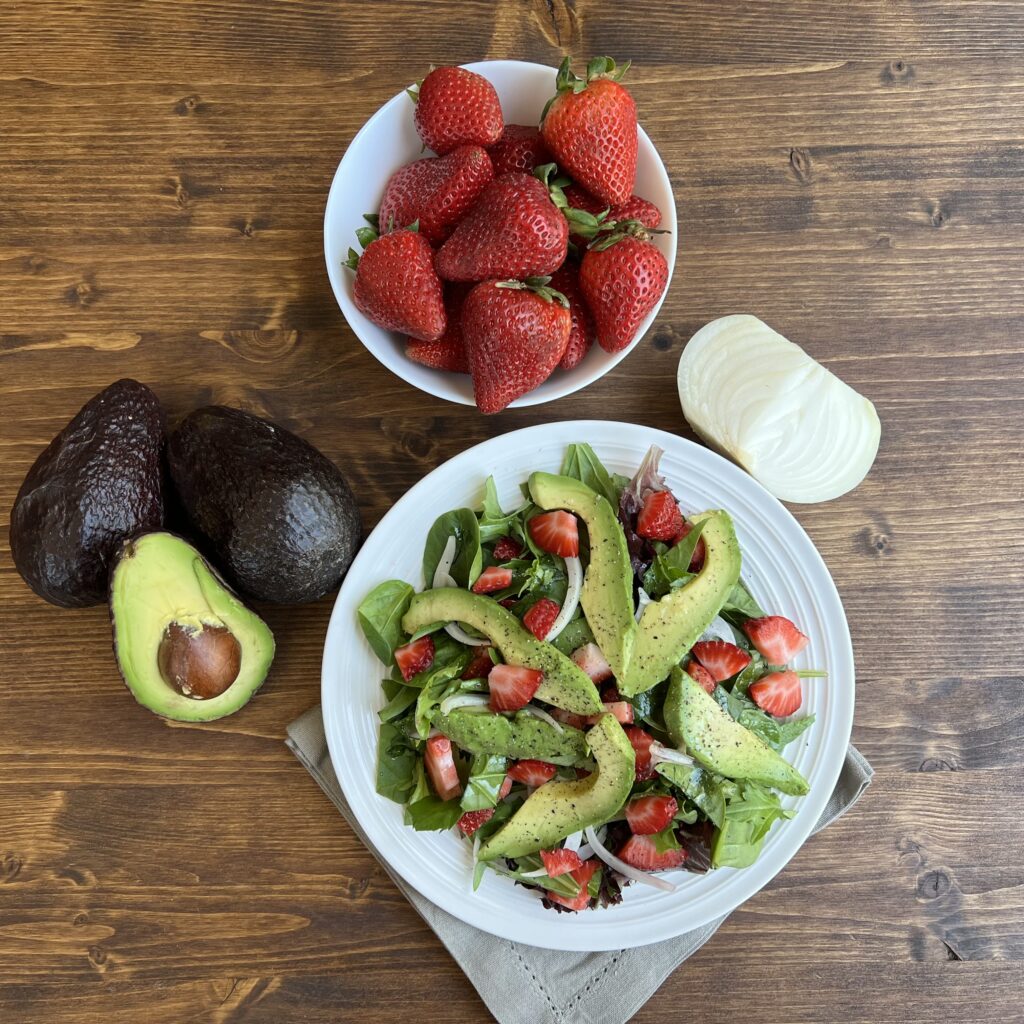 Here at Weaver's Orchard, you can be assured that all of our articles are 100% written by humans (usually employees or those with a strong connection to the orchard) and that every recipe has been tested — sometimes two or three times before we get it right!
We highly recommend this recipe for strawberry salad with Vidalia onions, a perfect combination since they're both in season at the same time. So pick up some homegrown strawberries from our market and enjoy this yummy salad. Stay tuned to our pick-your-own page to see when our strawberry fields will open!
Print
Strawberry Avocado & Vidalia Onion Salad
Salad:
3 cups

spring mix, chopped

1

an avocado, sliced

1 cup

sliced strawberries

1/4 cup

sliced vidalia onions
Dressing:
1/3 cup

mild flavored oil such as canola oil (or use a blend of olive and canola oil)

1/4 cup

apple cider vinegar

2 tsp

. honey

1/2 tsp

. salt

1/2 tsp

freshly ground black pepper

1 tsp

chopped fresh herbs such as basil or oregano
Instructions
Mix together all of the dressing ingredients in a jar. Shake to combine.
Place the salad ingredients except for the avocado in a salad bowl. Pour the vinaigrette over it and toss to combine. Add the sliced avocado and top with additional salt and pepper. Serve and enjoy!