This summer, we've hosted a series of great cooking & gardening classes on the first Wednesday of every month starting this June. If you've missed them so far, don't worry. There is one more session on September 7th, and I'm really excited for this event!
Locally famous chef John Zuwila of West Reading's Haute Chocolate Cafe will be teaching us how to make delicious fruit pies and crisps. John is committed to sourcing local ingredients whenever possible and has worked at many great restaurants in our community, including Green Hills Inn and Bistro on the Green. Now he's expanding to start a new restaurant in Lancaster called Joe's Famous American Kitchen, which just opened this month. From what I hear, the food at Joe's is pretty amazing, and the desserts are supplied by Haute Chocolate Cafe. According to my Lancaster friends, they have the best burgers in Lancaster – and probably even the state!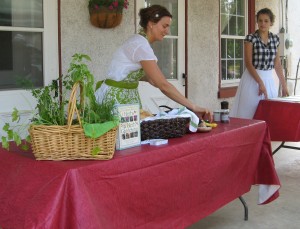 We asked Dr. Marisa Bosler to come back for a session on how to make dough for bread, pizza or calzones after enjoying her delicious demo in June about cooking with fresh herbs and veggies. Dr. Bosler has a nutrition practice in Honeybrook, PA specializing in Nutrition Response Testing. She grew up working in her family's Italian restaurant and learned the art of making great bread and pizza dough. Today, she's combined this knowledge with her love of healthy cooking. At home, she has her own brick oven and brought us samples of a delicious herbed sprouted grain bread she baked herself. "It's a very hands-on process – it's all about the texture of the dough," Dr. Bosler explained. Many people expressed an interest in learning more about this process, so we asked her back for a class in September on making breads and pizza dough and incorporating fresh veggies.
If you've missed any of the sessions so far, we thought we'd share some of the recipes:
Print
Grilled Vegetable Stacks
Author:
Category:

Side Dish
TO GRILL:

1

large Portobello mushroom

1

red onion

1

zucchini

1

eggplant
TO TOSS:

1

tomato, sliced lengthwise and in half
A handful of basil leaves
Sea salt and freshly cracked black pepper
Olive oil and balsamic vinegar
Raw milk cheddar cheese, sliced (optional)
Instructions
Slice grilling veggies so that the zucchini, onion, eggplant, etc. are large, flat circles.
Sprinkle with salt and pepper.
Grill directly on grill surface, turning once (each time you flip something on the grill it loses moisture).
Once everything is done, stack the veggies, with a fresh tomato slice, basil leaf and cheese at the top.
Place a toothpick in the center to stabilize. Drizzle with olive oil and balsamic vinegar.
TIP: If you don't want to make these as stacks, you can also add all ingredients to a large bowl follow the same order with tomatoes, basil and cheese on top, then drizzled with olive oil & balsamic vinegar.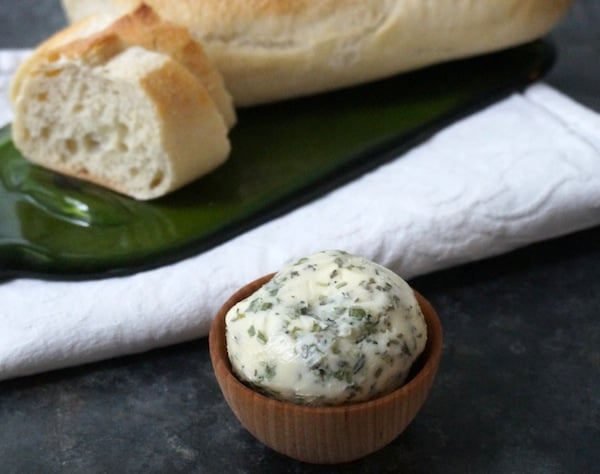 Print
Herbed Butter
1

stick butter
Juice of

1

tomato
Your favorite herbs
Instructions
Squeeze the juice of one tomato into a mixing bowl or Kitchen Aid mixer along with a handful of your favorite herbs. Add a stick of butter and whip it to your liking.
 
Print
Garden Harvest Slaw
Also delicious in wraps! Spread cream cheese on the tortilla if desired.
Author:
Category:

Slaw

Cuisine:

Vegetarian, Vegan
3/4 cup

beets

3/4 cup

carrots

3/4 cup

turnips

3/4 cup

kohlrabi

3/4 cup

kale

3/4 cup

parsley

1

small onion
Italian dressing. Recommended: Simply Organic Italian dressing packet with olive oil & balsamic vinegar
Instructions
Grate all ingredients with a cheese grater or in the food processor and mix with Italian dressing.
Salsas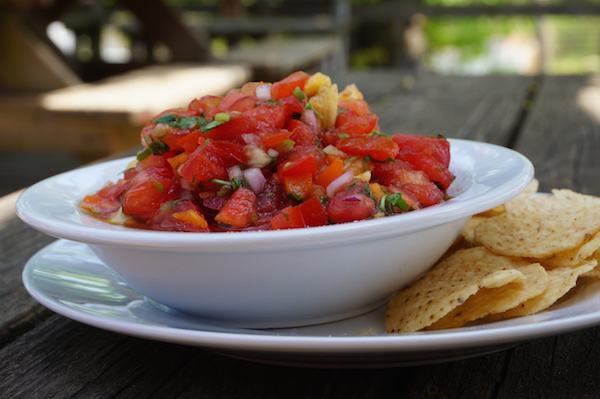 Print
Fresh Tomato & Pineapple Salsa
8

medium tomatoes (about

4

pounds)

2

chopped orange bell peppers

1

medium chopped red onion

6

garlic cloves, minced
Chopped cilantro to taste

2

seeded and finely chopped jalapeño peppers
Juice of

2

limes

1 teaspoon

salt
Chopped pineapple to taste
Instructions
Combine all ingredients in a large bowl and add cilantro, salt and pepper to taste. Serve with tortilla chips.
Print
Fresh Peach Salsa
10

peaches, skins removed and chopped

1/2

medium onion, chopped

1

finely chopped jalapeño pepper, seeds removed
Juice of

2

limes
Cilantro, finely chopped, to taste
Salt and pepper to taste
Instructions
Combine all ingredients in a large bowl and add cilantro, salt and pepper to taste. Serve with tortilla chips.
Print
Watermelon Salsa
2 cups

diced seedless watermelon

1

tomato, chopped

¾ cup

finely chopped red onion

1

can black beans, rinsed and drained

2

jalapeño peppers, seeded and chopped

¼ cup

minced fresh cilantro

2 teaspoons

brown sugar

1

garlic clove, minced

½ teaspoon

salt
Instructions
Mix together, cover and refrigerate for 1 hour. Drain if necessary before serving.
Print
Tomato Salsa (For Canning)
5 cup

skinned tomatoes, chopped

2/3 cup

onion, diced

1/3 cup

green peppers

½ cup

Jalapeno peppers (or

1/3 cup

Hot Hoagie Spread)

1

clove garlic, minced

1 tablespoon

salt

¼ cup

vinegar
Instructions
Peel tomatoes, chop, and drain juice.
Add remaining ingredients.
Bring salsa to a boil and then simmer forty-five minutes.
Fill jars and water bathe twenty minutes.
Smoothies
 
Print
Berry Madness Smoothie
1/2 cup

blackberries

1/2 cup

sliced strawberries

1/2 cup

raspberries

1/4 cup

blueberries

1 1/2 cups

milk

6

ice cubes
Instructions
Wash all fruit and blend all ingredients in a blender until smooth.
Print
Cucumber Celery Lettuce Green Drink
1

apple, seeded and cut in fourths

1

cucumber or zucchini, cut in fourths

3

celery sticks, cut in half

2 tablespoons

ground flax seeds

1 cup

sunflower sprouts

1

head romaine lettuce

1/2

bunch spinach
Water to dilute
Instructions
Wash all fruits and vegetables. In juicer, add apple, cucumber and celery and blend. Add a small amount of water and the flax seeds, sprouts and lettuce, and blend. Add spinach and blend. Add more water as needed to reach desired thickness.