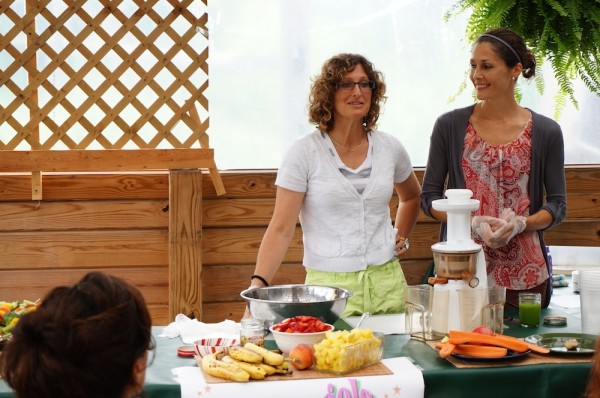 On two occasions this summer, we've had the privilege of welcoming Carla Gus and Kelly Lord of "The Food Angels" to teach cooking demonstrations about ways to cook with "living foods." Carla and Kelly eat a plant-based diet and help others learn the benefits of consuming fresh fruits and vegetables by juicing, making smoothies and following other "raw food" recipes. During their June 19th smoothie demonstration, they used a Vitamix to blend fresh kale with frozen bananas and frozen Weaver's Orchard raspberries. "Freezing the berries gives that nice icy texture to your smoothies," Kelly told the crowd. Although they explained that frozen fruit may have some slight disadvantages since not all of the enzymes survive, the convenience of having fruit in your freezer is a huge plus, allowing you to be able to make smoothies in a pinch. "Recipes aren't really necessary for smoothies, since it's mostly about your preference," Carla explained. But if you need some ideas to get you started, we still have a few combinations we recommend.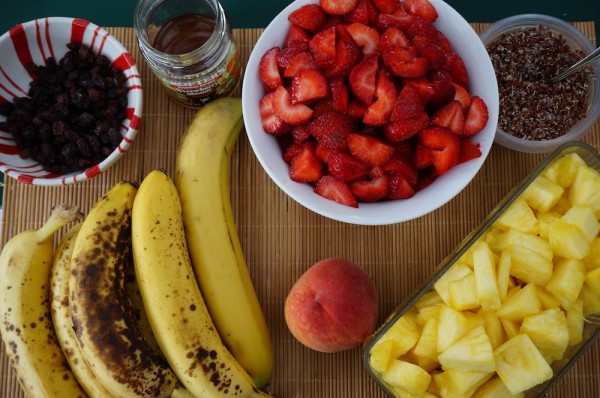 Smoothie combination recommendations:
watermelon-mint-strawberry
blackberry-arugula with apple cider
banana-almond butter with nutmeg and ginger
mint-lime with spinach and green tea
mango with carrot juice
peach-pineapple-avocado
strawberry-blueberry-peach-spinach
Some tips:
Apple cider is available frozen and helps add liquid to smoothies without "watering" it down.
Mint always adds a refreshing hint to smoothies.
Lavender is also great in smoothies, juices, teas and lemonades.
Strawberries, blueberries and peaches freeze very easily. Plus, they are great in smoothies. Read below for tips on freezing fruit!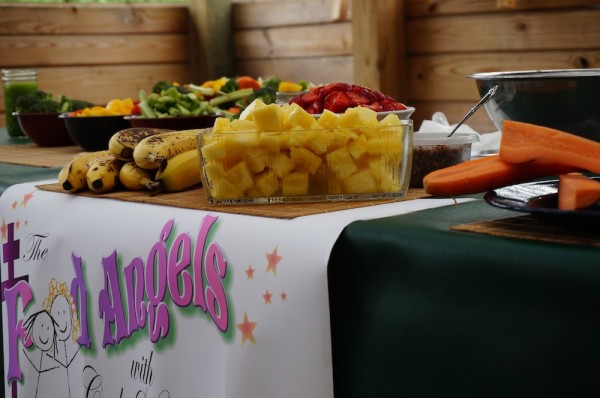 During their July 10th class at Weaver's Orchard, Carla and Kelly made a ginger hopper juice using carrots, ginger root and apple using their Hurom juicer. "It has a taste reminiscent of ginger-ale, and the orange color makes it look like an orange soda," Carla explained.
Print
Ginger Hopper Juice
1/4

inch slice of ginger (This herb helps to eliminate intestinal gas, helps with motion sickness and is good to relieve nausea and vomiting associated with pregnancy. It also has anti-inflammatory properties.)

4

carrots – Carrots contain Beta-Carotene, which is transformed into vitamin A. It benefits vision and is good for complexion problems including acne and rough and dry skin. It helps lower blood pressure, boosts the immune system and is a good cancer fighter.

1

apple, cut into wedges – Apples are high in vitamin A, B and folic acid. They reduce cholesterol and aid in appetite control. Beneficial for healthy skin, hair and fingernails. They are a source of quercetin and antioxidants and keep the heart and lungs healthy.
Instructions
Add ingredients to the juicer, juice and enjoy!
Juicers extract the liquid from fruits and vegetables, leaving behind pulp. Don't feel that you have to waste the pulp though – it can be saved (even frozen) and mixed in with raw carrot cakes (see recipe below), vegetable lasagnas, black bean burgers or crackers. Just be sure to juice the vegetables first so you can effectively re-use it.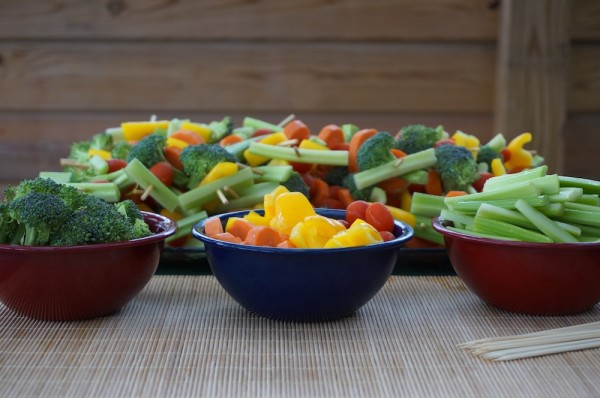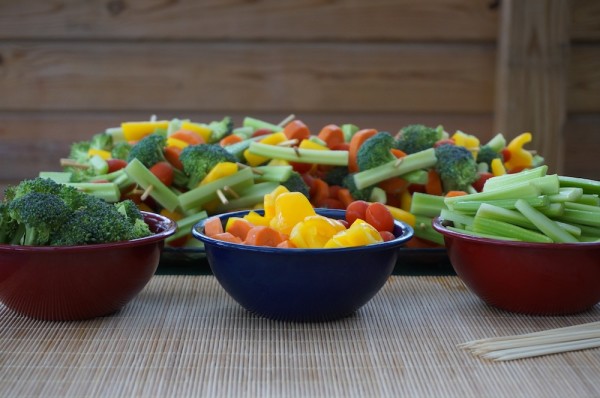 Some of the participants wanted to know the difference between juices and smoothies, and when you would juice vs. make a smoothie. "The advantage of a juice is that it gets the nutrients right to your cells, since your body doesn't have to digest the fiber. It's like taking IV vitamins, which is necessary while your body is healing," Kelly explained. She continued to say that fiber is still important, so both smoothies and juices have their place in your normal diet. Both of the demonstrators were currently doing a 3-day juice fast cleanse diet, so they were sipping fresh green juices out of mason jars throughout the course of the class.
The duo went on to demonstrate how to make a quinoa fruit salad (recipe below) and skewered vegetables, which could be eaten raw or grilled.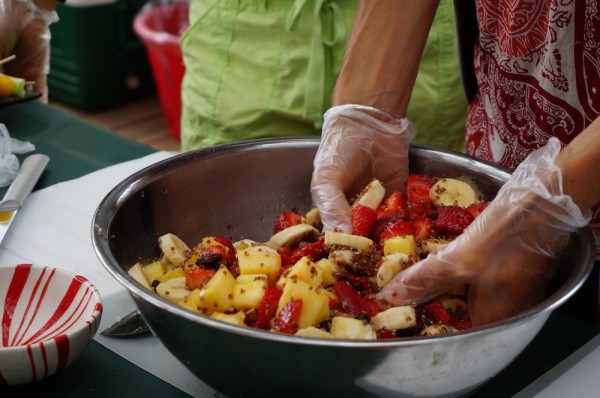 Print
Quinoa Fruit Salad
FRUIT:

1

pineapple

1 quart

strawberries

3

bananas

1/4 cup

raisins

1/4 cup

cooked red quinoa
coconut flakes to garnish
DRESSING:

1/8 cup

olive oil

2 tablespoons

flax oil

1/4 cup

Bragg's raw apple cider vinegar

1 tablespoon

agave
pinch of sea salt

3

shakes ground nutmeg
Instructions
Slice the fruit into a large bowl.
Cook quinoa according to package directions; cool.
Combine the dressing ingredients.
Pour dressing over the fruit mixture and mix until well combined.
Tips for Freezing Fruit
– Make sure that fruit is dry before freezing. Using a colander or patting them gently with paper towel is a good way to do this.
– Once fruit is frozen, place the fruit in zip-lock freezer bags.
– Make sure to force as much air as possible out of the bags before sealing.
– Frozen berries and cherries will be good up to six months and peaches will be good up to ten months. It's a good idea to label and date your frozen fruit.
– If you plan to use your fruit in smoothies on the go, blend berries in a food processor and then freeze them in an ice cube tray. Once they are frozen, transfer them to a zip-lock bag. When you're ready to consume it, just pack them in a bottle, add some water or cider and allow the fruit to thaw a few hours until you're ready to consume it. This makes a perfect mid-morning snack at work or on the run!
Berries: Remove stems, rinse gently and place stem-side down on baking sheet. Once frozen, transfer berries to a zip-lock freezer bag.
Cherries: Rinse cherries and pat them dry. Then, pit the cherries over a baking sheet to catch the juices. Place the cherries on the same baking sheet and freeze both fruit and juices. Once frozen, transfer cherries to a zip-lock freezer bag.
Peaches: 
– Remove the skin of the peaches by blanching.
– To blanch, bring a pot of water to a boil and place the peaches in the boiling water for about 45 seconds, then quickly remove the peaches with a slotted spoon and place them directly into a bowl of ice water.
– Once the peaches are cool enough to handle, remove the skins. Next, cut the peach in half to remove the pit.
– Slice the peaches and toss them in a bowl with the juice from half a lemon and a third cup of sugar (per quart using half a dozen peaches).
– Place the slices on a baking sheet covered with parchment paper.
– Once frozen, transfer peach slices to a zip-lock freezer bag.
They also shared a recipe for a raw carrot cake with a cashew frosting:
Print
Carrot Cake with "Cream Cheese" Frosting
5 cups

carrot pulp from about

3

lbs. juiced carrots

1 3/4 cups

sunflower seeds

2 1/4 cups

pitted dates

2 3/4 cups

shredded coconut

1 1/2 tsp

. grated nutmeg

3 tsp

. ground cinnamon
"Cream Cheese" Frosting

1 1/2 cup

cashews
Juice of

1

lemon (about

2 Tbsp

)

2 Tbsp

agave syrup or honey

1/2 cup

water, as needed
Instructions
To make cake, place carrot pulp in a large bowl.
Next, process sunflower seeds in a fine powder in your food processor. slowly add in dates and mix well. Scoop into bowl with carrot pulp. Add nutmeg and cinnamon and mix well.
To make frosting, place cashews, lemon juice, agave and water in your blender. Blend into a smooth frosting.
Mold dough into desired cake shape.
Spread frosting over cake and serve.
Will keep 4 days in the fridge.