Spring and early summer marks an exciting time at Weaver's Orchard Farm Market. Year-round grocery staples are joined by unusual greens, leeks and fruits like melons and berries, which will continue to brighten the landscape, one variety after another. The best is yet to come, and I intend to savor it all!
The problem is, I'm often operating from a shopping and recipe rut, absently picking up the same items over and over and overlooking interesting in-season produce popping up here and there on market shelves. Our local market stock flows along with nature's seasons, changing all the time. How can we shake up our routines and get the most enjoyment from every season?
I have two suggestions and a few delicious recipes to expand your palate!
The first thing to do is visit. Connect to the community of people that run and support your market. Come to the annual Taste of Weaver's Sampling Event and enjoy free food from the market! It is a great way to try new food and get food recommendations.
The Taste of Weaver's Sampling Event takes place on Saturday, June 4th from 10:00 a.m. to 3:00 p.m. Come early for pick-your-own strawberries and then sample a wide variety of FREE food. Start by sampling food outside under the tents and weave your way into the farm market for even more samples, free sandwiches and giveaways.
In addition to pick-your-own strawberries, there will be other games and activities appropriate for all ages. Free food samples may include freshly baked pies, pastries and bread, locally roasted coffee, homemade granola, Lancaster County fresh yogurt, deli meat and cheese, Italian pasta and pasta sauces, artisan cheese from local farms, and free sub samples while supplies last. (These are subject to change based on vendor availability.)
Expand Your Palate
The second thing to do is shop and choose something new. Last year during the later summer months, while poking around Weaver's, I picked up gooseberries, kiwi berries and purple cauliflower, all things I never see in my regular grocery store. They were each fantastic! But what happens if you're not adventurous and shy away from unfamiliar food you might not like once you return home?
Well one way, says dietician Amanda Archibald, is to try food similar in taste to your regular stand-by favorites. In an article called How to Expand Your Palate and Try New Food from Whole Living, Archibald spells it out. If you like corn, she suggests you might also enjoy other sweet produce like butternut squash, parsnips and carrots. She devised a helpful chart placing foods in different flavor families helping people decide what they might like based on their existing preferences.
In late April, I studied the chart and headed to the market to see if I could break out of my personal broccoli, onion and pear ruts. Success! I found gorgeous Brussels sprouts, big fat leeks and beautiful honeydew melons. Here are three recipes.
In each recipe you may substitute one for the other, either broccoli or Brussels sprouts in the first recipe; onions or leeks in the second recipe; and melons or pears in the third recipe. In my case, I mixed both in each, as you'll see. The choices are yours!
Brussels Sprouts and Broccoli Stalk Salad
Right off the bat, I'll throw you a twist. This first flavorful recipe uses broccoli stems and not the florets, inspired by this Broccoli Stalk Salad from Martha Stewart. I don't need to tell you what to do with the broccoli florets, do I? You already have broccoli recipes up your sleeves; I just know it. The shaved stems are amazingly tender, moist and crisp. Who knew?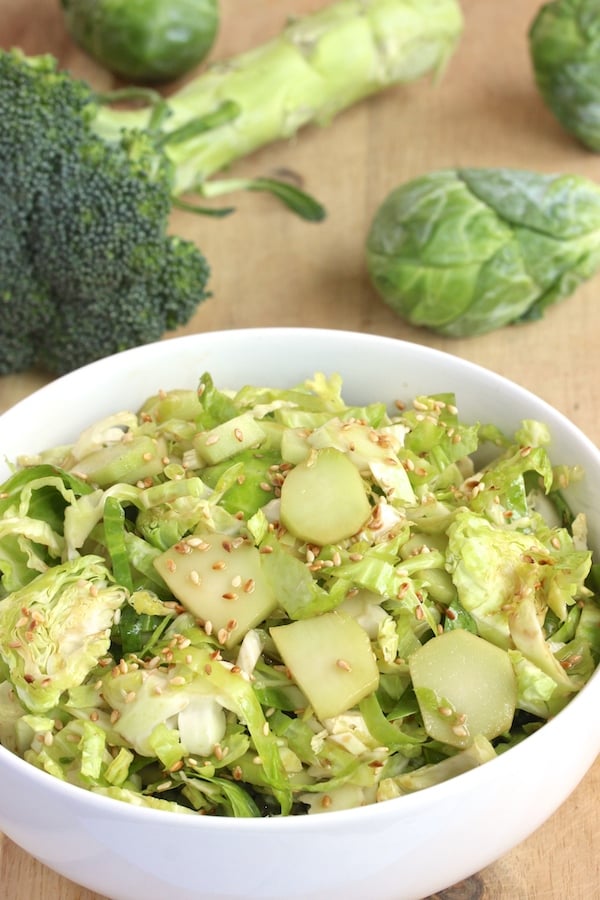 Broccoli is related to cabbage, which is related to Brussels sprouts, something you may have shied from before. So if you like broccoli, there's a good chance you might like Brussels sprouts, especially in this recipe, which features a very simple sesame dressing.
Print
Brussels Sprouts and Broccoli Stalk Salad
Author:
Prep Time:

15 mins

Total Time:

15 mins

Yield:

4

Servings

1

x
Category:

Side Dish

Cuisine:

Vegan
1

pound shredded Brussles sprouts (stems removed)

4

broccoli stalks, peeled and sliced into thin coins
Soy sauce to taste
Sesame oil to taste

2 tablespoons

toasted sesame seeds
Instructions
Remove the stems from the Brussels sprouts. Slice thinly. Place into a medium-sized salad bowl.
Peel the broccoli stems and slice them into thin coins. Combine them with the Brussels sprouts.
Place the sesame seeds in a small pan on the stovetop at a medium-high temperature. Let them toast for a few minutes until lightly browned. Watch them, and give the pan a shake now and then to prevent burning.
Sprinkle soy sauce over the greens to taste. (About two or three tablespoons)
Add a splash of sesame oil. (About 1½ teaspoons)
Add the sesame seeds and toss the salad.
This is what a peeled broccoli stalk looks like: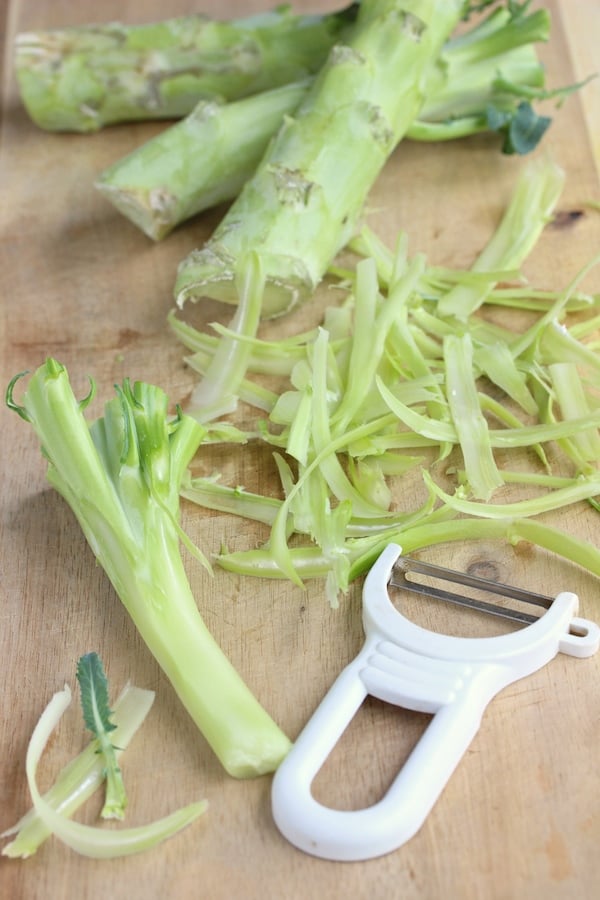 Onion Leek Soup
Spring is a great time for onions of many varieties. You see onions all the time, but you may be surprised you can substitute leeks in onion recipes. This vegan soup allows these in-season veggies to shine without any added fat. My husband and I enjoyed this alongside vegan grilled cheese sandwiches, but you may serve it with croutons or crackers.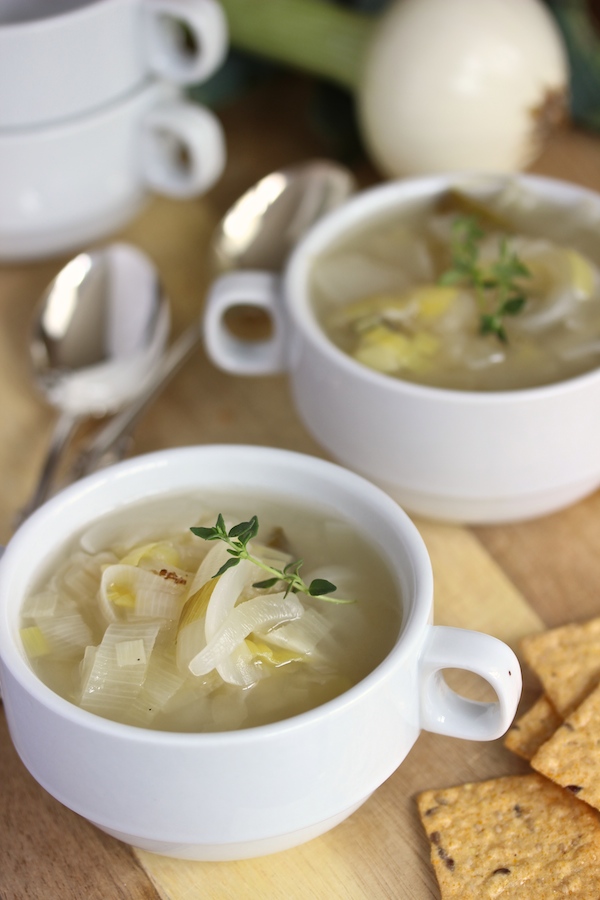 Print
Onion Leek Soup
Author:
Prep Time:

10 mins

Cook Time:

55 mins

Total Time:

1 hour 5 mins

Yield:

8

servings

1

x
Category:

Soup

Cuisine:

Vegan
4

small sweet onions

1

large leek

½ cup

water

1

bay leaf

2

sprigs fresh thyme (and more for garnish, optional)

1 cup

white wine

4 ¼ cups

vegetable broth

1

heaping tablespoon all-purpose flour

1 ½ teaspoon

salt

¼ teaspoon

cracked pepper
Instructions
Cook onions and leeks in a heavy, nonstick pan with the ½ cup of water over medium-high heat until softened, then reduce heat to low (or medium-low) and simmer about 40 minutes. Add more water and stir if needed. Keep an eye on this as it cooks down.
Midway through cooking the onions, throw in the thyme sprigs and the bay leaf.
While the onions are cooking, bring the wine to a boil and let it bubble for a minute. Remove from heat and whisk in the flour.
When the onions are cooked, turn the heat to medium and add the wine/flour mix. Stir. Add the vegetable broth to the mix. Add the salt and pepper. Simmer for 15 minutes.
Remove the sprigs of thyme and the bay leaf. Serve immediately. Garnish with thyme sprigs if you want. Serve with crackers or croutons.
Notes
The recipe calls for 4 small onions and 1 large leek, but you may use any combination of vegetables you like, more leeks and fewer onions, or more onions and fewer leeks. If your onions are very large, you may use 2 or 3 onions. The point is you want a heaping pan of uncooked veggies. (See the picture just below.)
Note: Before cooking, your onions/leeks should fill the pan as pictured below. Don't worry! It will all cook down.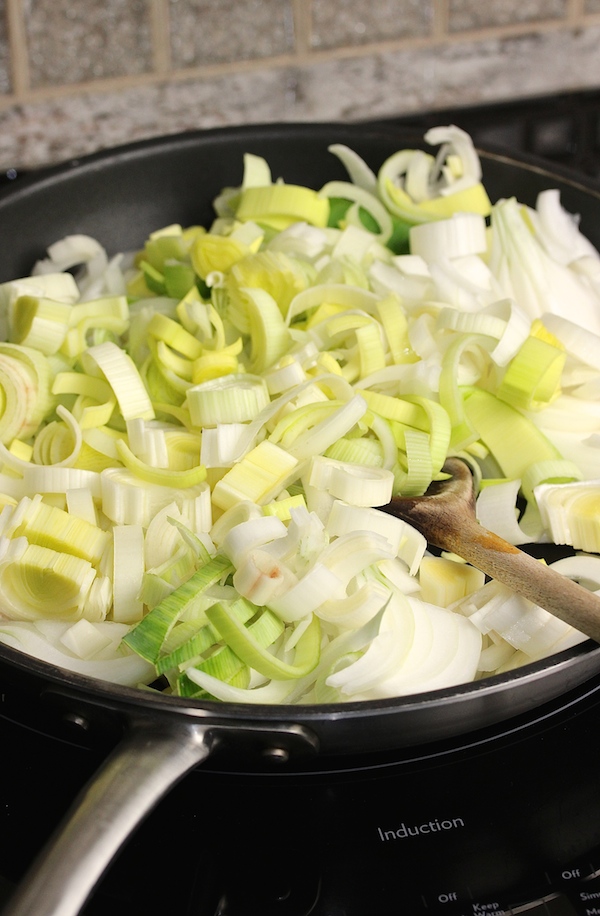 Ginger Syrup (for fruit)
This last recipe might be gilding the lily, because pears and melons are delicious all on their own. But if you want something a little fancy for guests, this dessert fits the bill. It's light and healthy.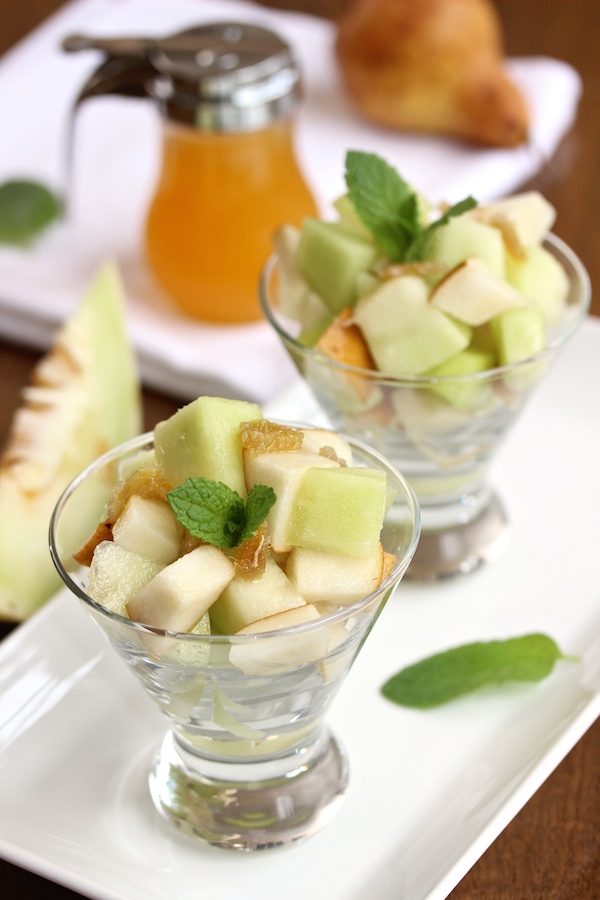 Print
Ginger Syrup (for fruit)
Author:
Prep Time:

10 mins

Cook Time:

30 mins

Total Time:

40 mins

Yield:

1 cup

1

x
Category:

Dessert

Cuisine:

Vegan
Syrup:
½ cup

water

¼ cup

granulated sugar

¼ cup

fresh orange juice

3

–

4

strips orange zest

6

thin slices fresh unpeeled ginger

1

strip of lemon zest
Juice of

½

lemon
Fruit slices:
1

ripe melon, cubed

2

pears, peeled, cored and cubed

4 tablespoons

crystallized ginger
fresh mint for garnish (optional)
Instructions
Syrup:
Combine the water, sugar, orange juice, orange zest, ginger, lemon juice, lemon zest in a saucepan.
Bring it to a boil and then reduce heat to simmer for 5 minutes.
Remove the saucepan from the heat and allow to cool for 15 minutes.
Discard the strips of orange and lemon zest as well as the ginger slices.
Strain the mixture (to remove the pulp) and store in a lidded jar. (Chill for at least one hour before use).
The syrup will keep for a week in the refrigerator.
Fruit:
Arrange melon in a dish with the pear. Drizzle the syrup over top according to taste. Top with crystallized ginger and (optional) mint leaves.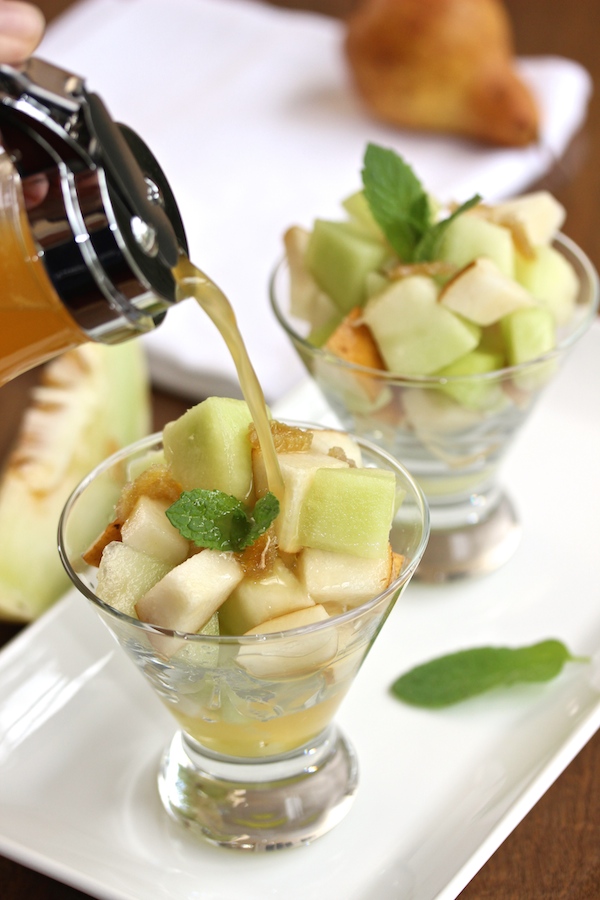 I'll leave you with a challenge! As the seasons change, explore new produce within the flavor families you already enjoy. We'd love to see what you come up with!