Since opening in the summer of 2015, Hidden River Brewing Company in Douglassville has been sourcing fruit from Weaver's Orchard for its unique and never-quite-repeated selections of beer.
And if you're wondering about the story behind the business name—a nice factoid to learn here is that "hidden river" is the Dutch translation of "Schuylkill," which explorers from Holland used to describe it back in the 1600s. The river is just across Route 724 from Hidden River Brewing Company.
The brewpub also uses farm-grown sweets from Weaver's Orchard in its always-changing food menu offerings to customers, who often stop in because they like knowing what they order is locally grown.
"We love to use Weaver's Orchard fruits in our beers," says Doug Reeser, who works as a consultant for Hidden River Brewing Company. "We have done beers with sweet and sour cherries, blackberries, strawberries, kiwi berries, peaches, raspberries, watermelon, pears, and more. We are hoping to release a line of ciders this fall made with Weaver's Orchard's apples, and we currently have a kiwi-berry and blueberry beer in the fermenter!"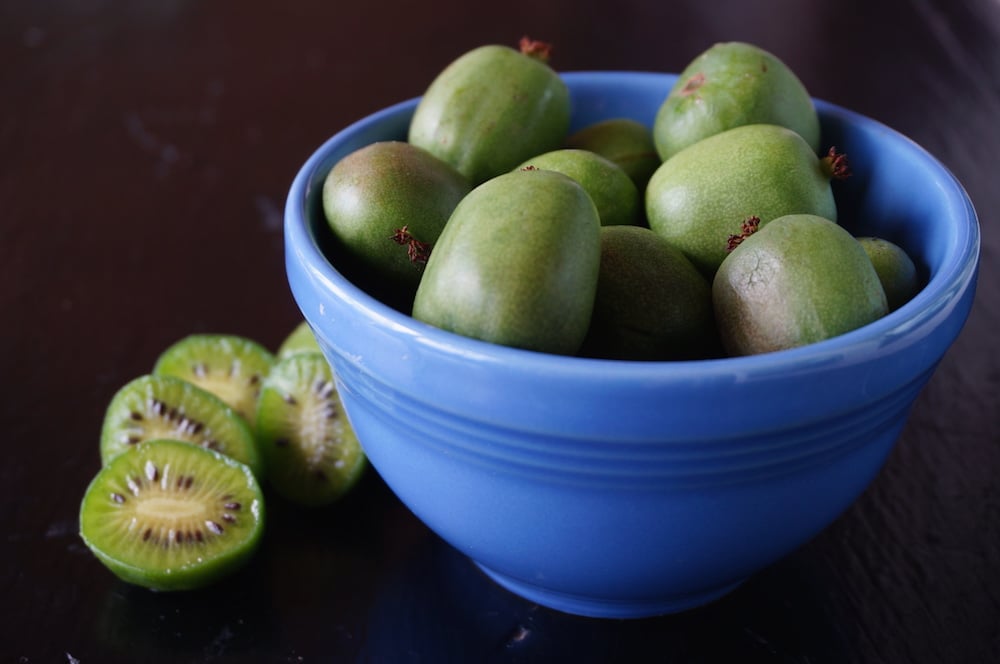 Reeser reflects on why, unlike large-scale producers, this brewery doesn't make the same beverage over and over again.
"When we were working out our business plan, we realized that we didn't want to turn our production work into something which became monotonous and lacking in creativity," he explains. "Brewing on a small scale is labor-intensive, and by allowing ourselves to experiment and be creative, we have been able to maintain a level of enjoyment in our work which we believe comes through in our end product."
And as it turns out, keeping beer far from boring is a little easier when you are adding fruit into your recipe.
"When using fruit, we usually have one of two objectives," Reeser says. "In some cases, we look to maintain a beer flavor profile with a subtle fruit complement, and in others, we look to really let the fruit shine through to make people forget that they're actually drinking a beer!"
The relationship between farmers and brewpubs is another unique tie-in here.
"We are committed to supporting other small(er), family-owned, and local businesses," he says. "Weaver's Orchard is less than 15 miles from the brewery, they produce a large variety of fruits and veggies, and they have a great reputation in the southern Berks area."
One gratitude-swept aspect of value here is the fact that local food producers and those who sell and prepare meals and beverages know how to appreciate each other and see the wholesome benefits in being connected.
The brewpub also works with other farms and local food producers around the region to the point that almost everything made available to their customers is from this stretch of Pennsylvania, which is rare in a food-geared business today, although the tendency is becoming more popular, and all to the good.
And one food-specific business supporting another in a region, to Reeser, just makes clear sense at the community level.
"Very few people realize they can satisfy most of their food needs from their general community," Reeser adds. "Many of our local farmers and food producers are small family-owned businesses, which means costs of production are usually higher, and the amount of work and commitment it takes to produce is basically unending. Through this work though, our community can enjoy super-fresh, high-quality foods and beverages, which in turn, helps to create and keep everything local, and it strengthens our local economy."
The menu at Hidden River Brewing Company, much like the beer available, changes on a regular basis. This means a new menu is written freshly each week, based on what is available from local food producers.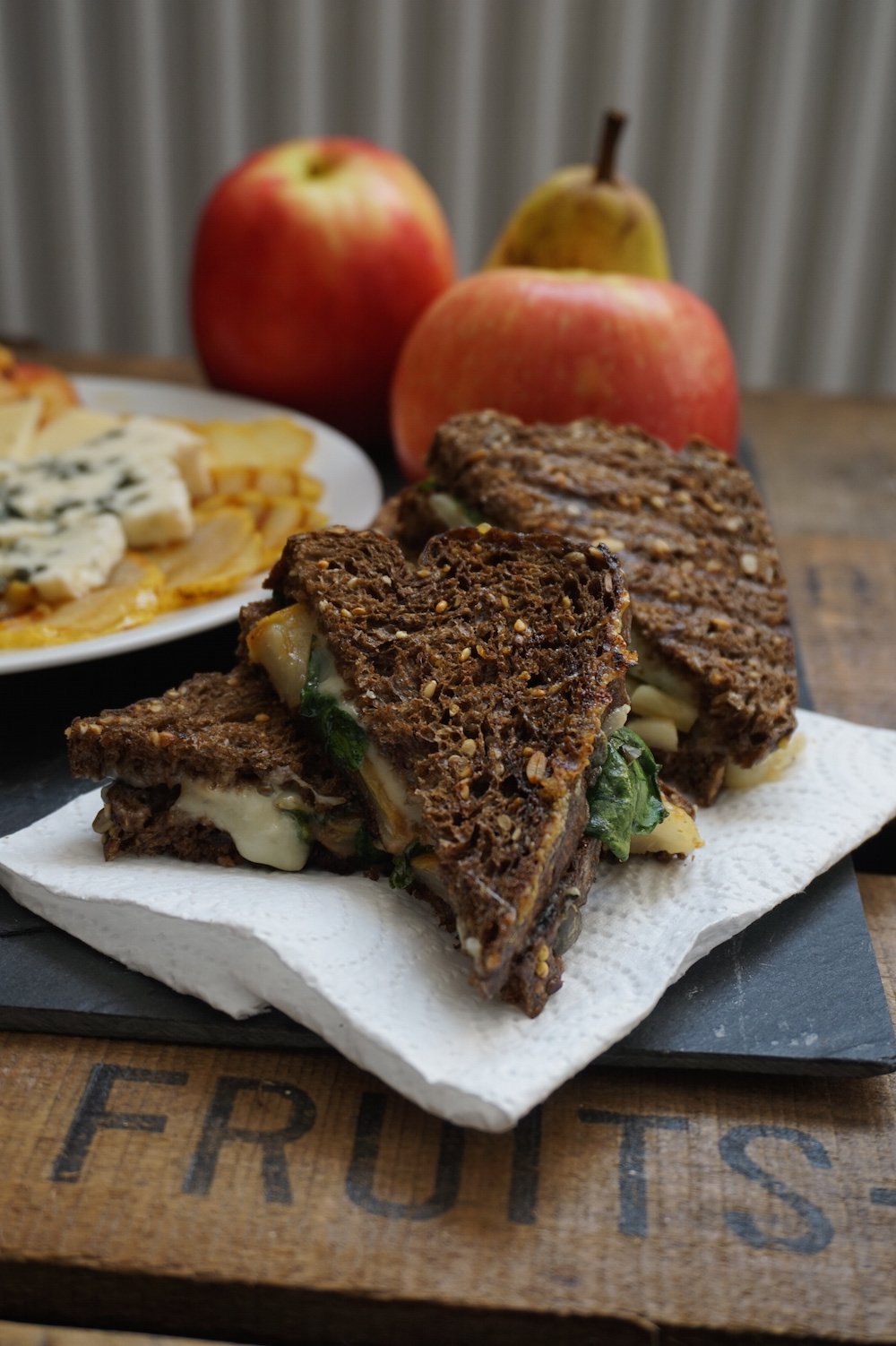 Below are some ideas from Reeser of what can be potentially used in paninis like the brewpub serves, but feel free to use your own creativity in the kitchen with these.
Paninis:
• sliced & grilled pears, arugula and local blue cheese with a balsamic drizzle
• sliced & grilled apples, sautéed kale, smoked Colby cheese and apple butter spread
• sliced & grilled Honeycrisp apples with a soft farmer's cheese and thick-cut local bacon
• sliced & grilled Honeycrisp apples with local brie cheese and sautéed broccoli rabe (or kale)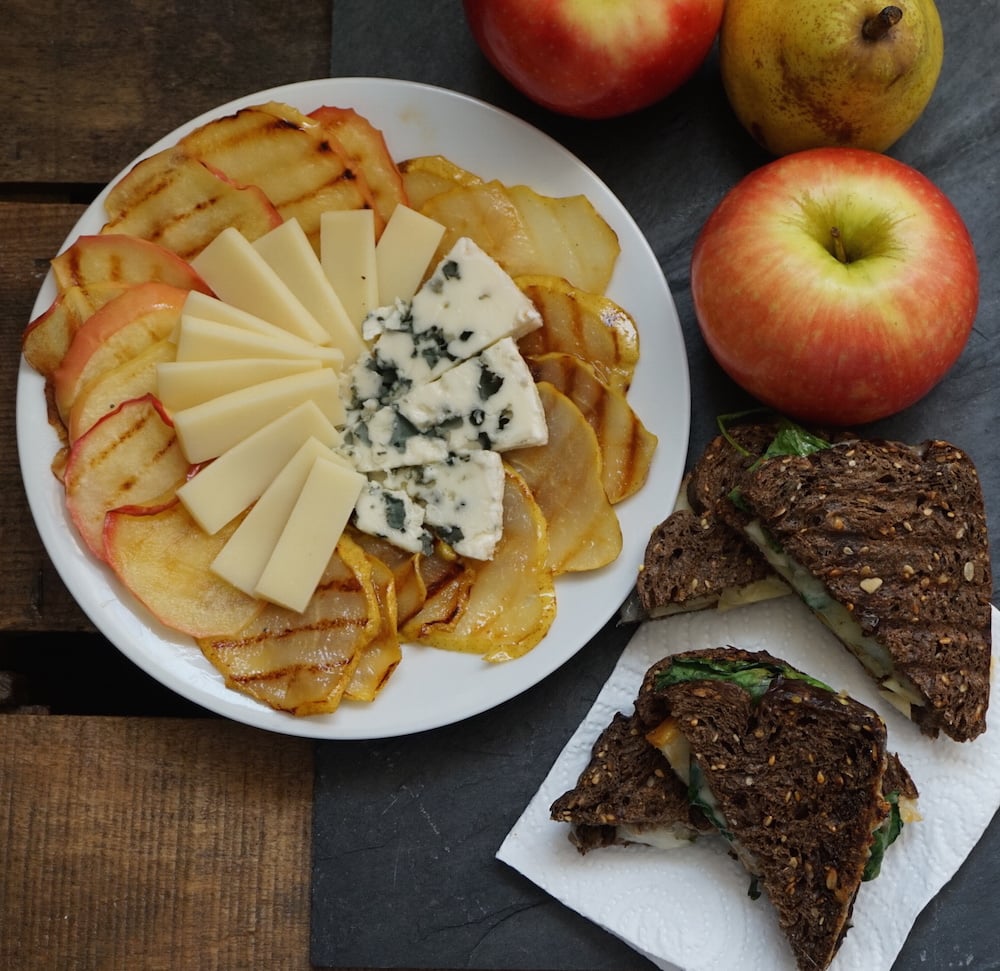 Crostinis:
• sliced, toasted baguette topped with local goat cheese, sautéed spinach, grilled apple slices and chili-infused honey
• sliced toasted baguette topped with local blue cheese, grilled pears and local honey drizzle
Dip or Panini Spread:
• Fresh Peach Salsa – heirloom tomatoes, peaches, onions, garlic, bell peppers and hot peppers
And here are a few samplings of what you can use with the inspirations noted above.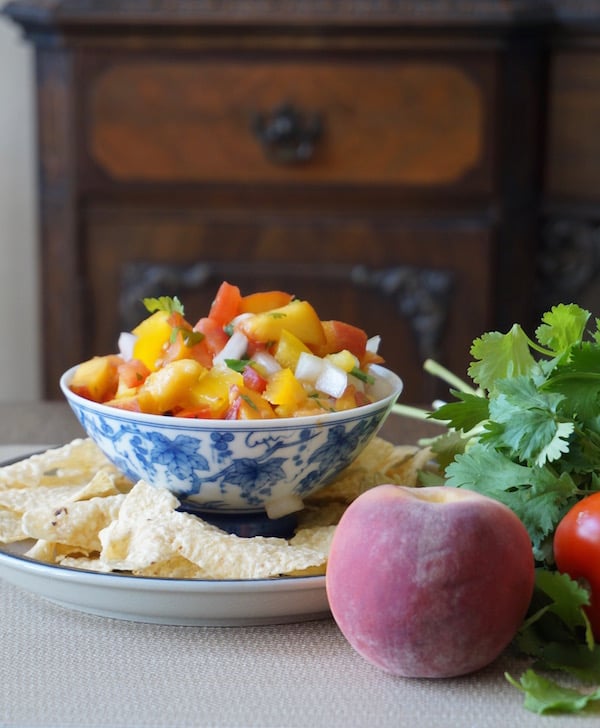 Print
Peach Salsa
2

small onions

1

bell pepper

1

hot pepper (any type!)

4

peaches

6

tomatoes
Cilantro, salt, and pepper to taste
Instructions
Chop all the fruit and veggies finely, and mix together in a large bowl.
Season to taste.
Eat fresh as a dip or a panini spread.
Notes
This recipe can also be canned and is a great treat in the middle of winter.
Print
Chili-Infused Honey
1

jar of locally-produced honey

3

to

4

dried hot peppers – any variety, to taste
Instructions
Grind, crush or flake the dried hot peppers.
Pour honey into a large bowl.
Mix peppers in gently, adding little by little to your taste preference.