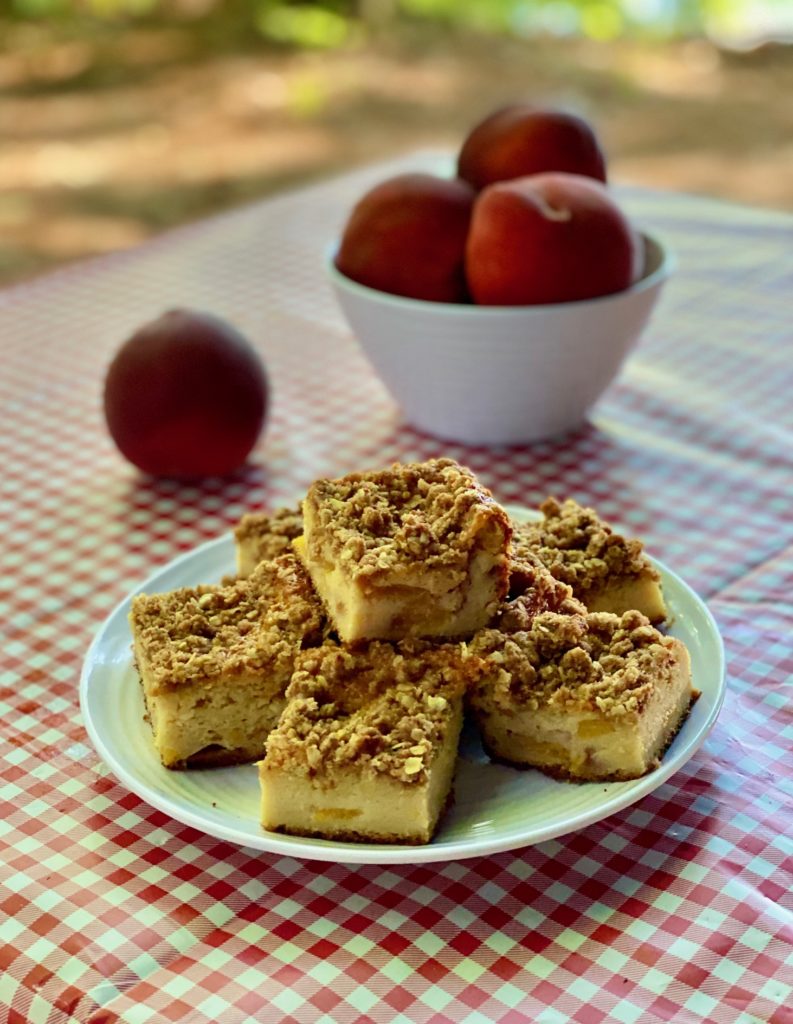 I love peach season. Berry season is great, but it always seems to fly by. Peach season gets off to a slow and steady start and continues for about two months! Right now is prime time for enjoying peaches – whether you are eating them fresh, baking them, freezing them or canning them.
If you're in the mood for baking, this recipe for Peach Coffee Cake with Greek yogurt is delicious for breakfast, dessert or a snack before meals!
Print
Peach Greek Yogurt Coffee Cake
1

–

½

cup All-purpose Flour

1 teaspoon

Baking Powder

½ teaspoons

Baking Soda

¾ cup

brown Sugar

5 tbsp

melted butter

2

  Eggs

1 teaspoon

Vanilla

1 cup

Greek Yogurt

2 cups

diced peaches
Crumb topping:
4 tbsp

butter

½ cup

brown sugar

1 teaspoon

Cinnamon

¼

flour

¼ cup

oats (quick or old fashioned)
Instructions
Preheat the oven to 350 F. Grease a large loaf pan.
In a medium bowl, whisk together flour, baking powder and baking soda.
In a large bowl, whisk the sugar and butter until well combined. Add in the eggs, vanilla and yogurt and mix thoroughly. Mix the dry ingredients into the wet ingredients, stirring until just combined.
Fold the peaches into the batter. Pour the batter into the prepared pan.
Mix together the butter, flour, oats, brown sugar and cinnamon. Crumble the butter together with your hands or a pastry blender until the mixture becomes coarse crumbs. Pour on top of batter in the prepared pan.
Bake for 40-50 minutes, until golden brown and a toothpick inserted into the center comes out clean or with a few moist crumbs. If the bread appears to be browning too quickly before the center is fully baked, put tin foil over it. Remove pan from oven and set it on a rack. Cool the bread before slicing.
---
Related Recipes
I had a craving for a slightly unhealthy but delicious pastry that was served at our church's coffee break years ago. It was a cheese danish with either raspberries or peaches topped with a coffee cake-like crumb topping. I was able to come pretty close to this recipe and even made it a little healthier by sweetening it with maple syrup.
Create a fancy breakfast or brunch with in-season peaches!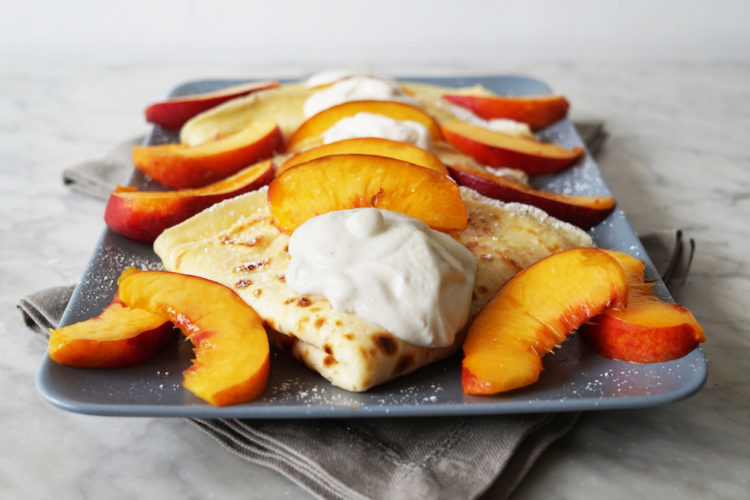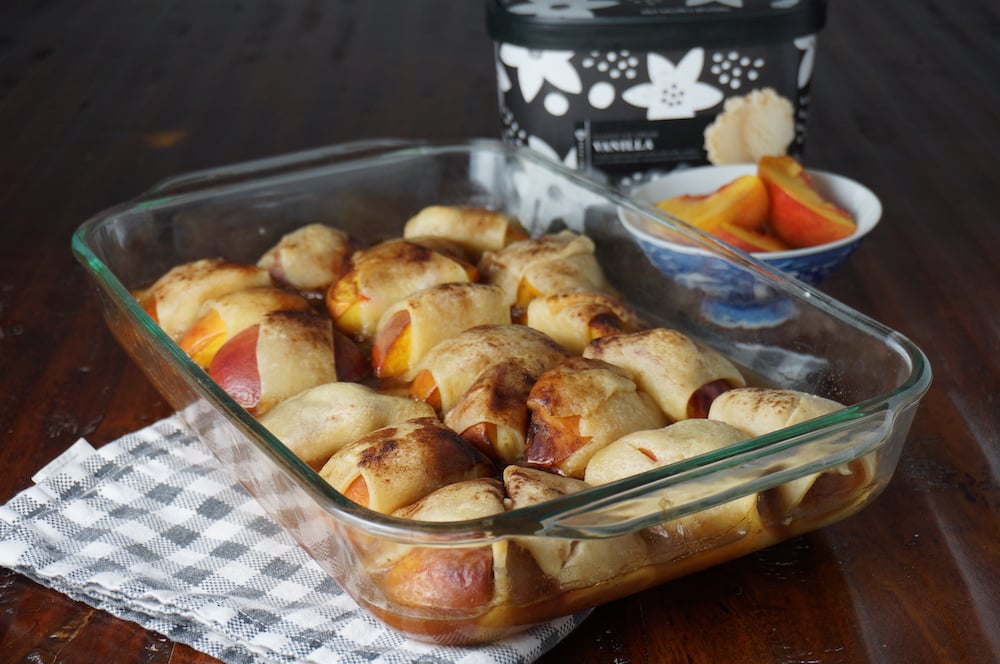 This recipe is incredibly easy. Use a natural store-bought pie dough (or make your own), and then for the sauce just use a mixture of maple syrup and a little bit of water. Since it's so easy, it's a great recipe to make for dessert after a day in pick-your-own!