We should all make our own pie crusts this Thanksgiving.
I say this as a person who has been known to hurl unsuccessful homemade pie dough into the trash can in frustration and run to the store for refrigerated pre-made pie dough. Learning to make a good pie crust dough takes trial and error, but it is worth it.
Here's why.
The next time you are at the grocery store, pick up a pre-made refrigerated pie crust and scan the ingredients list. If you have a smart phone, look up a few of the ingredients, or just write them down and look them up later. I tried this at a chain grocery store today and found that a name-brand version had BHA (which has been carcinogenic in animal studies) and Yellow 5 and Red 40 (which the Center for Science in the Public Interest cautions consumers to avoid, along with all other food dyes).
Compare that to the ingredients in a basic homemade pie crust: flour, butter, water, salt. Of course, you don't want to eat even homemade apple pie every night because it's quite sugary, but if you're starting with a made-from-scratch pie crust, you're much better off.
Here's how I've learned to make simple, guilt-free pie crusts.
Pie Dough Tips
Keep the butter and water cold. Blending will feel easier if the butter is warmer, but won't get the thorough mixture of flour and butter you need.
Invest in a good pastry cutter. I learned this the hard way! The one I'd been using for years did not cut the butter. It just kind of coaxed it. And the metal pieces on it bent easily. Recently I used my mother-in-law's pastry cutter, and I learned the error of my ways! I need one like hers! You want a tool that will slice cold butter, and that lets you put some muscle behind the cutting.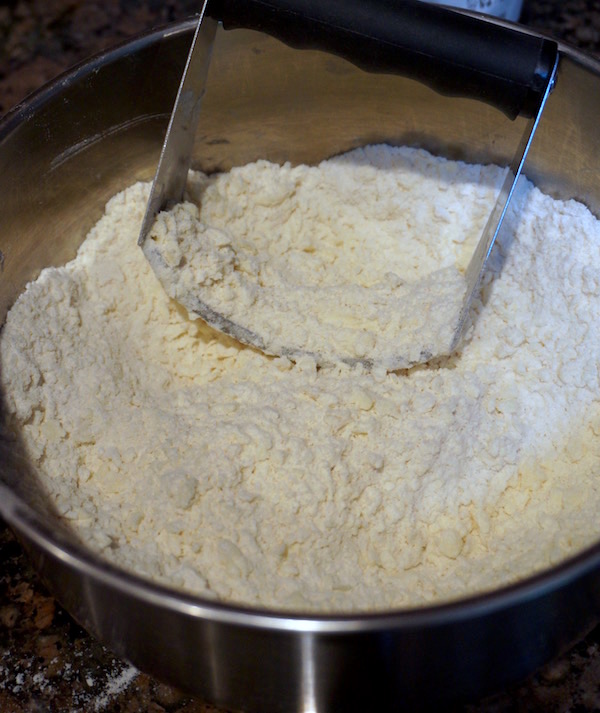 Get the butter, salt and flour mixture to resemble coarse crumbs. But what are "coarse crumbs"? Pastry chef instructor Diana Penn clarified this on the 2 Weird Hungry Girls Podcast. You want it to look like cornmeal. Any bigger, and the butter will dissolve during baking, letting the filling seep through.
Use enough flour on your surface and on the rolling pin. Make sure the flour has touched every bit of the surface you're using for rolling out the dough, otherwise it will stick!
When rolling out the dough, a baker I've spoken with advises making sure to keep the right shape. If the crust starts to go lopsided, it'll be hard to get it round again.
Don't mess with a top crust (unless you want to). Crumb topping is magnificent.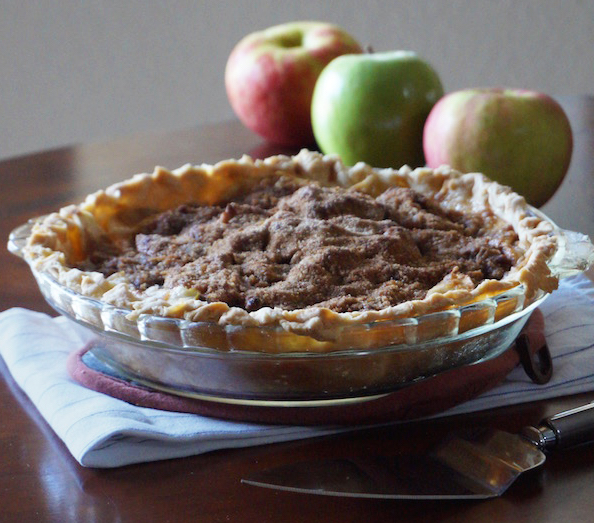 Print
Easy Apple Pie
Author:
Prep Time:

35 mins

Cook Time:

60 mins

Total Time:

1 hour 35 mins

Category:

Dessert
CRUST:
1 cup

all purpose flour
pinch of salt

1/3 cup

cold unsalted butter

2

to

3

tablespoons cold water
APPLE FILLING:
6 cups

peeled, cored, sliced apples (I like a blend of Fuji and Granny Smith)

3/4 cup

sugar

2 tablespoons

all purpose flour

1/4 teaspoon

cinnamon
CRUMB TOPPING:
1/2 cup

all purpose flour

1/2 cup

packed brown sugar

3 tablespoons

cold butter
Instructions
CRUST:
Mix flour and salt. Use a pastry cutter to cut in the cold butter. Mix until it reaches the consistency of coarse crumbs (cornmeal). Slowly add 4 tablespoons of water, working the mixture with your hands until it begins to come together. Add more water only if you can't get the mixture to stick together after working it for several seconds. (Don't overwork it or the dough will be too hard.)
Wrap in plastic wrap and place in fridge for 30 minutes.
Roll out on a well floured surface, and transfer to pie plate.
APPLE FILLING:
Mix sugar, cinnamon and flour. Add to apples and mix well. Add to pie shell.
CRUMB TOPPING:
Mix dry ingredients. Cut in butter. Sprinkle crumb topping atop apples.
Bake at 375 for 1 hour. (If desired, cover edge with foil to prevent browning and remove about 40 minutes through baking.