I had the pleasure of teaching a Tuesday-morning class about "low-carb cooking" in the Weaver's Orchard Barn, always a beautiful setting on a summer day for a casual gathering of farm-market friends to learn and share ideas about cooking.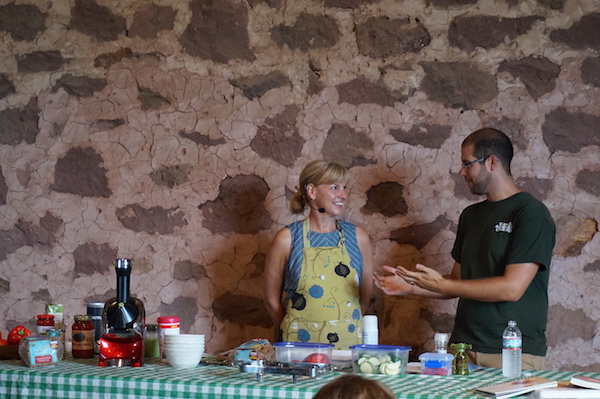 I follow a vegan diet as a result of heart disease in my family, which I know is unusual in a world full of meat eaters. I try to have a sense of humor about being different. I enjoy chatting with the class about what they are doing to improve their diets, what their doctors recommended, what has worked and what hasn't. We share in our efforts to do better, even if we're exploring different dietary paths.
I say all that because as a vegan, my definition of "low-carb cooking" might vary a little from other people. It seems all carbs are painted with the same brush, and people turn to meat to avoid carbs. I began by asking the class what they think of when they hear someone is following a "low-carb" diet. They shouted out answers:
"No bread!"
"No pasta!"
"No cookies!"
Ah, life is very bleak for the low-carb eater (sad face).
First of all, what in the world is a carb?? (I'm glad you asked.)
Carbohydrates are the fibers, starches and sugars found in fruits, grains and vegetables. (I memorized that definition for the class and now I know it by heart! Good for me!)
So technically, and what makes me different, as a plant eater, I'm ALL CARBS.
Whaaaat?
It's true.
So, when I'm avoiding unhealthy carbs like the ones shouted by audience members, things made with white flour like bread and crackers and pasta and cookies, I turn to "whole foods" rather than meat. That's the only difference.
OK, so there are healthy carbs and unhealthy carbs, but what's a "whole food?"
(Again, you're asking wonderful questions.)
A whole food is just food that has been minimally messed with. (Yup. That's the official definition.) For example, the whole-food version of apple juice is an apple. The whole-food version of all-purpose white flour is whole-grain flour. The whole-food version of olive oil is an olive. I used to peel potatoes and carrots and fruit. Now I leave the peel on if the peel is edible. (Of course I peel bananas.)
What I'm aiming for is fiber. Fiber moves everything efficiently through the digestive system. Fiber helps you feel full. Fiber helps slow your body's breakdown of carbohydrates and allows for good blood sugar control.
I shared three whole-food recipes with the class.
Zucchini Pesto Strata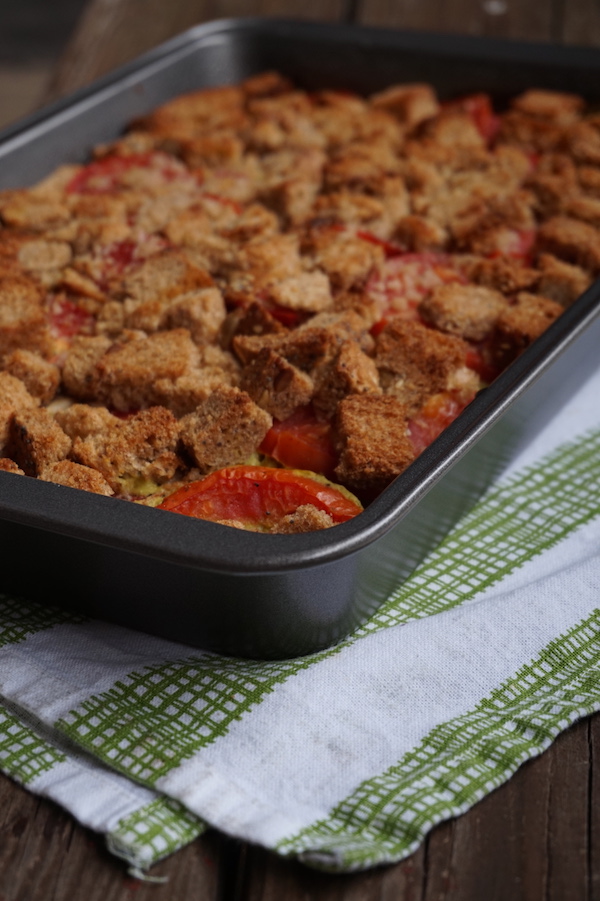 A strata is simply a baked dish of layered ingredients that usually includes a layer of bread. A traditional strata might use olive oil or cheese. In this recipe, a whole-food pesto blended with white beans and vegetable broth stands in for the traditional and, in my opinion, does a very good job!
Visit the market to grab those beautiful zucchinis and tomatoes, and then get started on this simple dish, which can be a vegan main dish or simply a vegetable side dish for meat eating families. It works great as a pot-luck contribution or a brunch dish.
Print
Zucchini Pesto Strata
Zucchini, tomatoes and basil have a natural affinity for one another, as you'll discover when you taste this flavorful strata. The term "strata" refers to a baked dish of layered ingredients that usually includes a layer of bread. (Based on a recipe from a cookbook called "Quick-Fix Vegetarian" by Robin Robertson)
Author:
Prep Time:

15 mins

Cook Time:

40 mins

Total Time:

55 mins

Yield:

Serves 4

Category:

Vegetable Side or Main Dish

Cuisine:

Vegan
½ cup

basil pesto, store-bought or homemade (See Note)

1 cup

cooked or canned white beans, drained and rinsed

½ cup

store-bought or homemade vegetable broth

4 cups

cubed, day-old whole-grain bread

1 ½

pounds zucchini, trimmed (not peeled) and thinly sliced
Salt and pepper to taste (optional)

4

ripe plum tomatoes, thinly sliced

1

roasted red bell pepper, bottled or homemade
Instructions
Preheat the oven to 375 degrees. In a food processor, combine the pesto, beans and blend until smooth. Add the broth and process until well blended. Set aside.
Spread about two-thirds of the bread cubes in the bottom of a lightly oiled gratin or baking dish and layer half of the zucchini slices on top. Season with salt and pepper to taste. Spoon about half of the pesto sauce onto the zucchini and top with half of the tomato slices. Sprinkle the chopped roasted red pepper over the tomato slices and season with salt and pepper. Top with a layer of the remaining zucchini slices. Season with salt and pepper and top with the remaining pesto, followed by the remaining tomato slices. Season with salt and pepper to taste. Top with the remaining bread. Cover and tightly bake until the vegetables are tender and bubbly, about 30 minutes.
Remove the lid and bake until the top is lightly browned, about 10 minutes.
Notes
If you would like to see a "whole-food" version of pesto, please see the recipe, "Susan's Homemade Vegan, Whole-Food Pesto" below.
Print
Susan's Homemade Vegan, Whole-Food Pesto
Author:
Prep Time:

10 mins

Total Time:

10 mins

Yield:

6

Servings

1

x
Category:

Sauce

Cuisine:

Vegan
2 cups

packed basil leaves

½ cup

pine nuts (or walnuts), toasted

4

cloves garlic, peeled and chopped

2 teaspoons

fresh lemon juice
Salt to taste (optional)
Instructions
Combine the basil, nuts, garlic, lemon juice, salt (if using) in the bowl of a food processor and purée until smooth and creamy.
Banana Berry "Nice Cream"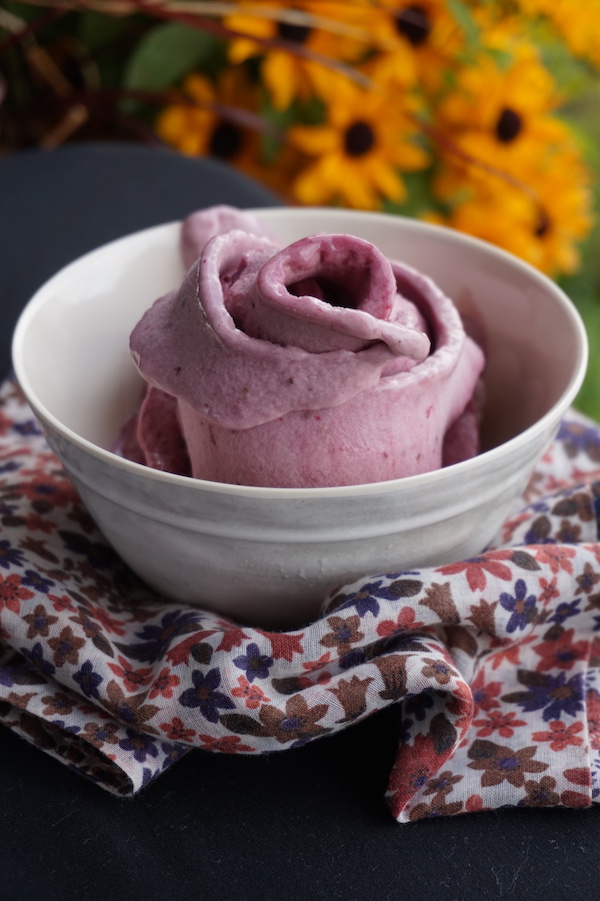 This recipe has two ingredients. Yes, two! Bananas and berries! That's it! No added sugar. No added dairy. For the class, we sampled Weaver's blackberries, but any berry or combination of summer berries works.
I brought along my Yonanas machine, made specifically for blending frozen bananas and fruit into "ice cream." In my experience, kids love this machine and I recently had fun with my nephew and niece at a family reunion when they stood and blended bunches of frozen bananas for everyone. Smaller kids need assistance, but they still enjoy doing all the work!
The recipe can be made using a good food processor or high-speed blender, and I include separate instructions, depending which machinery you use.
Print
Banana Berry Nice Cream
IMPORTANT: FREEZE THE BANANAS AND THE BERRIES FOR AT LEAST 24 HOURS BEFORE PROCESSING FOR THE BEST RESULTS.
Author:
Prep Time:

24 hours

Total Time:

24 hours

Yield:

2

Servings

1

x
Category:

Dessert

Cuisine:

Vegan
2

frozen over-ripe bananas (whole, not sliced)

¾ cup

frozen berries of your choice: blackberries, raspberries, blueberries or strawberries (mixed berries if you like)
Instructions
Insert 1 frozen banana.
Add 1/3 cup frozen berries.
Alternate remaining ingredients.
Stir to combine.
If using a Food Processor:
Slice the bananas before you freeze them. (Freeze the bananas in a single layer on a tray or plate lined with parchment or wax paper. Once the slices are frozen, use them immediately or keep frozen in a zip-top plastic bag or airtight container for up to a month.)
Freeze the berries whole.
Remove frozen fruit from the freezer and process or pulse the banana slices and berries in a food processor until the mixture is the texture of soft-serve ice cream, scraping down the sides as necessary. Don't worry if the mixture is not totally smooth at first. Once the bananas start to break down and defrost in the food processor, they'll give in and the "ice cream" will take shape quickly.
I'm not kidding. It's whole-food ice cream, and it tastes like the real thing!