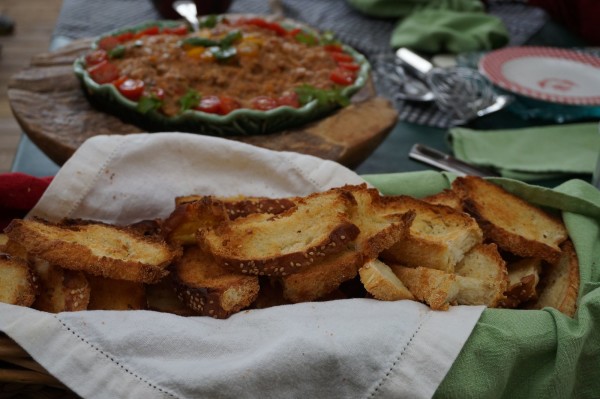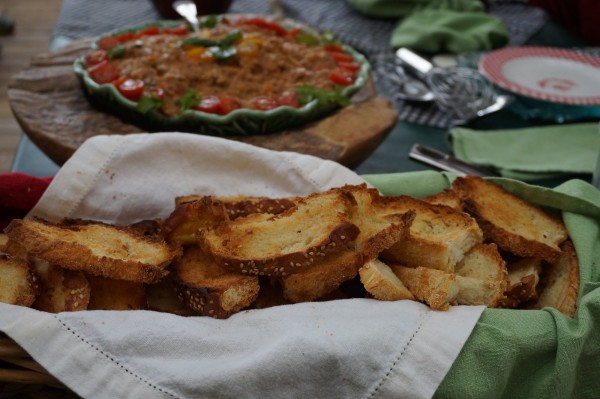 During the final cooking class of the season, Dr. Marisa Bosler of Bosler Nutrition shared two knock-out recipes using plenty of fresh herbs paired with an amazing vegetable appetizer and delicious peach dessert. Marisa's Italian heritage and love for delectable, nutrient-rich foods makes for an excellent assortment of mouth-watering yet guilt-free recipes at her disposal. "I learned to cook growing up at my parent's Italian Restaurant," Marisa explained. "Once I started my career in nutrition, I wanted to make these same recipes even more healthy."
She began by sharing a recipe for her version of Caponata, a Sicilian dish using roasted eggplant, artichokes, tomatoes, olives, capers, garlic and onions. Marisa also adds a host of other vegetables and roasts it with rosemary and thyme (which she removes after roasting to prevent it from overpowering the dish). Once the dish has been roasted for about 45 minutes, she then purees all the ingredients with oil and vinegar, fresh basil, oregano and parsley and sprinkles it with pine nuts before serving on sliced bread. This dish is wonderful either hot or cold, so you can make it ahead of time to serve a large crowd. "The flavors continue to get stronger the longer this dish sits," Marissa explained. She had made and cooled the samples ahead of time so that it was at the peak of its flavor.
Print
Roasted Vegetable Caponata
Author:
Yield:

40

-

5

0

1

x
Category:

Salad

Cuisine:

Traditional
11 pints

small tomatoes (cherry or grape, washed and halved)

1

sprig fresh thyme, whole

1

sprig fresh rosemary, whole

1

stalk of celery, chopped

1

large eggplant, chopped (peeled, if desired)

3

14-ounce cans artichoke hearts, drained

4

5-ounce jars olives, pitted

3

medium onions, chopped

1 quart

sweet peppers, chopped

1

hot pepper

2 ounces

nonpareil capers (optional)

2

full bulbs of garlic left whole, roughly chopped

1/2

pound pine nuts, roasted(reserve for topping)
Extra virgin olive oil
Balsamic vinegar

1

large handful each fresh basil, parsley, oregano (reserve some basil leaves for display)
Instructions
Preheat oven to 425˚F on bake or roast
Combine first 13 ingredients in an oiled casserole dish and sprinkle with salt and pepper.
Bake until very soft (about 30-45 minutes). Put into a serving bowl or plate.
Drizzle generously with extra virgin olive oil and balsamic vinegar – to taste.
Add a handful each of chopped basil, parsley and oregano. Stir in.
Sprinkle roasted pine nuts on top before serving.
Place toasted bread around bowl and decorate with more fresh basil.
Serve room temperature on the Italian or French toasted bread.
For the next recipe, Marisa enlisted the help of her son Ryan, a culinary student who will soon be heading to basic training to serve our country in the National Guard. Ryan demonstrated how to temper an egg for custard and gave some slicing techniques for the other vegetables used during the class.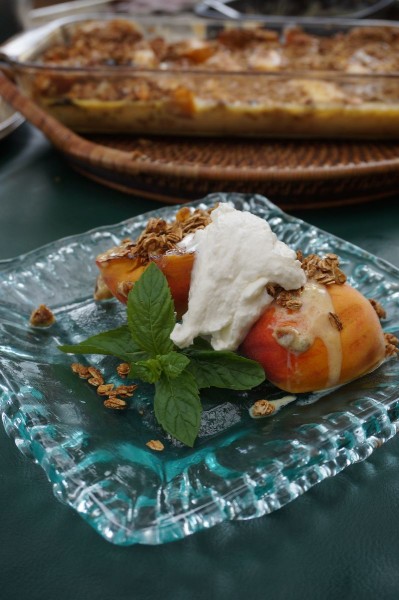 Print
Peach Custard Granola Bake
1

peach, halved

1/2 cup

granola (or oatmeal/leftover cookies) mixed with 1 finely chopped fig

1/2 cup

freshly made whipped cream, sweetened with1 tablespoon honey

1

squirt of juice from a small lemon wedge
a pinch of fresh lemon zest

1/2 teaspoon

butter or coconut oil, melted
Sprinkle finely chopped nuts or green apple with granola (optional)

3

fresh mint leaves, finely chopped (reserve for garnish)
Instructions
Grill peach until grill marks appear. Turn off grill and close lid over peach so it softens.
Mix granola with honey, fig and warm butter or coconut oil (serve over peach).
Top with whipped cream and sprinkle mint on top.
CUSTARD: To make the recipe above extra special, you can make homemade custard to drizzle on the peach:
Melt 1 teaspoon butter in a saucepan and add finely chopped fig.
Add 1/4 cup cream to the saucepan.
Bring to a simmer.
Slowly add half of butter and cream mixture to a bowl with an egg yolk, and whisk. (This is called "tempering.")
Pour egg yolk and the other half of the butter and cream mixture back into the original pan and turn off heat. Continue to whisk until thick.
Drizzle on top of grilled or baked peaches and enjoy!
For both recipes, peaches can be baked at 350°F for about five minutes instead of grilling, or until desired softness is achieved.
During this class, there were plenty of samples to go around and around again. Marisa proved that healthy food certainly doesn't have to be tasteless! For more information on Dr. Marisa Bosler's nutrition services, visit her website, http://boslernutrition.com/.