Fresh salsa is a delicious delight when Deb C., our amazing Deli Manager, is preparing it. Even more of an event for your taste buds was Deb's cooking class on fresh salsas. Last week during our most-attended cooking class of the summer, our guests had the pleasure of tasting over 6 different salsas! Each salsa recipe used fresh and mostly seasonal produce.  Deb's instructions were easy and so very flavorful. There are endless possibilities with salsa, so as you read through her recipes, feel free to make them your own. You can change the ingredients to please your palate! Included in the class was also a brief overview of how to prepare salsa for canning. All recipes are listed below for your convenience.  Now, go grab some chips and enjoy!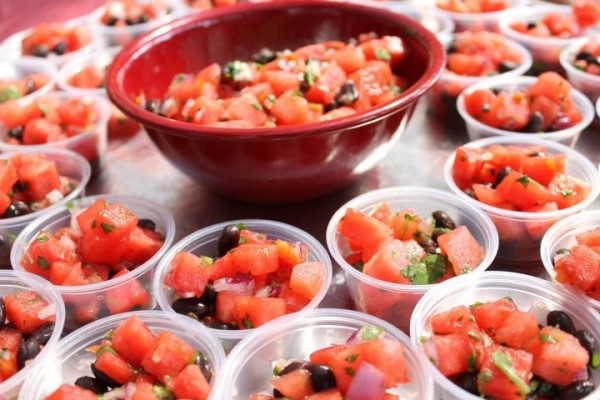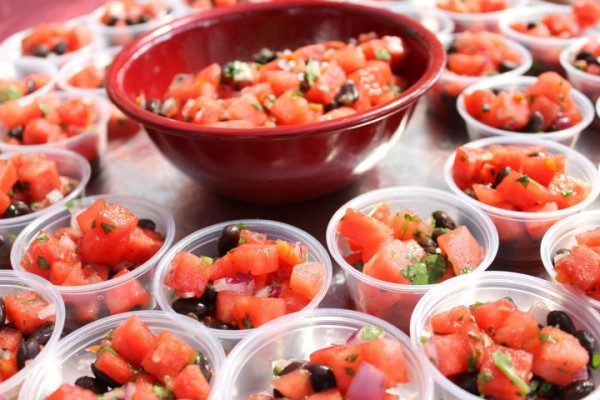 Print
Salsa (For Canning)
Author:
Category:

Salsa

Cuisine:

Mexican
5 cups

skinned tomatoes, chopped

2/3 cup

onion, chopped

1/2 cup

green peppers, chopped

1/2 cup

Jalapeno peppers

1

clove garlic, minced

1 teaspoon

salt

1/4 cup

vinegar
Cornstarch, as needed.
Instructions
Peel tomatoes by covering them with boiling hot water and let stand for three minutes. Drain and peel skins. Dice tomatoes into a colander to allow excess juice to drain. Place tomatoes and remaining ingredients into a large kettle and bring to a boil. Turn down and allow to simmer forty-five minutes. Mix several tablespoons of cornstarch with a small amount of water and stir into your salsa to thicken as needed.
WATER BATH CANNING:
Fill canner with water (approximately half full) and allow water to heat to boiling.
Place pint jars in heated oven to prevent the jars from breaking when you pour hot liquid in.
Place lids and caps into boiling water and keep hot until ready to use.
Pack salsa into jars allowing half an inch head space.
Wipe tops and threads of jar before capping. Cap and screw caps tight.
Place jars into canner, water should be two inches above jars.
Bring water to a boil and reduce heat to hold water at a steady but gentle boil. Start timing process after water has reached a boil. Process for twenty minutes.
Remove jars from canner. Set jars upright and allow to cool (24 hours).
Test to be sure each jar is properly sealed. If lid center is down and will not move, jar is sealed.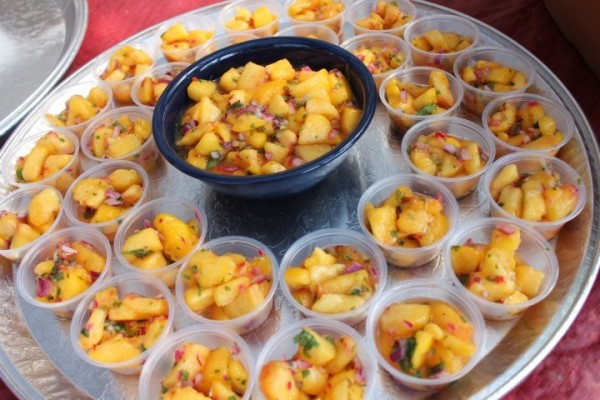 Print
Gingered Mango Salsa
2 cups

chopped peeled mango

½ cup

chopped red onion

½ cup

minced fresh cilantro

2

limes juiced

¼ cup

fresh mint

2 tablespoons

minced fresh ginger root

1 teaspoon

olive oil

½ tsp

salt
In a bowl, combine all ingredients. Let stand for 30 minutes before serving.
Instructions
In a bowl, combine all ingredients. Let stand for 30 minutes before serving.
Print
Monterey Jack Salsa
2 cups

shredded Monterey Jack cheese

5

green onions, chopped

1

avocado, peeled, pitted and diced

1

tomato, chopped

1/4 cup

chopped cilantro

1

can diced green chiles

1

6-ounce can black olives, chopped

1 cup

zesty Italian dressing
Instructions
Mix all together and let sit overnight for optimum flavor.
Print
Fresh Apple Salsa
8

tart apples, cored and cubed

4

limes, juiced

5

fresh jalapeño peppers, minced

2

medium onions, chopped

½ cup

chopped cilantro

2 cups

chopped toasted walnuts

¼ cup

ginger, finely minced

1 teaspoon

salt
Instructions
Add all ingredients to large bowl. Mix thoroughly.
Deb also shared two favorites that we've featured on the blog before: Fresh Tomato & Pineapple Salsa and Watermelon Salsa. They are Weaver's classics!
SaveSave