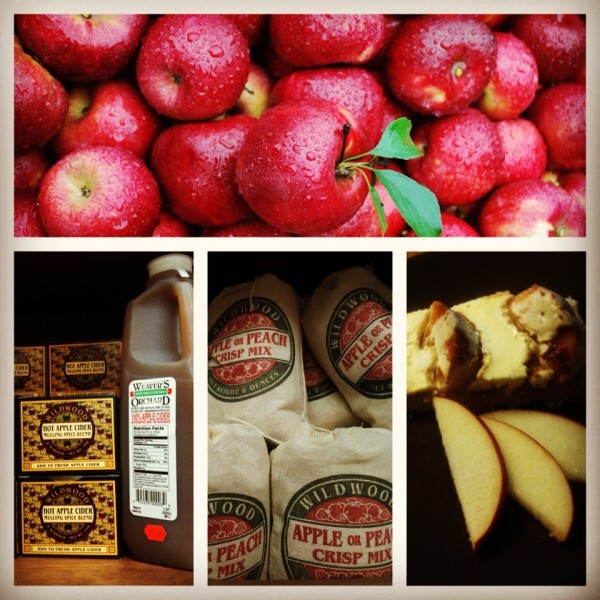 It's beginning to look a lot like Christmas, but at Weaver's Orchard Farm Market, apple season is still going strong.  There are many varieties that are great for baking or low calorie snacks.
Speaking of baking, here are a couple of delicious dessert ideas that are easy apple recipes to whip up when you're pressed for time.
Apple Crisp
Keep some apples in your crisper and a few bags of Wildwood Apple/Peach Crisp mix in your cupboard.  Just slice the apples and create a crumbly topping by adding some butter to the mix. Serve this sweet treat warm, with whipped cream or ice cream.  This dish is wonderfully simple, and you can pick up everything you need at Weaver's. The last time I served it, our guests made a detour to Weavers to get their own packages of mix to take home!  Everyone seems to love the perfect combination of ingredients in these little muslin bags.
These also make great stocking stuffers!
If you run out of Wildwood mix, my family recipe is almost as good!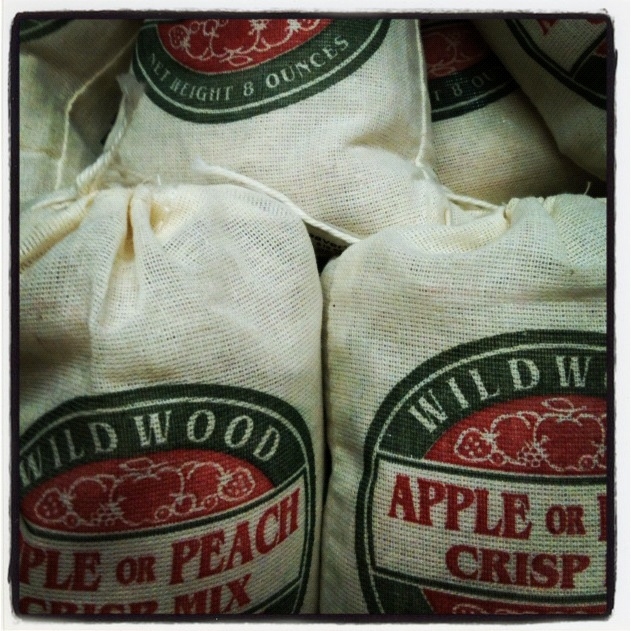 Print
Crunchy Fruit Crisp
5 cups

sliced, peeled cooking apples (or peaches, pears or blueberries)

2

–

4

tablespoons granulated sugar

¼ teaspoon

cinnamon
Topping:

½ cup

rolled oats

½ cup

packed brown sugar

¼ cup

all purpose flour

¼ teaspoon

nutmeg

¼ teaspoon

cinnamon

¼ cup

butter

¼ cup

chopped pecans
Instructions
Preheat oven to 375˚F. Place fruit in an 8 x 8 inch baking pan. Mix cinnamon and sugar together and sprinkle over fruit.
Mix topping in medium bowl. Cut in butter. Stir in pecans. Sprinkle over apples.
Bake for 30-35 minutes till topping turns golden and fruit is tender.

Apple Kuchen
This next recipe might stir up some childhood memories. Over thirty years ago, it appeared on boxes of Betty Crocker yellow cake mix.  It became a favorite in many families, as it was a much simpler version of traditional kuchen. The original Betty Crocker recipe called for a whole cup of butter, which apparently kept it from sticking to the pan.   But times have changed.  These days, it seems people prefer to reduce the fat and scrape the pan a little. (Here's a hint: if the kuchen is cold, put a little hot tap water in the sink. Hold the bottom of the pan in the water for about a minute. Then you can cut the kuchen easily and lift out pieces with a spatula.
Print
Apple Kuchen
CRUST:

1

  package yellow cake mix

½ cup

butter

½

  cup flaked coconut
FILLING:

4

–

5

large tart apples (or peaches or pears), peeled, cored and sliced about ¼ inch thick.

1/4 cup

white sugar

1 teaspoon

ground cinnamon (or try pumpkin pie spice for the holidays)

1 cup

sour cream

1

egg or

2

egg yolks
Instructions
Preheat oven to 350˚F.
Combine crust ingredients in a medium bowl until crumbly. Press this mixture lightly into a 9 x 13 pan and bake 10 minutes.In a small bowl, combine sugar and cinnamon. In another small bowl, whisk together sour cream and egg.
Arrange the apple wedges on top of the warm crust. Sprinkle cinnamon-sugar mixture on top of apples.  Drizzle all with sour cream-egg mixture.
Bake 25 minutes, or until the edges of the crust are golden and apples are tender.
Orange Spice Hot Cider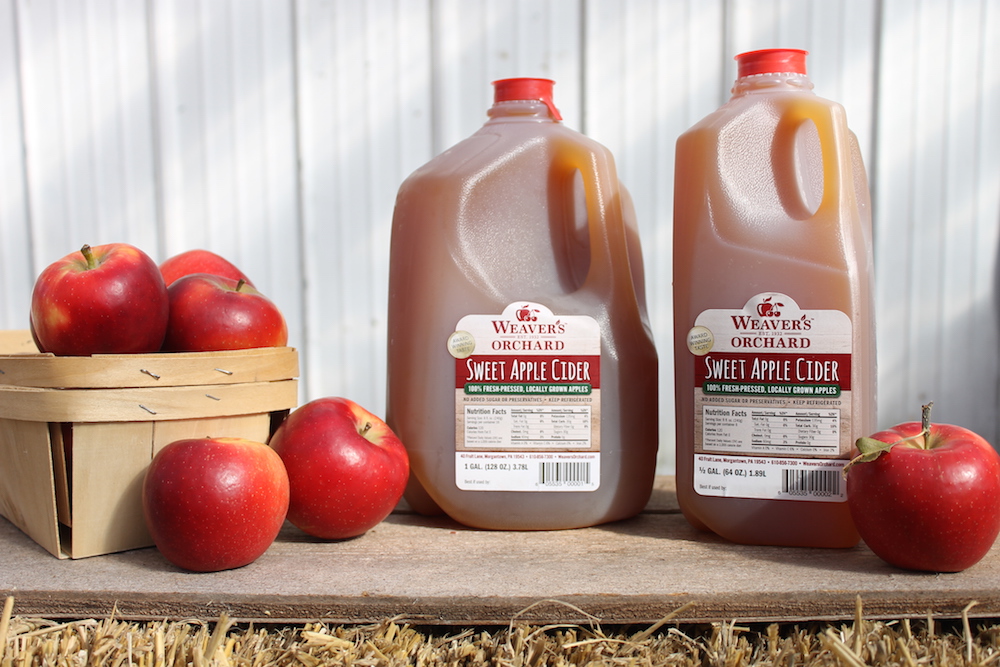 Print
Orange Spice Hot Cider
1 gallon

apple cider

1 cup

honey

2 cups

orange juice

1

orange

1 tablespoon

whole cloves
Instructions
In saucepan, mix 2 cups cider with honey. Heat and stir till blended.
Pour remaining cider into a crockpot or large pot on stove. Stir in orange juice and cloves.
To serve, strain out cloves. Cut orange into slices and place on top of cider mixture. Keep warm.