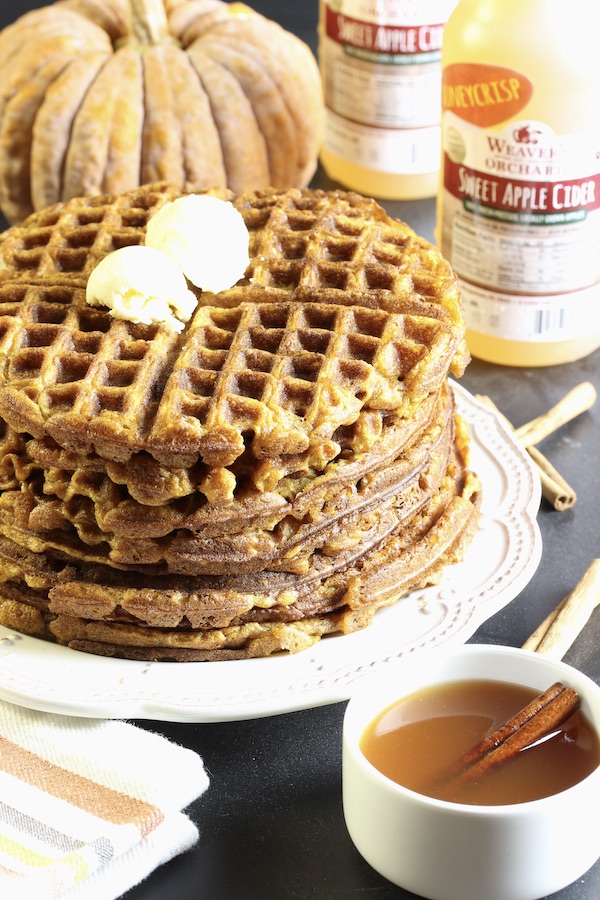 One of the benefits of a pandemic is less running around, less travel and fewer obligations.
(I challenged myself to use the words "benefits" and "pandemic" in the same sentence, and I think I nailed it!)
(It wasn't easy.)
In any case, all this "less running around" means more time to cook a special weekend breakfast. For our family as for many, fall means pumpkins, which are good not just for carving, not just for latte, but also for waffles. In fact, pumpkin puree makes a great binder and egg substitute in all kinds of vegan baking, including for muffins, cakes and cookies too.
And while these waffles are great with a nice quality maple syrup, why not guild that lily with homemade apple cider syrup? This way, you can enjoy all the flavors of fall at once. Leftover syrup can be used over vanilla ice cream, apple cake, warm banana bread, as a coffee sweetener or in an apple martini. 
(I now find myself in a dream state, thinking of all the different uses for apple cider syrup. It's THAT good.)
So stay in your pajamas, cook up some waffles, and make the most of your weekend time.
Print
Vegan Pumpkin Waffles with Apple Cider Syrup
For the waffles:
1

–

15

oz. can pumpkin puree

¼ cup

canola oil

2 cups

soy milk

¼ cup

sugar

2 ¼ cups

all-purpose flour

2 teaspoons

baking powder

½ teaspoon

baking soda

½ teaspoon

salt

2 teaspoons

cinnamon

½ teaspoon

ginger

¼ teaspoon

nutmeg
For the syrup:
2 tablespoons

vegan butter or margarine

1 cup

sugar

1 tablespoon

molasses

2 cups

apple cider plus 1 tablespoon apple cider, divided

1

cinnamon stick

1 tablespoon

fresh lemon juice

2 tablespoons

cornstarch
Instructions
For the waffles:
In a small to medium-sized mixing bowl, combine the pumpkin, oil, milk and sugar.
In a large mixing bowl, whisk together the flour, baking powder, baking soda, salt, cinnamon, ginger and nutmeg.
Add the wet ingredients to the dry ingredients and stir until just combined. Batter may be lumpy.
Cook batter in batches using your waffle iron and according to waffle iron instructions.
For the syrup:
In a small to medium-sized saucepan, melt the vegan butter or margarine over medium-low heat.
Stir in the sugar and molasses and cook for 1 or 2 minutes. Mixture will be very thick.
Add two cups cider and cinnamon stick and bring mixture to a boil. Reduce heat and simmer for 10 minutes, stirring occasionally.
Whisk together 1 tablespoon cider, lemon juice and cornstarch in a small pitcher or bowl to make a slurry.
Add slurry to the cider mixture on the stove and continue simmering on low heat for 5 more minutes. The syrup will thicken during this final cooking time and will continue to thicken slightly upon cooling.
Serve syrup warm or at room temperature.
Syrup may be stored in an airtight container in the refrigerator for up to 3 weeks.
---
Other Vegan Recipes You'll Love