Provençal Peaches with Rachel VanDuzer from Deep Focus on Vimeo.
While rain pounded the roof of the stone barn at Weaver's Orchard on Tuesday, August 12, Rachel VanDuzer transported the audience at the weekly Weaver's Orchard summer cooking class to sunny southern France. If you've ever wondered whether Provence is as enchanting as it seems in movies, Rachel will assure you it is. It's a land of mountain paths and country lanes that wind through vineyards and villages—a place where families picnic along scenic byways and the unspoiled landscape still beckons artists to capture it on canvas.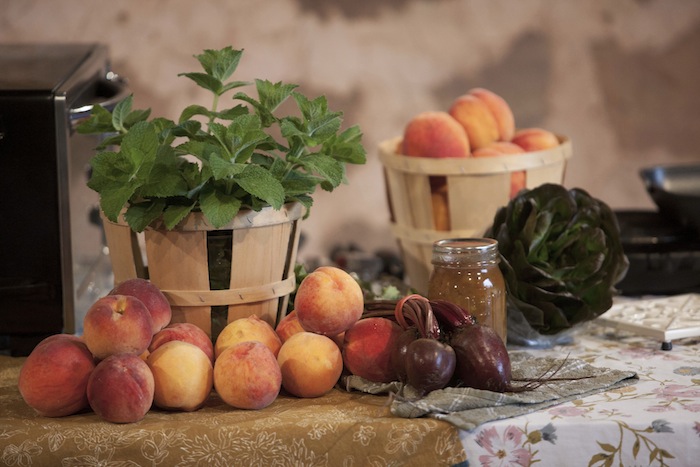 In 2012, Rachel and her husband David spent a summer in Provence, working at a Christian retreat in a tiny twelfth-century village. While they were there, Rachel was just as committed to buying fresh, local produce as she is at home. To her delight, their hillside retreat was surrounded by orchards, farms and fields full of scented lavender. They befriended local farmers, who were happy to sell them assorted goat cheeses and trays loaded with peaches. Though smaller than Pennsylvania varieties, the peaches in Provence grow especially sweet and flavorful in the sunny, dry climate.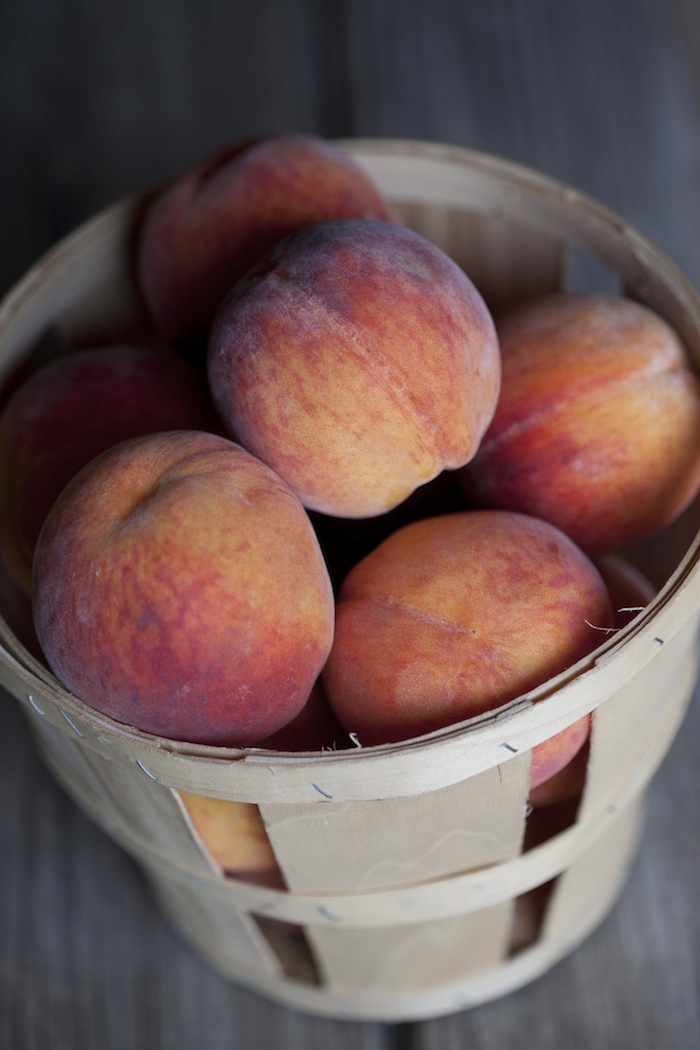 Rachel discovered she could also hunt for traditional "herbs de Provence" near their village, so she and David spent one day trekking up a mountainside in search of wild thyme. Though she had a rough idea of what the plant looked like, she picked leaves from everything that vaguely resembled thyme until she finally found the real thing. Fortunately, once she knew how to recognize the plant, they found a patch closer to home.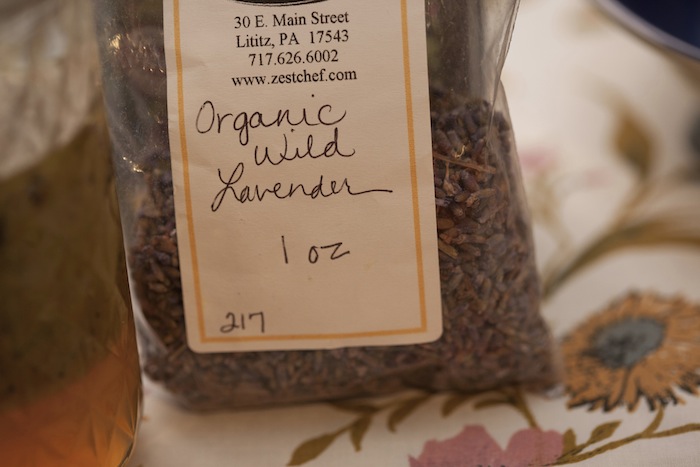 At the class, Rachel shared a little taste of Provence as she created a salad with ingredients they enjoyed during their summer. She served it with homemade vinaigrette, flavored with Provençal herbs. Supermarkets in France don't carry a large variety of dressings, so Rachel learned to do what the locals do—whip up her own. And right now, it's peak season for freestone peaches (the kind you can easily free from the stone), so this is a perfect time to try these recipes at home.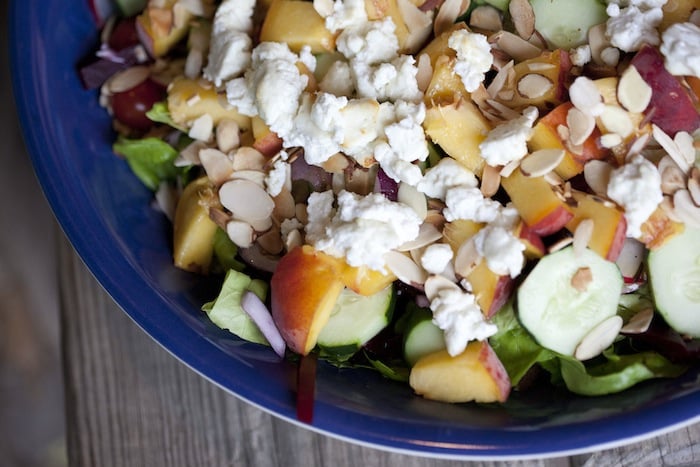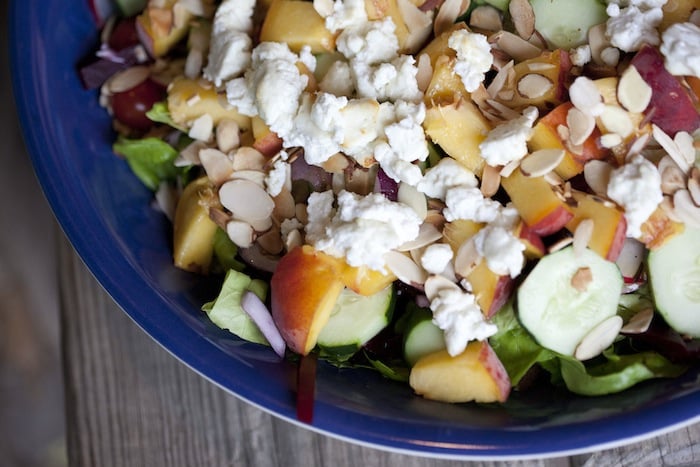 Print
Rachel's Farm Table Provençal Salad
"Salad was a big part of our diet in Provence since the farms had an abundance of delicious produce. Beets, radishes, peaches and goat cheese were some of our favorite finds at the local farm and market. Rosemary, lavender and thyme grew wild in our village and our window was shaded by a huge almond tree. Although the French typically serve salads with only a few ingredients, I thought this combination was an excellent sampling of our favorite cuisine of the region."
Author:
Category:

Salad

Cuisine:

French
1

6-ounce bag of spring mix/mesclun

1

large beet, cooked (or raw), julienned

1

large peach, pitted and diced

4

large radishes, thinly sliced

1/4 cup

red onion or green onions, sliced

1

cucumber, peeled or unpeeled and sliced

1/2 cup

cherry tomatoes

2 tablespoons

slivered almonds, toasted

2 ounces

goat cheese, toasted (optional)
Provencal Vinaigrette (see below)
Instructions
Combine all ingredients together and pour Provençal vinaigrette on top. Toss to coat. Serve generous portions before the main course and keep passing the salad bowl around until it's finished.
Print
Provençal Vinaigrette
Author:
Category:

Salad Dressing

Cuisine:

French
1/3 cup

white balsamic or white wine vinegar

2 tablespoons

water

3/4 cup

olive oil

1 tablespoon

honey

1

garlic clove, minced

1/2 teaspoon

herbs de Provence*

1/2 teaspoon

dried lavender

1/2 teaspoon

salt

1/2 teaspoon

black pepper
*Mix your own herbs de Provence, using equal amounts of dried basil, thyme, rosemary, savory and marjoram, or purchase a packaged mixture, available at most grocery stores.
Instructions
Add all ingredients together in a jar and shake until well combined. Serve over Rachel's Provençal Salad.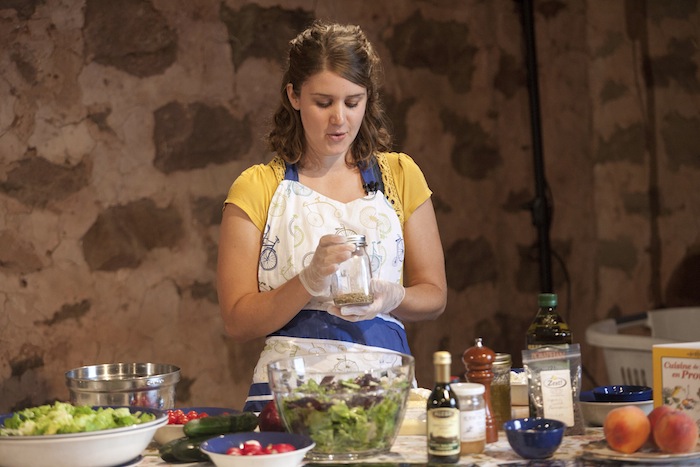 Rachel finished her presentation by warming wedges of Brie and serving them with grilled peaches on a sliced baguette. It's not unusual for the French to serve a cheese plate before the dessert course, so peaches and Brie are a very natural combination.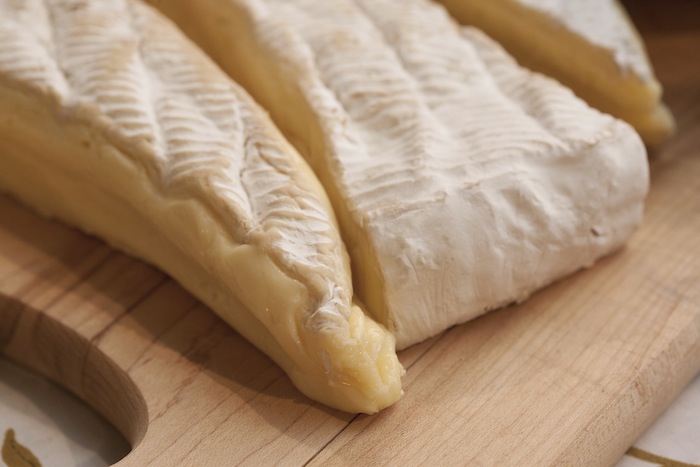 Print
Grilled Peaches & Brie with Herbs de Provence
2

peaches

1

wedge Brie cheese

2 teaspoons

herbs de Provence, or to taste

1 teaspoon

dried lavender or to taste

2 tablespoons

olive oil
Instructions
Remove skins from peaches. Slice into thin wedges (about 12 per peach).
Combine herbs and lavender in a small bowl.
Cut Brie into wedges lengthwise. Toss with herb mixture. Heat in oven or grill on non-stick aluminum foil until golden brown.
In a medium-sized bowl, add oil and leftover herbs/lavender. Toss peaches in herb mixture.
Grill peaches just until tender in a grill pan or on a well-oiled grill or grill basket.
Serve peaches with Brie on a thinly sliced, toasted French baguette. . Bon appétit!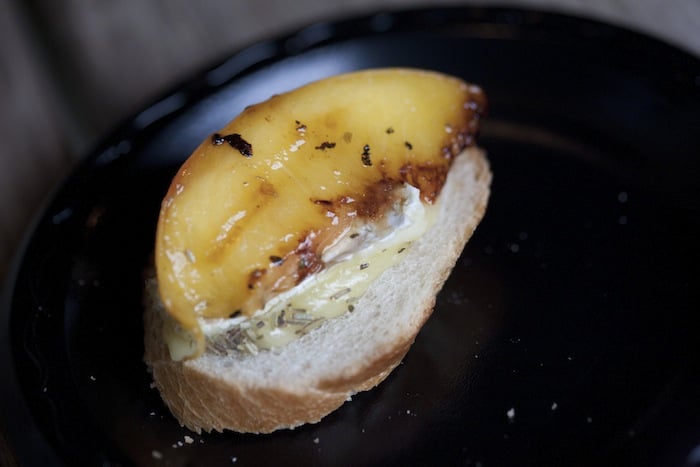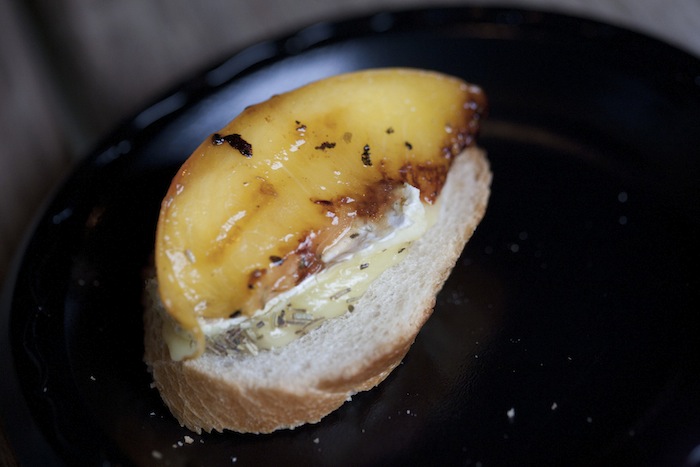 Brandon Hertzler assisted Rachel in her presentation, and then demonstrated his own culinary talents by giving out samples of his homemade peach-mint jam. Then he told the story of how it came to be: While working at Weaver's one summer, he noticed some of the peaches were too soft and ripe to sell. Hating to toss them out, he decided to save the best ones and try his hand at jam-making. As a biology major, he knew all about the horrors of botulism, and not wanting to make a concoction that would prove deadly—or possibly explode–he asked his mom to help him follow safe canning procedures. (See our blog posts on pickle-making for an explanation of those procedures.)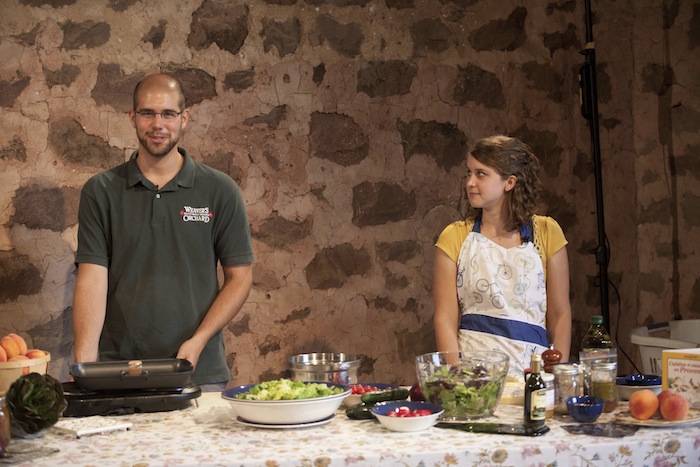 He followed the recipe for fruit jam on the Sure-Jell package, but added his own secret ingredient—apple mint leaves —a favorite herb his family picked to make "meadow tea" when he was young.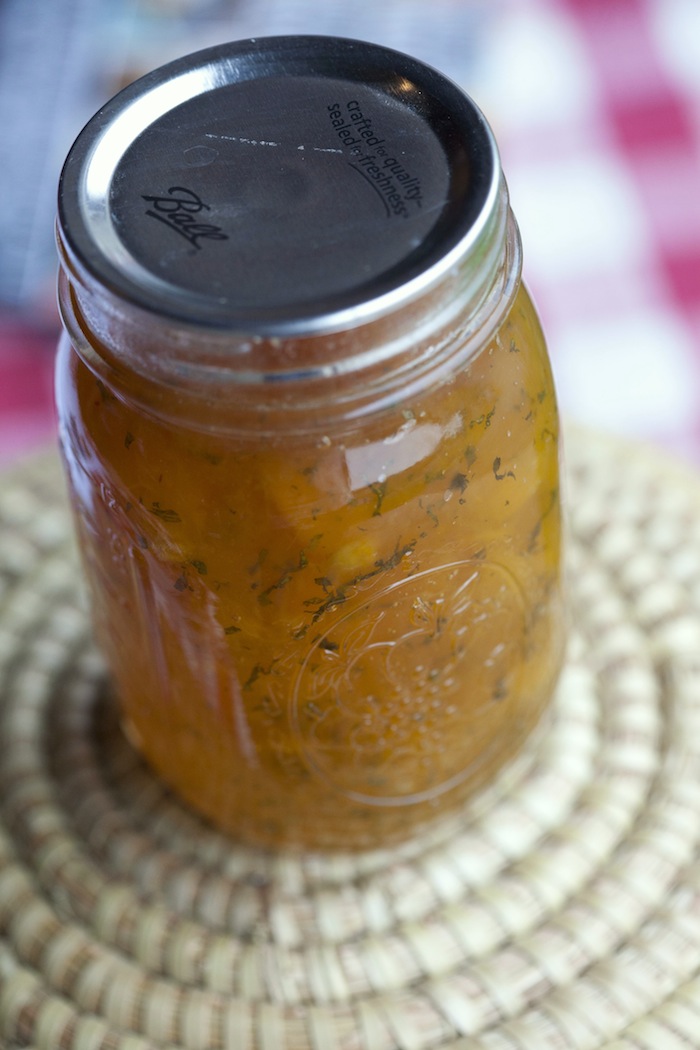 Freestone peaches are at their peak right now, so this is a great time to try this recipe! Here's how he prepares the peaches: Blanch them, and then make an incision to easily remove the skin. Cut peeled peaches in half, remove the pit and chop them into small pieces.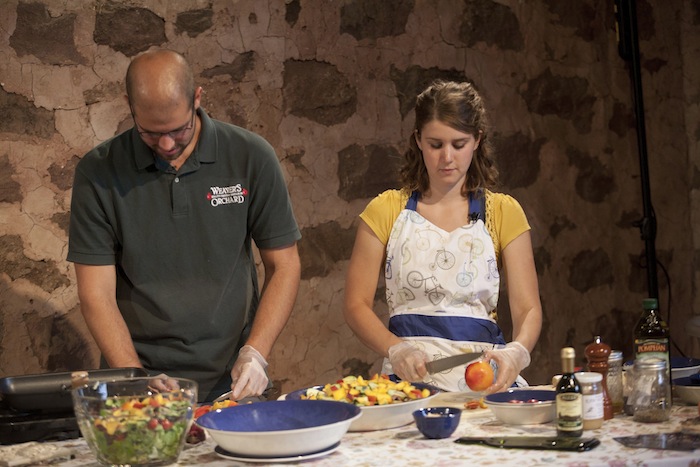 Apple mint (you can plant this fuzzy-leafed herb in a container or in your yard): Pick a big handful of leaves. Really pack them into your hand. Finely chop the leaves and throw them into the peach mixture when it's hot so the leaves will soften. Stir well.
Brandon served the jam with a slice of Conebella cheddar cheese on a crispy Breton cracker. The first year he made this jam, he gave it as Christmas gifts and received rave reviews. But he offered this caveat—once you start giving jam away, it's hard to stop. People like it—and they'll ask you for it every year!