When summer comes, we start to make healthy resolutions all over again. We're outside more often and more active. We're pulling old clothes out of storage, and maybe noticing that they feel tighter than we remembered! And we have fresh, healthy options to inspire us: fresh produce from our own gardens, local fruits and veggies from our local farm market, or even fresh fruit we handpicked out at the orchard.
The need to choose healthier options is hitting home for me this summer. At the end of May, my husband and I moved away from a neighborhood where we lived for five years, and late April and May were full of goodbye meals with friends.  Some threw a goodbye party complete with delicious fried chicken and a delectable seven-layer dip. Friends made sure we enjoyed all-you-can eat shrimp, real Japanese ramen, and Venezuelan arepas. And of course we had to visit our favorite local ice cream shop more than once!
It was a wonderful flurry of hearty goodbyes. But of course when I unpacked my summer clothes, I was feeling the pinch.
Good thing I discovered how to make my own fat-free, naturally sweetened frozen yogurt this summer! It uses frozen strawberries, and you know what that means? After picking strawberries this summer, you can freeze any you don't think you'll eat right away. If you pick and freeze a lot, you'll be able to make strawberry frozen yogurt all summer long! Or, you can sync it with the harvest season, using frozen raspberries, blueberries, cherries, blackberries, peaches, plums and nectarines!
What I like best about this frozen yogurt recipe is that you can control the sweetness. This is an advantage Pastry Chef instructor Diana Penn advocated for last year when she shared her recipe for sweet corn ice cream with Weaver's. Penn noted that if a half-cup serving of store-bought ice cream has 20 grams of sugar, that means there are 5 teaspoons of sugar in each serving! That's a lot of sugar!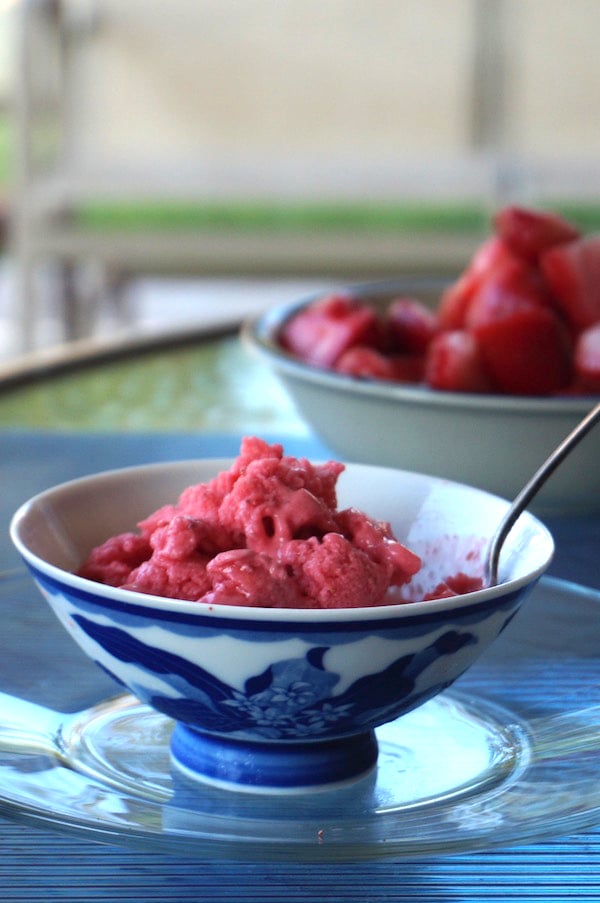 In this recipe, you can use honey or agave instead of sugar, tasting as you go to see when you've struck the balance of sweet and tart that appeals to you. I first made this with NO added sweetener. It was good that way, but it sure was tangy! So I do recommend starting with at least two teaspoons of honey in the batch!
The resulting frozen yogurt has the consistency of gelato and makes a refreshing healthy summer treat.
Print
15-Minute Strawberry Frozen Yogurt All Summer Long
Author:
Prep Time:

15 mins

Total Time:

15 mins
4 cups

frozen strawberries, slightly thawed
Juice of

1/4

lime

1

5.3 ounce container nonfat Greek yogurt (about

2/3 cup

)
Honey to taste, if desired
Instructions
Working with slightly thawed berries that are easier to blend, process the 4 cups of frozen strawberries, working in batches if necessary, until strawberries are well chopped and smooth.
Add yogurt, lime juice and, if desired, honey.
Whip for at least 2 minutes in the blender.
If desired, freeze right away. You'll need to thaw the frozen yogurt for several minutes before it's scoopable.
Save