"Baking asks you to think," says Pastry Chef Instructor Diana Penn, CEPC, CCE who led a Weaver's Orchard cooking class this Tuesday, teaching participants to make blueberry crostata with sweet corn ice cream and grilled pound cake with no-churn peach ice cream. Each of these desserts sounds impressive, yet Diana had one main message to convey about each of them: "Know what the end goal is." If you want your desserts to turn out well, you have to go beyond reading the recipe, she says. You have to envision how you want the final product to turn out. And to get it to turn out that way, you have to know your ingredients.
As she demonstrated the crostata–a flaky, rustic Italian free-form tart– Diana stressed "maintaining the integrity of the fruit."   Even though home bakers often find the crust stressful, Diana says it's important to remember that the crust is a vehicle. It is there to "add some luxury" to the fruit.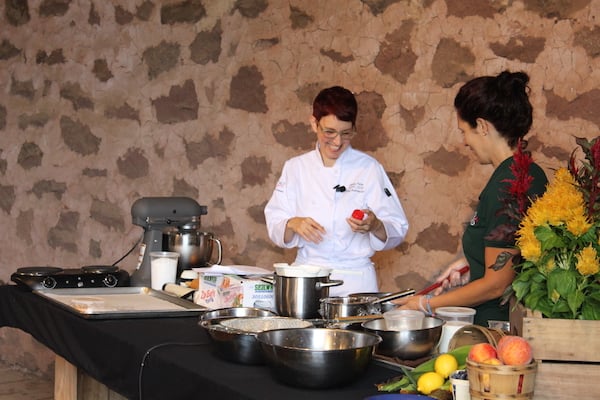 For pies and tarts, it is tricky to have all of the ingredients turn out well, so you have to understand each of them.  You have to know, for instance, that fruit will boil at 212 degrees F, and work with that knowledge as you strive for a thoroughly baked crust. It's essential to "bake the crust without incinerating the fruit," says Diana. For the crostata she made on Tuesday, the pastry chef instructor macerated the berries with lemon juice, sugar, lemon zest and tarragon, and then baked the crostata. She mentioned that you can also chill the fruit before baking it.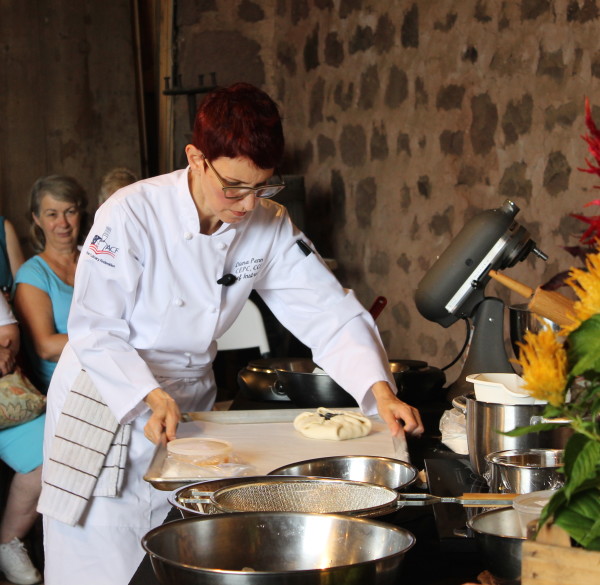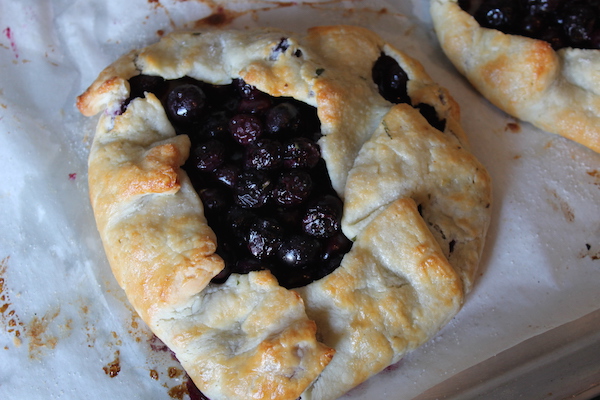 To complement the crostata, Diana made sweet corn ice cream.  Here and there, at especially hip ice cream parlors, you will find this unusual ice cream flavor, but Diana was ahead of this food trend. She was making it and serving it with crostata six years ago when she worked in a restaurant.  Corn is so sweet, she laughs, "it belongs to me" with all of the other sweet foods that belong to the bakers. Diana likes "crossover" vegetables. You can make carrot cake, she told me. And zucchini bread. Why not sweet corn ice cream?

Sweet corn ice cream is valuable not just for its flavor but for its frugality. You can use leftover corn on the cob, either grilled or steamed. For Tuesday's class, Diana made one batch with grilled corn, one steamed. She steeped both in milk.



If you're looking for another reason to justify the extra work involved in making homemade ice cream (beyond the incredible flavor and the frugal use of leftover corn), Diana has reasons aplenty.

Making homemade ice cream gets you going to the farmer, she says, asking "what kind of cream is this?"  She hopes that if people make their own ice cream, "it will bring back the milkman." She delights in seeing older traditions returning. Mills, for instance, are coming back as people become concerned about the quality of their flour.

"This is the time when things are starting to change," she says. Consumers are becoming more educated about food, and when it comes to traditional processed foods, "people are done," she says.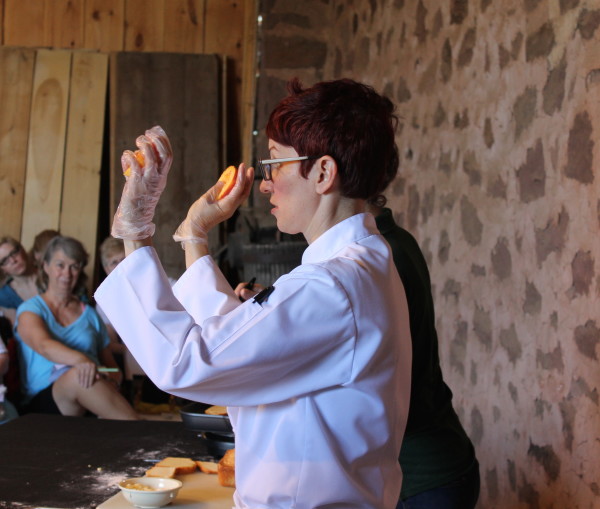 When you make your own ice cream, she adds, you can control how much sugar is in it. Have you noticed that when you look at nutrition labeling on the carton of ice cream, you will not see a percent daily value listed for sugar? And that sugar content is listed in grams? Diana urges people to convert the gram amount to teaspoons. Four grams equals one teaspoon, so that means ice cream with 20 grams of sugar per half-cup serving contains five teaspoons of sugar!
When you make ice cream at home, says Diana, you have "power to control your food destiny." When you adopt a farm-to-table lifestyle, you become your own artisan. You can make that no-churn peach ice cream with peaches you picked yourself, with your kids or grandkids.
And speaking of no-churn peach ice cream, here is Diana's recipe. It uses  just four simple ingredients–peaches, sour cream, sugar and lemon juice–and blends them in a regular food processor.  When she first explored this recipe, she said it was "crazily too easy."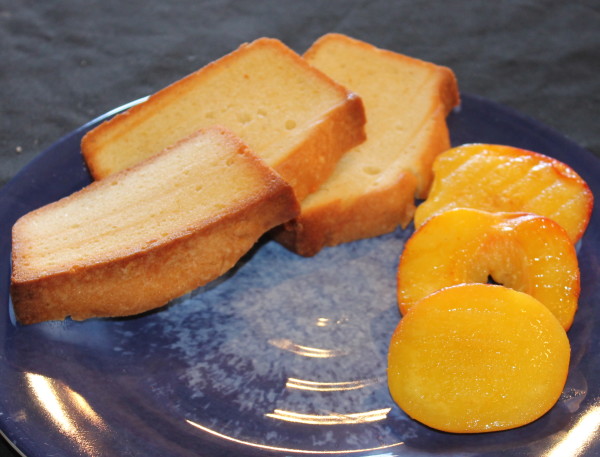 As you make these desserts at home, keep the end goal in mind: the integrity of the fruit, the creaminess of the ice cream. And as you reach for that goal, know your ingredients and pay attention to each step. "It's all about the quality of the details," says Diana. For help with all of those details, Diana invites you to follow her on Facebook at Bakeology 101 and Twitter @GeekPastry.