I am a freelance writer and a food blogger. I changed from a regular diet to a vegan diet in 2012 for health reasons after my husband suffered (and survived) a heart attack. My favorite topics are food and health, and blogging is a great way to learn and interact with other people having similar interests. Giving up animal products–including meat, fish, eggs and dairy–is not for everyone, but adding plant-based foods to any diet is always a good thing. There will never be a newspaper headline saying that eating too many fruits and vegetables is unhealthy.
When plants are the focus of your diet, places like Weaver's Orchard become an important resource. Locally grown, in-season foods are best for your health and your budget. Early summer favorites around here are strawberries and asparagus, the two stars of the class I taught at Weaver's in 2015.
This first recipe answers the question people ask me as a vegan, "Where do you get your protein?" Believe it or not, a serving of quinoa has more protein than a serving of eggs, making it an excellent way to start the day. Quinoa is most often served in savory dishes, but this breakfast bowl offers a sweet alternative when combined with fresh strawberries and maple syrup.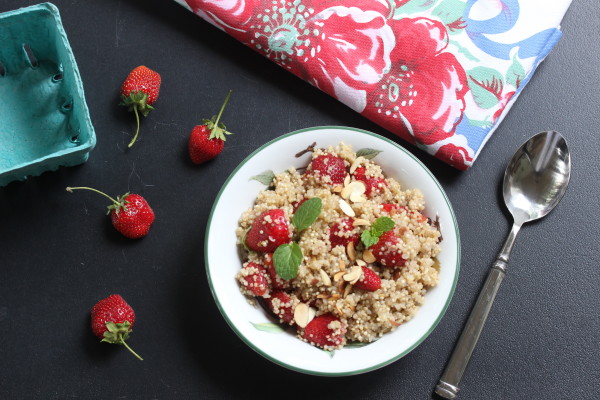 Next, I wanted to learn something along with the class, so I tackled a recipe I never tried before: homemade almond milk!
Almond milk has become a very popular substitute for cow's milk, more popular than any other plant-based milk. Why? Almond milk contains lots of vitamins, calcium, anti-oxidants not found in cow's milk without all the saturated fat and calories. Per serving, almond milk has about 3 grams of (unsaturated) fat and 40 calories compared to cow's milk, which has 8 grams of (saturated) fat and 146 calories.

The recipe uses raw almonds, which are not without controversy. Consumers must be aware some growers use PPO (propylene oxide gas) to pasteurize their product. Better choices might be unpasteurized, raw nuts or those pasteurized using steam. Buying local, straight from a small farm is the best way to avoid unwanted processing. However, there are many trusted sources online and in your local community. Just do the research.



This next recipe is so simple, it's almost not even a recipe. Any fool can do it! A non-vegan recipe for fool, a traditional English dessert, calls for whipping cream or custard. In this vegan version, coconut cream provides a fantastic plant-based substitute. The result is a wonderful, rich, creamy berry mousse. Tried and true in my household, this dessert never sticks around long.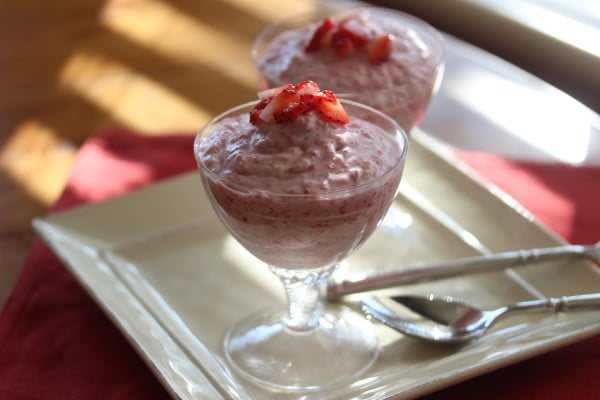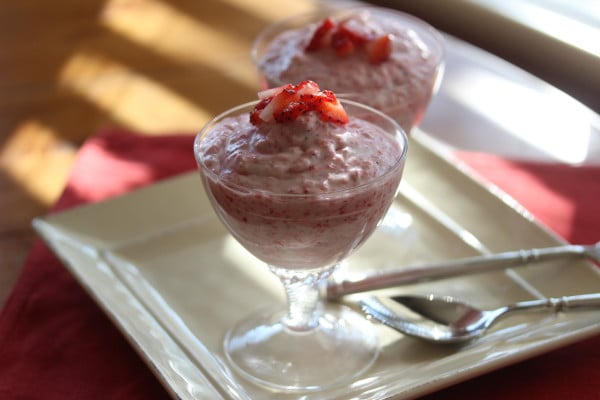 This last recipe combines the two, in-season beauties all in one! This can be served warm using un-cut asparagus spears, as a side dish. Alternatively, it can be prepared using cut asparagus and served like a salad at room temperature.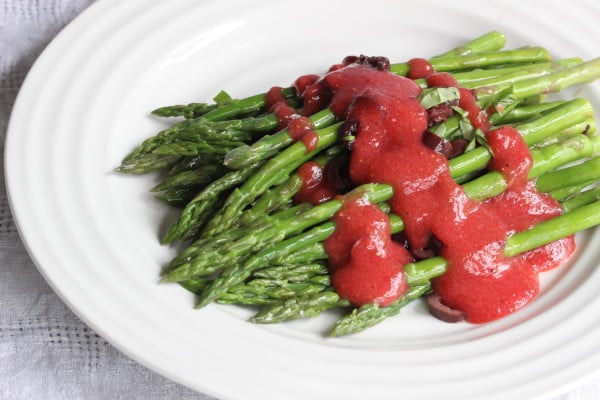 SaveSave