I am a freelance writer and a food blogger. I changed from a regular diet to a vegan diet in 2012 for health reasons after my husband suffered (and survived) a heart attack. My favorite topics are food and health, and blogging is a great way to learn and interact with other people having similar interests. Giving up animal products–including meat, fish, eggs and dairy–is not for everyone, but adding plant-based foods to any diet is always a good thing. There will never be a newspaper headline saying that eating too many fruits and vegetables is unhealthy.
When plants are the focus of your diet, places like Weaver's Orchard become an important resource. Locally grown, in-season foods are best for your health and your budget. Early summer favorites around here are strawberries and asparagus, the two stars of the class I taught at Weaver's in 2015.
This first recipe answers the question people ask me as a vegan, "Where do you get your protein?" Believe it or not, a serving of quinoa has more protein than a serving of eggs, making it an excellent way to start the day. Quinoa is most often served in savory dishes, but this breakfast bowl offers a sweet alternative when combined with fresh strawberries and maple syrup.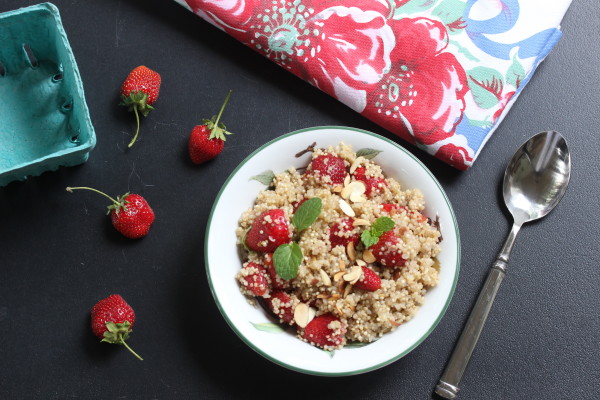 Strawberry Quinoa Breakfast Bowl
Cuisine:
Vegan and gluten free
Author:
Ingredients
2 cups water
1 cup quinoa, rinsed
1 pint fresh strawberries
2 tablespoons maple syrup (or honey for non-vegans)
2 tablespoons fresh lemon juice
1/4 teaspoon salt
3/4 cup toasted slivered almonds
1 tablespoon chopped fresh mint leaves
Instructions
Place water and quinoa in a medium saucepan and bring to a boil, stirring occasionally. Reduce heat to low, cover and simmer 18 to 20 minutes or until most water has been absorbed. Remove from heat and let stand covered 5 minutes.
Meanwhile, hull and halve the berries. In a small bowl whisk together honey, lemon juice and salt until blended. Stir honey mixture into quinoa. Gently fold in strawberries, almonds and mint until combined.
Notes
You may also prepare quinoa by filling a mug to about three-quarters of an inch from the top with dried quinoa. Place the quinoa in a medium-sized saucepan. Fill a mug to the top with water. Pour the water over the quinoa and stir to combine. Bring the mixture to a boil. Once boiling, cover the pot (loosely) and turn the heat down to low, cooking for six minutes. Take the covered pot off the heat and let it sit for 20 minutes. Fluff with a fork. (This tip comes from food blogger Elaine Boddy of [url href="http://https//foodbod.wordpress.com"]https://foodbod.wordpress.com[/url].)
3.3.3070
Next, I wanted to learn something along with the class, so I tackled a recipe I never tried before: homemade almond milk!
Almond milk has become a very popular substitute for cow's milk, more popular than any other plant-based milk. Why? Almond milk contains lots of vitamins, calcium, anti-oxidants not found in cow's milk without all the saturated fat and calories. Per serving, almond milk has about 3 grams of (unsaturated) fat and 40 calories compared to cow's milk, which has 8 grams of (saturated) fat and 146 calories.
The recipe uses raw almonds, which are not without controversy. Consumers must be aware some growers use PPO (propylene oxide gas) to pasteurize their product. Better choices might be unpasteurized, raw nuts or those pasteurized using steam. Buying local, straight from a small farm is the best way to avoid unwanted processing. However, there are many trusted sources online and in your local community. Just do the research.
Homemade Strawberry Almond Milk
Cuisine:
Vegan and gluten free
Author:
Ingredients
Special equipment: One nut milk bag
1 cup raw almonds
3 1/2 cups filtered water
1 pint fresh strawberries, hulled and halved
4 pitted Medjool dates, soaked
1 teaspoon pure vanilla extract
1/4 teaspoon cinnamon, optional
1 small pinch sea salt, optional
Instructions
Place almonds in a bowl and cover generously with water. (Allow an inch or two of water above the almonds). Soak the almonds for four hours or overnight.
Rinse and drain the almonds and place into a high-speed blender along with filtered water, pitted dates and vanilla.
Blend on highest speed for approximately one minute.
Place a nut milk bag over a large bowl and slowly pour the almond milk mixture into the bag. Gently squeeze the bottom of the bag to release the milk. It may take a few minutes to drain all the milk. Work the bag with your hands.
Turn the bag inside out and place the almond pulp in a sealed container for up to 3 days in the refrigerator. Rinse out the bag.
Place the strained milk back into the blender with the strawberries, dates, and vanilla. Blend until completely combined. Pour through the nut milk bag over the empty bowl once again and squeeze all of the milk out.
Rinse out blender and pour the milk back in. Add the cinnamon and salt, blending on low to combine.
Pour into a glass jar, and store in the refrigerator for up to 3 days.
Shake jar well before using if the mixture separates after storage.
Notes
Use the leftover almond pulp in smoothies, oatmeal or muffin batter.
3.3.3070
This next recipe is so simple, it's almost not even a recipe. Any fool can do it! A non-vegan recipe for fool, a traditional English dessert, calls for whipping cream or custard. In this vegan version, coconut cream provides a fantastic plant-based substitute. The result is a wonderful, rich, creamy berry mousse. Tried and true in my household, this dessert never sticks around long.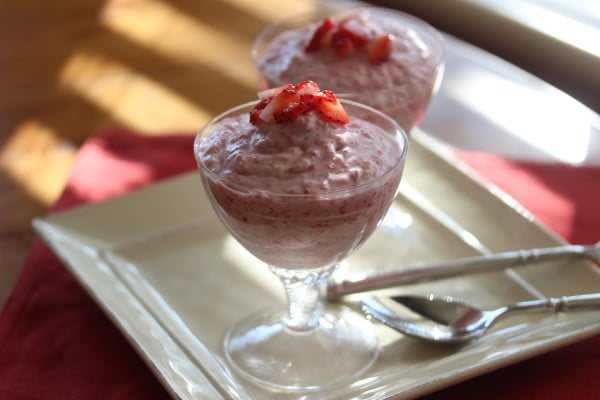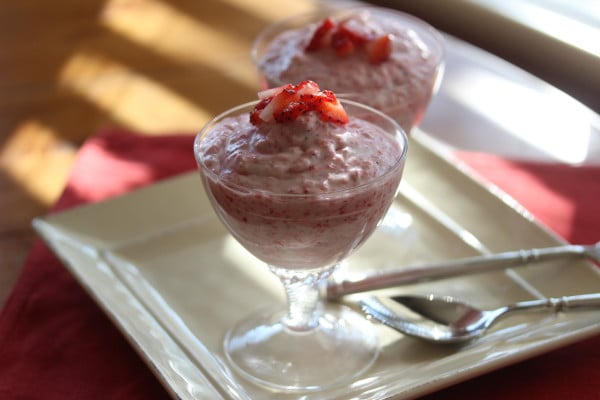 Strawberry Fool
Cuisine:
Vegan and gluten free
Author:
Ingredients
1 quart strawberries, hulled and halved, holding back 8 berries for garnish
1/4 cup granulated sugar
3 tablespoons fresh lemon juice
1 (13-14) oz. can FULL FAT coconut milk, refrigerated overnight
1 teaspoon pure vanilla extract
1/4 cup powdered sugar
Instructions
Place a metal mixing bowl into the freezer for ten minutes.
Place the berries into a separate bowl, adding the granulated sugar and lemon juice, stirring to combine. Let it sit for ten minutes.
Add the berry mixture to a Nutri-Bullet or high-speed blender and pulse until coarsely blended just a few seconds. Pour mixture into a sieve or strainer and drain thoroughly. Use a spoon to coax out the liquid.
Remove the coconut can from the refrigerator. Flip the can upside down. Open the can and pour off the liquid at the top (previously, the bottom) of the can and reserve the liquid for another use. Results may vary depending on the coconut milk brand.This means sometimes the liquid portion may stay stubbornly on the wrong end of the can. In that case, simply scoop the thick part out and leave the liquid in the can.
Place the thick part of the coconut milk (which will be the consistency of a very heavy cream) into the chilled metal mixing bowl. Beat for 3 to 5 minutes on medium high until it resembles whipped cream.
Add the powdered sugar and the vanilla to the coconut cream. Whip for a few minutes more until everything is fully incorporated and things look fluffy.
Fold the strawberries carefully into the cream.
Spoon the fool into individual glasses. Top each serving with a sliced strawberry.
3.3.3070
This last recipe combines the two, in-season beauties all in one! This can be served warm using un-cut asparagus spears, as a side dish. Alternatively, it can be prepared using cut asparagus and served like a salad at room temperature.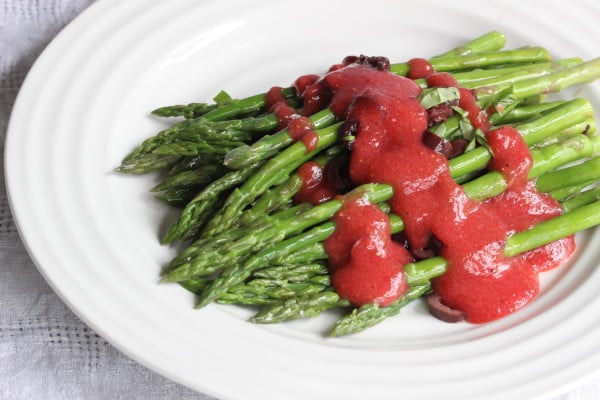 Asparagus with Crushed Olives and Strawberry Dressing
Recipe Type
:
Salad or Side Dish
Cuisine:
Vegan and gluten free
Author:
Ingredients
1 pound asparagus, trimmed and cut into one-inch pieces
Salt and freshly ground black pepper to taste
2 tablespoons extra-virgin olive oil
1 tablespoon red wine vinegar
8 large basil leaves, chopped
1 teaspoon sugar
1 pint fresh strawberries, washed and hulled
12 pitted black olives, chopped
Instructions
Place asparagus in boiling water for two minutes and drain immediately, placing them in a medium-sized bowl.
Whisk together the olive oil, red wine vinegar, salt and pepper.
Dress the asparagus with the oil and vinegar mixture and toss in the chopped, fresh basil.
Place the strawberries in a Nutri-Bullet (or regular blender) and blend until smooth.
For each serving (on a salad plate), top an asparagus portion with chopped olives followed by the strawberry dressing.
Alternate Serving Suggestion: Cook the spears whole, without cutting into one-inch pieces. Serve with a topping of olives followed by a drizzling of strawberry dressing.
Notes
You may freeze strawberries and thaw them for any of today's recipes. Simply wash and hull the berries. Allow them to drain and pat them dry. Place them in a freezer baggie, and the strawberries will keep for up to two months. If you would like to avoid the strawberries sticking together in the freezer, simply place the washed and dried berries on a paper-towel-lined cookie sheet so that they are not touching. Put the cookie sheet in the freezer until the strawberries are frozen. Transfer the berries to a freezer baggie, and place it in the freezer for storage.
3.3.3070
SaveSave