Some days, looking into the fridge can make you feel like the miller's daughter in Rumpelstiltskin. Instead of straw that must be spun into gold, you see an unpromising collection of leftovers that you'd like to turn into the evening meal. You know that if you can turn what you already have into a nourishing dinner, you will have managed something quite akin to spinning straw into gold—creating something from what many people would just throw away.
Repurposing leftovers right away instead of going out and buying more food not only stretches your food dollars by making a meal out of "nothing," but also makes the most of all the energy that went into producing the food. The Society of St. Andrew, an organization that feeds the hungry through gleaning, estimates that 30-40% of all edible food gets wasted in the United States. Even more shockingly, most of it gets wasted after it is already purchased. This means that over $150 billion dollars go into producing food that never gets eaten, according to the National Resources Defense Council—and there are many environmental costs, as well. In landfills, wasted food turns into greenhouse gas. As good as it feels to freshen the fridge and toss out the moldy cream cheese, it's time to learn new habits or add to the frugal habits we already have.
So how do you become the scrappy Rumpelstiltskin of your kitchen and make the most of all the energy it takes to produce food? Here are a few ideas.
Use Those Scraps
In her memoir Blood, Bones and Butter, chef Gabrielle Hamilton scolds one of her cooks who is about to throw away the top of an onion, exclaiming that it shouldn't get thrown away because somebody grew it. But what on earth do you cook with the top of an onion?
The top and the well-scrubbed root-end of an onion make broths richer and more flavorful. Onion skins give broth a rich color. Onion skin makes a great dye, too—some people even use it to dye wool!
Now I always throw onion skins, herb stems and the ends of vegetables into the stock pot or a pot of dry beans I am cooking. With a stock, the scraps get strained out at the end. With beans, I have to pick out the scraps. If I don't have a pot boiling at the time, I collect the veggie scraps and freeze them for later.
Often, you can find great ideas for using stems and leaves just by doing some quick internet research. About to toss out a few broccoli stems? See what you can make with them first! This site suggests—count 'em—eight uses for broccoli stems, and all eight look incredible!
While reading Tamar Adler's An Everlasting Meal, I discovered that even cauliflower stems and leaves make a delicious pesto, which turns into an easy and tasty pasta dish.  (I think I've mentioned Adler's cookbook in nearly all of my recent blog articles. She's the true Rumpelstiltskin. Read her book as soon as you can!) I added an apple to her basic recipe for core/stem/leaf pesto because, on their own, cauliflower stems tend to be sour.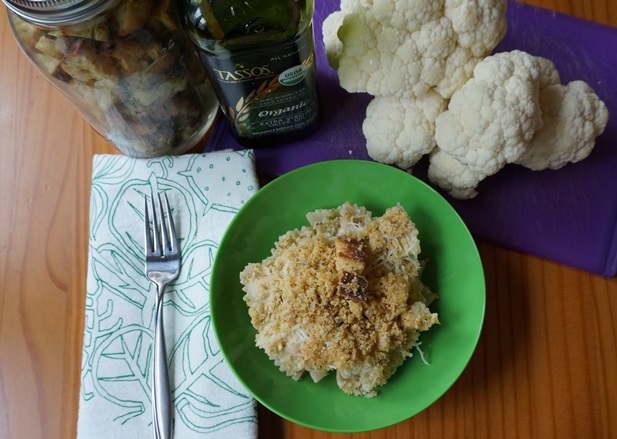 Print
Don't-Waste-Those-Cauliflower-Stems Pasta
Inspired by An Everlasting Meal
Stems and leaves from one cauliflower, sliced into ½-inch rectangles

½ cup

tart apple, chopped

2

garlic cloves

½

to

1

teaspoon salt

¼ cup

+

1 tablespoon

olive oil

8 ounces

pasta (penne, macaroni and farfalle work well)
Breadcrumbs or crumbled croutons

½ cup

Parmesan cheese
Instructions
For the pesto, fill a medium-sized pot with cauliflower stems, leaves, garlic and apples and add water until the contentss are halfway covered. Add salt and stir. Simmer about half an hour, or until the stems, apple and garlic are soft and no more than a tablespoon of water remains. You can add more water if it simmers down too quickly.
Meanwhile, start the pasta in nicely salted water and cook according to package directions.
In a separate pot, heat 1 tablespoon olive oil and toast the breadcrumbs, stirring often.
Transfer the contents of the pesto pot to a blender and puree. Pour pureed pesto into a bowl and mix in the rest of the olive oil. (You can also add the olive oil to the mix at the start of simmering, but I've started to notice that olive oil turns sour if I process it too much, so I wanted to avoid putting it in the blender.)
Stir pesto and pasta together and spread into an 8 x 8-inch pan. Top with Parmesan and toasted breadcrumbs.
Using Leftovers
This past week, I received a large sack of potatoes—so many, in fact, that I was a bit mystified about how to use them all up. Soon, though, baked potato soup started calling my name, so I wrapped the potatoes in foil, baked them and started my soup.
It turned out that even though baked potato soup calls for a whole heap of baked potatoes, I had baked potatoes to spare. What's there to do with unused baked potatoes? Plenty! I looked up "leftover baked potatoes" online and found so many inspiring recipes that I will now make a habit of looking up "leftover _____" whenever the contents of my fridge puzzle me. (The UK site Love Food Hate Waste also offers inspiration in abundance.) I found a recipe for hash browns and changed it a bit to use up a few other remnants the fridge bestowed. These turned out to be the best, crispiest hash browns I have ever made.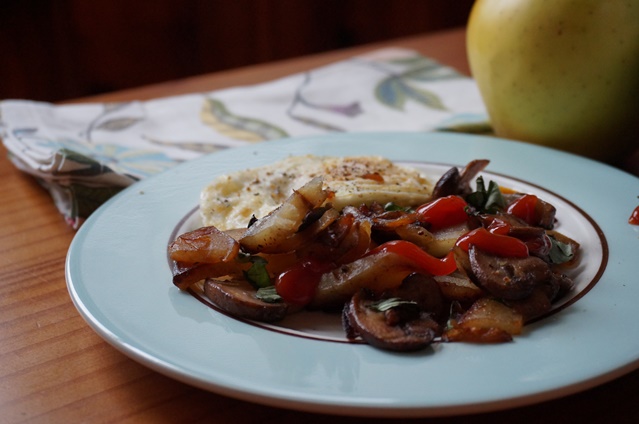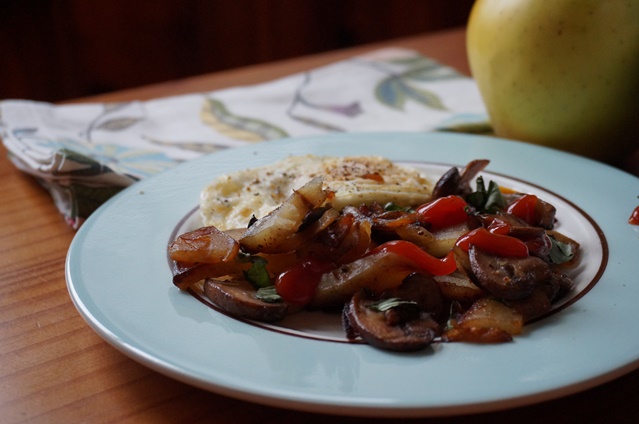 Print
Scrappy Hash Browns
Author:
Category:

Breakfast
Leftover potatoes (baked, boiled or roasted), thinly sliced
Onions, chopped
Leftover veggies such as sautéed mushrooms, roasted peppers, sautéed artichoke hearts, sundried tomatoes or greens.
Herbs, chopped (basil, oregano, dill, thyme, rosemary… whatever you've got! Or use dried herbs).
Oil or butter
Instructions
Heat oil or butter over medium-high heat and add chopped onions, stirring occasionally, until tender.
Add sliced potatoes and let them get nice and crispy on each side. Let them cook in the oil for about 5-8 minutes per side, stirring them toward the end of that time to see how brown they're getting.
Toss in the sautéed mushrooms, roasted peppers, etc. and cook until heated through. Sprinkle the herbs on top.
Making Fresh Produce Last
After purchasing produce, get a good feel for how long it will last. Potatoes and onions will last four or five weeks, but delicate fruit like raspberries needs to be eaten or frozen within two days. Keeping shelf-life in mind will help you with meal planning, and you may decide that today is the day to make that raspberry jam or pie, or to remove raspberries' stems, rinse them, place them upside down on a baking sheet, and freeze them. (Once they're frozen, you can transfer them to a re-closeable freezer bag.)
Make the most of your purchased produce by learning the best way to store it. Weaver's has great tips for storing fruit, vegetables and herbs to make them last as long as possible. One trick I learned on Pinterest several years ago was to keep green onions in a jar of water and just cut off the portion I need. The rest will continue to grow!
After I realized what an impact wasted food scraps can have—not only on my budget but also on the environment—it seemed like even the humblest items in my fridge deserved a second glance. They presented a challenge: how could I work them into a meal instead of throwing them away? And how could I use them soon instead of letting them slink past their prime? Specific tips and tricks help a lot. And being determined to reevaluate and reduce food waste makes all the difference in the world.
* * *
Article written by Rebecca Talbot and coordinated by VanDuzer Design & Marketing for Weaver's Orchard and may also be syndicated on Fig: West Chester and Rachel's Farm Table.