This time of year, it's only right to eat heaps of pumpkins. The way the color of the trees begins to match the color of the pumpkins growing in local pumpkin patches reminds us, "eat more pumpkin."
With recipes from our blog, you can eat pumpkins for breakfast, lunch, dinner and, of course, dessert…. and dessert…. and dessert. (You can also check out our Pinterest board that has over 120 pumpkin recipes!)
This recipe is one you'll want to make for dinner. It's a classic recipe from Northern Italy, where pumpkin is in season during autumn, just like it is here. "Pumpkins might not be the first Italian vegetable you think of," says the site Great Italian Chefs, "but they're used with aplomb in the northern reaches of the country."
The traditional way to make this is by starting with roasted pumpkin. To cut down the prep time, I used a can of organic pumpkin pie mix. You could also use a regular pumpkin puree and add the pumpkin pie spices later. If you wish to begin with roasted pumpkin, use a small pie pumpkin (2 lbs. or under), cut it in half, cover it with aluminum foil and cook at 350 degrees F for an hour. Then let it cool, peel it, and mash the flesh with a potato masher.
Note: if you want to mash a lot of pumpkins at once, do not be tempted to can them.  The USDA does not recommend canning them. However, mashed pumpkin can be frozen.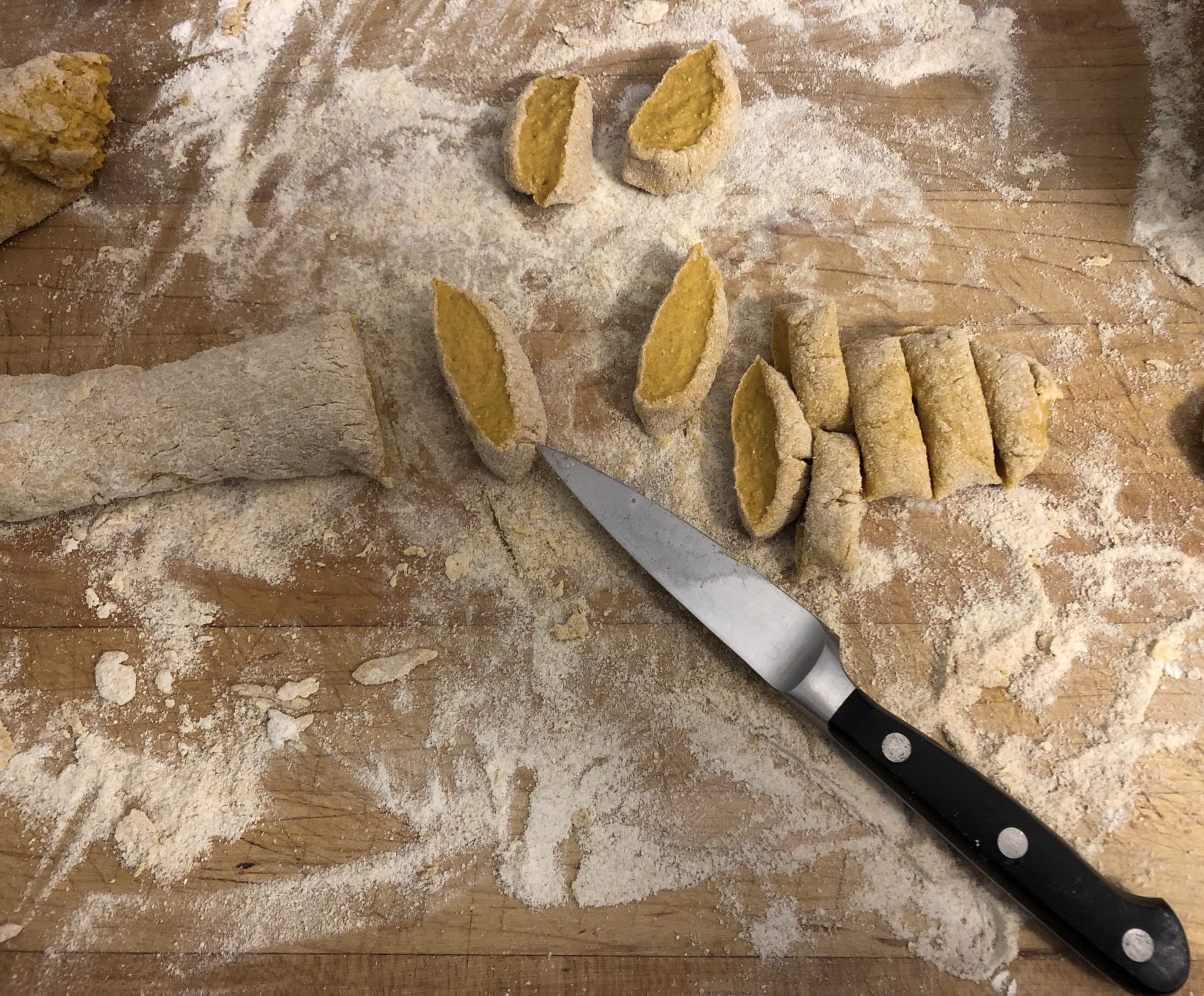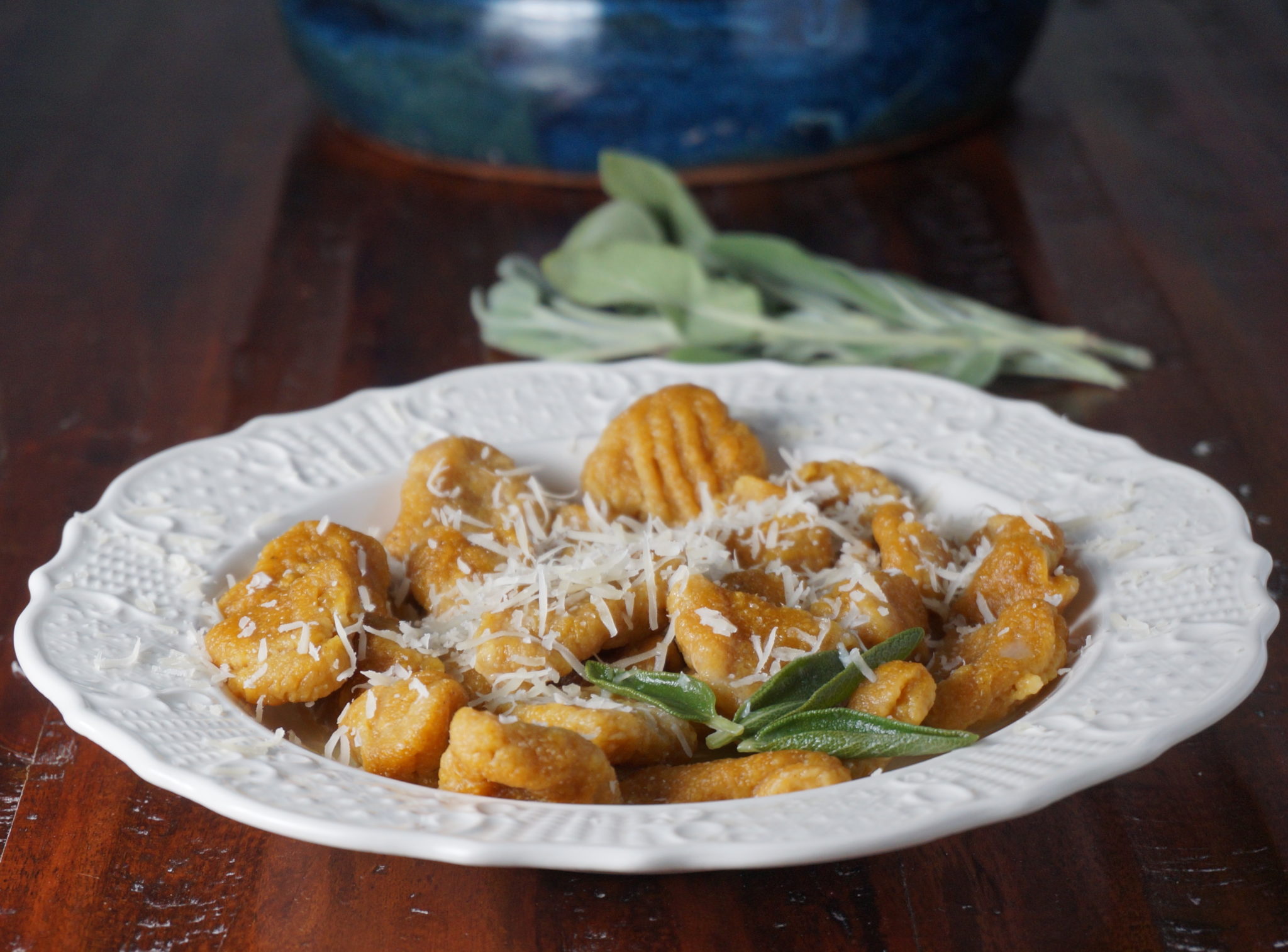 Print
Pumpkin Gnocchi with Butter and Sage
Pumpkin Gnocchi with Butter and Sage Author: Weaver's Orchard Pumpkin Gnocchi with Butter and Sage Author: Weaver's Orchard If using pumpkin puree rather than pumpkin pie mix, add 1/4 tsp nutmeg.
1

15 oz. can pumpkin pie mix

2 cups

sifted all-purpose flour, plus more as needed

1

egg
salt and pepper

4

T butter

8

sage leaves

1/4 cup

Parmesan
Instructions
Drain the pumpkin pie mix with a fine sieve and then add to a large bowl. Add salt pepper and (if using) nutmeg. Add egg and slowly add flour until the mixture comes together and is not sticky. Don't over-mix.
Prepare a pot of boiling water.
Roll the gnocchi dough out on a floured surface, making the gnocchi into a rope that can be cut into small "pillows."
Toss finished gnocchi into the pot and remove with a slotted spoon as soon as each one rises to the surface (1-2 minutes). Reserve 1 tablespoon of the cooking liquid.
Prepare the sauce by heating 4 tablespoons butter in a saute pan. Add cooking liquid and sage leaves. Remove from heat. Remove sage leaves (or use as garnish). Add gnocchi to the pan and mix.
Top with Parmesan cheese.