Toward the end of 1911, a group of "public spirited women" were anticipating the "gloomy prospect of an expensive winter." They were managing The Home for Widows and Single Women at the northwest corner of 16th and Haak Streets in Reading, PA. In 1911, the home housed up to 34 widowed women who "through poverty, ill health, or misfortune were left without a shelter for their reclining years."
With winter approaching, the managers of the widows' home decided on a fundraising venture. They published cookbooks with collected Berks County recipes and sold them for 25 cents. Those who bought it and used the recipes would be reminded of the cause they were supporting, because a call-out box in the front pages said: "In Buying this Book you are Aiding The Home for Widows and Single Women."
The Widows' Home had been founded in 1875 by a group of 18 women who had been spurred to action when they noticed the needs of older women in the city. Thirty-six years later, in their 1911 cookbook, it was clear that those who led the widows' home were still motivated to do good and to share. They believed, they wrote in the cookbook, that "None liveth unto himself"–that life and blessings are not for hoarding but for sharing.
I held a copy of this cookbook this past June when I visited the research library of the Berks History Center. As I looked through the many recipes packed into the slim volume, I found myself typing furiously to copy them all: strawberry shortcake, rhubarb pie, "Fastnacht" Cakes, apple jam, peach ice cream, maple mousse, and more. Hopefully I will have the chance to share more of them here soon! But…. since it is October… it felt fitting to share the Widows' Home recipe for Pumpkin Pie.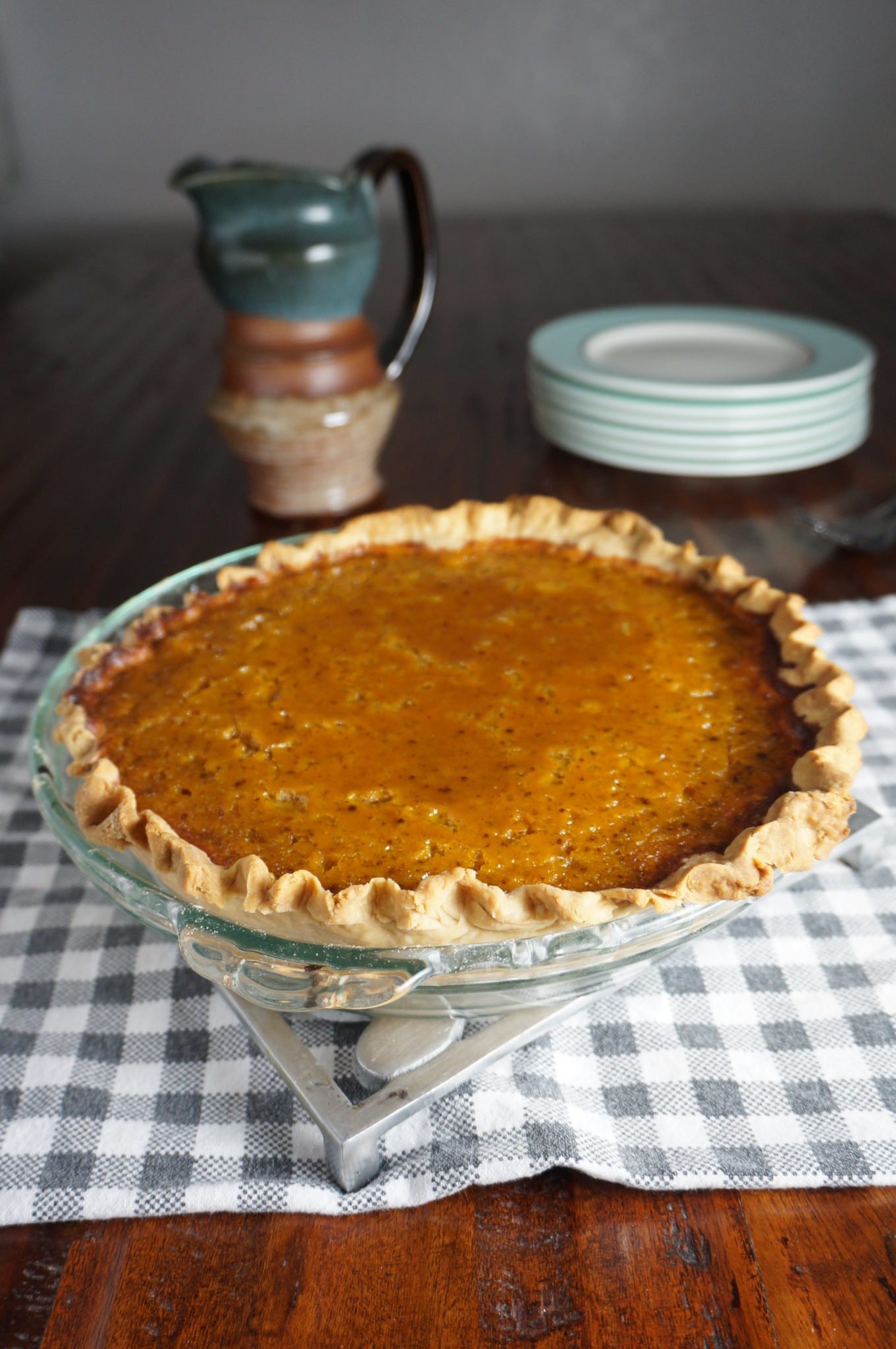 To four cups of pumpkin that has been stewed and mashed through a collender [sic], add one-half cup of butter, five eggs, one-half teaspoon of ginger, one teaspoon of cinnamon, one-half teaspoon of mace, two cups sugar, one cup of good brandy. Mix all the ingredients well together and bake on a crust; bake the crust first, and then put your ingredients on the crust and return to the oven and cook till done.
Here is how to blind-bake the pie crust (always the best course of action with custard-based pies!). And here is the recipe for my favorite, easiest pie crust!
Also, a word about mace. No, it's not pepper spray that's called for here! Mace, often found in older recipes, is a cousin of nutmeg; it comes from the same plant. Here's what Max Falkowitz, a blogger on Serious Eats, has to say about it:
"Imagine a cross between nutmeg and coriander, tinged with citrus and cinnamon. Add to that the same nostril-widening properties that nutmeg, mint, and basil share. Then add the complexity of raw sugar. So yeah. That's mace. Why did we stop using this stuff again?"
And here is a printable and slightly updated version of the recipe. (I halved the recipe for the filling because it makes enough for two pies, and I used apple juice instead of brandy. I DID use real mace, though!)
Print
Pumpkin Pie
Pumpkin Pie Author: Reading Widows' Home – 1911 Pumpkin Pie from a 1911 Berks County Cookbook Author: Weaver's Orchard Prep time: 15 mins Cook time: 55 mins Total time: 1 hour 10 mins
15 ounces

pumpkin puree

1/4 cup

butter, completely melted

2

eggs

1/4 teaspoon

ginger

1/2 teaspoon

cinnamon

1/4 teaspoon

mace (or nutmeg)

3/4 cup

sugar

1/2 cup

brandy or apple juice
Pre-made and blind-baked pie crust
Instructions
Preheat oven to 425° F.
Mix all the ingredients well together.
Add ingredients on the crust.
Cover crust edges lightly with aluminum foil if desired (to prevent over-browning).
Bake at 425° F for 15 minutes. Reduce temperature to 350° F. Bake for 40-50 minutes or until knife inserted in center comes out clean. Cool on wire rack for 2 hours.
Serve immediately or refrigerate.
The Widows' Home's cookbook fundraiser worked. The Home lasted through the winter. In all, it lasted over 100 years, from 1875 to 1976.